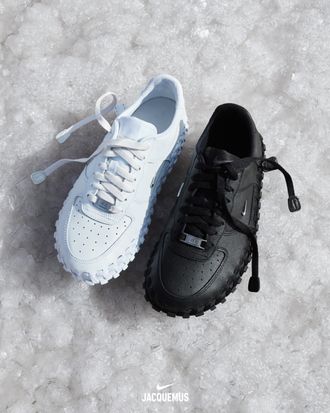 Photo: Courtesy of Nike X Jacquemus
What is it?
The J Force 1 is the newest sneaker from Nike and luxury brand Jacquemus. The two companies released their first sneaker a year ago, the Nike x Jacquemus Air Humara LX. Today, they're unveiling a follow-up that mimics an Air Force 1 in its silhouette and is elevated by bulky handwoven stitching on the outsole, a Jacquemus logo printed on the bottom, and a polished metal swoosh. The sneaker was inspired by Nike's Considered, an early 2000s shoe that set out to use less glue in an effort to mitigate the environmental impact of footwear production.
Do I need this?
Yes! This is a modern take on the classic and well-loved Air Force 1 and incorporates the look of one of the most relevant designers today, Simon Porte Jacquemus. Despite these sneakers' brutalist style, they feel like you're stepping on clouds. Fun fact: Jacquemus was only 20 years old when he started his label, and since then, it has grown into a brand and been awarded one of the highest LVMH prizes. Jacquemus built its name in recent years by holding shows in lavender and wheat fields and creating recognizable pieces like Le Chiquito bag and obscenely large straw hats.
Photo: Courtesy of Nike X Jacquemus
Photo: Courtesy of Nike X Jacquemus
Where can I get it?
J Force 1s are now available for $170 on jacquemus.com, in select Nike stores, and on nike.com.
What are people saying?
After the brands' last collab and a launch in Dimes Square, people created memes: This weekend, @nolitadirtbag took to Instagram to troll, "What if we put a tablecloth on the Dimes Square rock for a Nike and Jacquemus activation at a wine bar." I mean, LOL.
But that didn't stop commenters ready to break the bank for these shoes: "Easy on my wallet Simon, please," one user commented. "Will be out of stock just like the other Nike x Jacquemus," said another. Someone else commented, "And they probably gonna be sold out at the same sec' for years."
We're happy to announce that the shoes are still very much in stock … for now.
For more of the Cut's favorite fashion, beauty, and home finds, sign up for the weekly Cut Shop Newsletter.