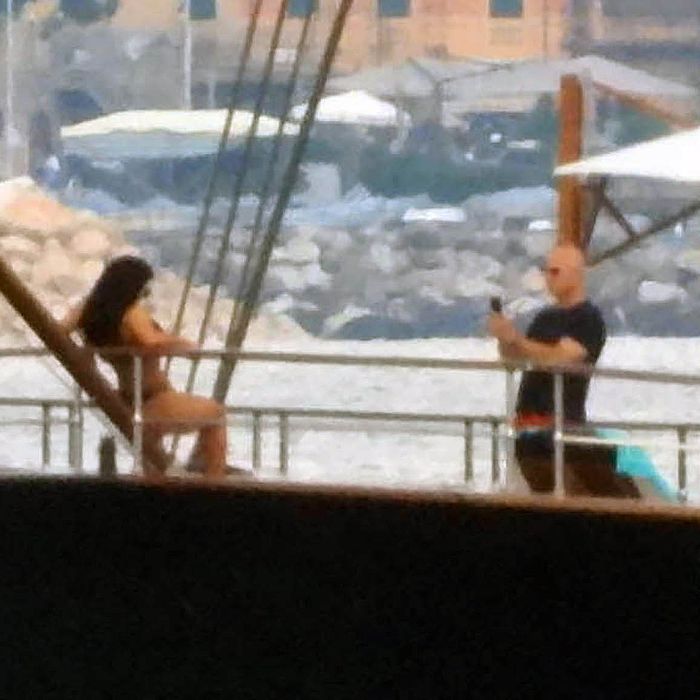 A new pastime for our boy?
Photo: MEGA/GC Images
You probably did not wake up wondering what Jeff Bezos is up to on his superyacht these days, but lucky for you, you're about to find out. Ever since Bezos and his Alive Girl Lauren Sanchez first set sail on the gargantuan vessel, they have been extremely busy lounging, tanning, and getting engaged. As is wont to happen on couples' vacations, all this sunbathing and SPF-lathering has resulted in a new pastime for Bezos: snapping hot pics of his fiancée. That's right, our AI sexting king is now an Instagram boyfriend.
Bezos and Sanchez were spotted on the deck of his yacht, which also goes by the name Koru, off the coast of Portofino, Italy, on Monday, where they were joined by two of Sanchez's three children. The Daily Mail (which has apparently been watching) reports that, several hours after being lowered onto the Koru's custom-built helipad, the couple headed out onto the deck to get the perfect shot of Sanchez draped across the flagpole in her bikini. Perhaps they were feeling inspired to re-create Koru's figurehead, which bears a startling resemblance to Sanchez herself? There is nothing like a gleaming wooden bust to get the creative juices flowing.
Observe Bezos, patiently conferring with his beloved between each photo to get the angle just right:
Watch him wait, phone camera poised at the ready, for Sanchez to resume her pose:
Look at that form. Why suddenly develop biceps if not to hold one's iPhone overhead for hours on end, capturing your gorgeous lady taking in the Mediterranean air? Shouldn't we all aspire to be crowned a "head-over-heels simp" by TMZ simply for helping our loved ones thrive? And who better to help Bezos fulfill his higher calling than his favorite subject, his most inspiring muse, his treasured Alive Girl? Do the "Jenny From the Block" video next!