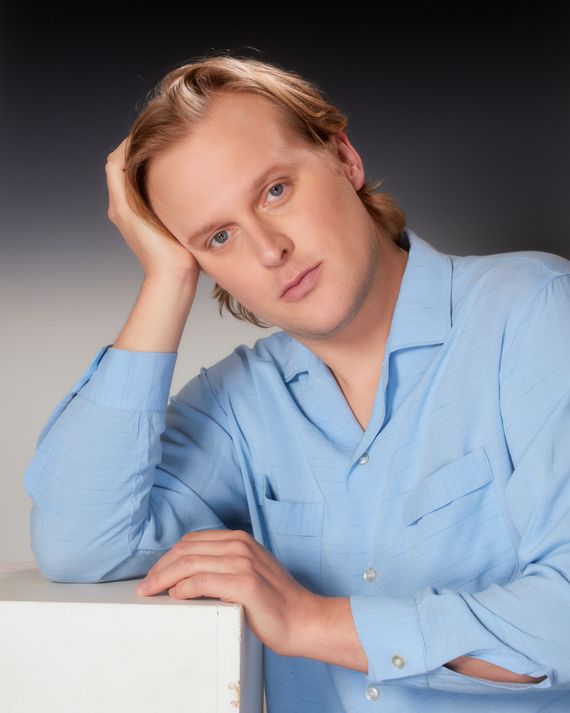 Photo: David Brandon Geeting
Tap, tap. "You guys can hear me, right?" says John Early from the stage, mic in hand. "I just want to make sure this is amplifying queer voices."
If you know John Early — if you cast your lot with those who think that "if we lived in a just world, Kate Berlant and John Early would be the most famous, successful comedy duo on the planet" (The Daily Beast, 2022) — then you already know that John Early is a queer voice, amplified. Early's comedy, which straddles a wiggly line between performance art, cabaret, and stand-up, works in a register high-pitched enough for dogs to hear. His voice — his physical voice, not just his writerly voice — is one of his great creations, ratcheting up and up toward absurdity as he cranks himself along. It became first a hallmark, then a calling card and then a trope to be lifted. His first solo special, John Early: Now More Than Ever, which arrives on HBO and Max on June 17, offers a dose of the original to a wider audience.
If, for years, he and Kate Berlant, his best friend and frequent writing partner of more than a decade, have been known as comics' comics, it's because so many of their peers and successors have spent years knocking them off. "To this day, it remains an in-joke within the comedy scene that nearly every stand-up more alternative than Jim Gaffigan has cribbed their mannerisms and speech patterns from John Early and Kate Berlant," wrote Steven Phillips-Horst (an alternative comedian) in GQ this year. "They are the godfathers of modern alt comedy, with an entire generation — from sitcom writers to TikTok stars — still cashing the checks they wrote a decade ago." The squint, the jerk, the strangled shriek: These are the vibraphonics of John and Kate. They have their own strange musicality — Early often accompanies them with sound effects — which helps explain why Now More Than Ever is cast as a faux rockumentary with Early as the lead singer of his own band. His keyboardist plays under many of his riffs.
Offstage, Early has the same jangly presence and shaggy blonde mop — shades of golden retriever — but a smoother energy, divested of the percussive cough-laugh and labile eyes of onstage John. Not that this is a particularly calm moment. Sitting on a bench in L.A.'s Huntington Library and Gardens one early spring afternoon, he admitted to prerelease nerves; though he's been performing a version of the hour that became Now More Than Ever since 2013, the taped special will bring it to a far wider audience. (It was recorded in February in Brooklyn, "the borough of my wasted sexual prime.") It comes after years of regular, though largely sideline work — he is best known from Search Party, starring Alia Shawkat, which brought him enough stability to buy a house but not to become a household name — and near-misses: A Hulu series, worked on for years, came to nothing. A John-and-Kate web series, 555, was a weird, wonderful cult hit, but only available on underdog Vimeo, the platform that produced it. Now here he comes with the full force of the HBO machine behind him: an amplified queer voice, amplified.
"I've been in the shower and found myself defending the special that has not come out," Early said. "I've completely fabricated tweets of fake people who do not exist, who have problems with certain elements of my special. I've been in a constant dialogue with them."
The imaginary critics will find plenty to debate. Now More Than Ever leans into a vicious anthropology of millennial mores. Early is, at his best, a comedian of manners, whose particular bugbears are cliché and cant, the triteness of received wisdom and sloganeering. "I don't know how to do my taxes. But I do know how to be a badass," he says at one point, popping badass like a sour bubble. He has equally little patience for Instagram comments, "being yourself," and the false intimacy of the Grindr grid. This is the stale stuff of our poisoned birthright; digital-era catchphrases turn to ashes in his mouth. A long fugue on a series of Postmates ads becomes, as he squeaks and chews through their ad copy, the equivalent of jazz scat. Advertising has become our music, our dance. (Lamenting the passage of an earlier era when Bob Fosse appeared on the talk-show circuit, Early says, "The only remaining form of dance is the pitch choreography on Shark Tank.") We are emptying out, succumbing to hyperbole. But that's always been an Early antagonism. When he pops up in cameo roles — as Jenna Maroney's idiot son in 30 Rock, as Taylor Swift's idiot son in the "Anti-Hero" music video — he can put you instantly in mind of the way reproductions get degraded in their repetition: Warhol's Marilyn versus Marilyn herself. Or, as he puts it onstage, "I feel like the only thing we were taught as a generation is how to vamp."
And then, Early vamps. Now More Than Ever is equal parts rock odyssey and stand-up set. The special is studded with scream lines — it's hard to imagine a fresh Trump joke in 2023, but Early got a real laugh out of me, comparing the Access Hollywood tape to his own heterosexual posturing at 12: "I guess that it sounded like locker-room talk, in that it sounded like me at age 12 in the locker room, trying to convince a group of straight guys that I like Lizzie … I moved on her like a bitch …" — but time and again, Early interrupts himself to break into song. Accompanied by a band and a pair of backup singers, Early launches into covers including Tweet's "Oops (Oh My)," Britney Spears's "Overprotected" (Early is known for his uncanny Spears impression), and "After the Goldrush" (though in keeping with Early's adoration for wounded but theatrical women, his is indebted not to the Neil Young version but the Dolly Parton–Linda Ronstadt–Emmylou Harris one).
"I've spent so much of my life defending the seriousness of camp and irreverence," Early said. His renditions are camp — but they also provide leavening moments of sincerity. He approaches a karaoke sublime, doing an aerialist falsetto on Donna Summer's "I Feel Love." "I've always loved doing the music," he said. "I've always loved doing the stand-up. And this is the first time I kind of, like, finally let myself just be a cabaret artist. Which is secretly what I've always wanted to do on some level. I do think the sum total of it is the closest to my actual personality, which is part of why I was so terrified to do this."
Early's early comedy influences had this same mix of mania and vulnerability. Growing up in Nashville, the son of Presbyterian ministers (they have a gloriously uncomfortable cameo in the special, right after Early proclaims, "Anal can feel so good"), he binged the '90s ladies of SNL, Absolutely Fabulous and Strangers With Candy on Comedy Central. "I wanted to be Jennifer Saunders," he says, and even today, he describes Berlant as "the French to my Saunders, the Saunders to my French." (Dawn French, Saunders's comedy partner, co-wrote the original idea for Ab Fab, and was the titled co-star of French and Saunders.) He did high-school theater, then summer theater. (The Matthew Shepard drama The Laramie Project at Interlochen: "Like, wow.") The mix made it all potent. It was a revelation. "You can be a ham," he said. "You can be Cheri Oteri, but you can put her in, like, a Criterion movie. That was groundbreaking for me."
Of course, to be the Oteri — a manic SNL GOAT, 1995 to 2000 vintage — in the Criterion movie, you need an auteur who sees it. When his series with Berlant didn't get picked up, "We were like, Fuck everyone, no one gets us," Early said. "Now we're like, Well, we didn't help people get us." They specialize in liberal-arts cringe — see, for example, their 2013 classic "Paris," an arms race of pretensions — and you can imagine the rooms of development executives not sure what to do with their weird spininess, their escalating argot of absurdity and pique. (The New Yorker called them "connoisseurs of passive aggression.") Ultimately, Early said, "We're the best at conceptualizing ourselves."
So they are. He and Berlant are working on what he calls "another half-hour attempt," in addition to their individual projects. She recently had a cult hit with Kate, a one-woman show that ran to acclaim in New York. (She opened performances by sitting silently in the theater lobby, wearing a sign that read, "Ignore Me.") He is kicking around an idea with the playwright Max Posner, "kind of a gay Olive Kitteridge." (Logline: A lost millennial goes upstate and becomes an old man.) And Early himself has branched out, directing Jacqueline Novak's blowjob apologia Get on Your Knees (soon to be recorded for Netflix), and executive producing with Wallace Shawn's thorny Marie and Bruce. Shawn, a truculent avant-garde absurdist, may be a more natural analog to Early than most stand-ups one could name. Shawn and his wife, the fiction writer Deborah Eisenberg, have become surrogate parents of a sort. "They were my pen pals over the pandemic," Early said. He cast Eisenberg in one of the interstitial sketches that bracket the special as an HBO executive.
Two hours have ticked by, and whatever peace the gardens were meant to offer has yet to appear. We should walk, Early decides, explore the scene before he has to head back to Silver Lake. The Huntington has horticultural vignettes representing various parts of the world, and Early suggests we visit Japan before we leave. "It is astonishing," he says. But it quickly becomes the setup to an Early-ish joke: two gay millennials, with best intentions, hobbled by their own inabilities, hopelessly lost. Up we go, down we go, map uselessly in hand, wandering in a manicured paradise like two little Cheri Oteris in a Criterion movie. "I don't think we're going to Japan, babe," Early says finally. "I don't know where we're going."
This story has been updated to correct an inaccuracy: Early executive produced Wallace Shawn's Marie and Bruce, he did not direct it.