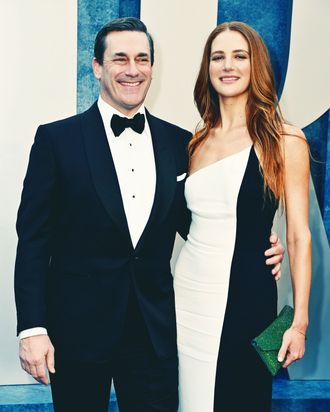 Photo: Lionel Hahn/Getty Images
If you've been holding on to any grand romantic illusions regarding Jon Hamm, I have bad news: He got married on Saturday to actress Anna Osceola. The couple met while filming the series finale of Mad Men (she played a receptionist at that wellness retreat Don Draper did) at a Big Sur resort in 2015, and according to E News, tied the knot at the same location. Based on paparazzi photos from the weekend, there was a lot of hugging and enthusiastic kissing.
Hamm and Osceola have been dating since 2020, and they made their first public appearance in February 2022. In a September interview with Howard Stern, Hamm indicated that marriage might be on the horizon, explaining that he had been "thinking about all that stuff, that's made the relationship that I'm in now even more meaningful and opened up the possibility of things like being married, having kids, defining a new version of happiness, life, wellness." Their engagement was confirmed in February.
At Saturday's ceremony, a slate of celebs — including Tina Fey, Paul Rudd, Larry David, and Mad Men alum John Slattery, according to The Daily Mail — showed up to celebrate the couple. And while the guests looked like they were having a great time, apparently some Hamm fans still need a little more time to process his new status as someone else's husband.