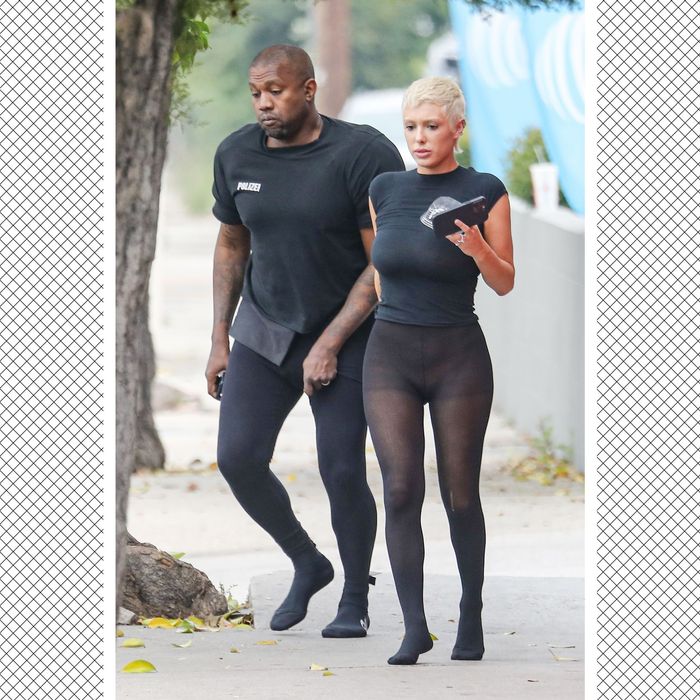 Photo: SPOT, SOVE/SPOT-Stoianov / BACKGRID
Watch out, barefoot boys: The Wests are coming for your throne. Kanye West (currently Ye) and his partner, Bianca Censori, have gone from wearing garments that make no logistical sense to simply forgoing most articles of clothing all together, including but not limited to shoes. Did I mention this is happening outside, in Los Angeles no less? Yeah.
On Tuesday, West and Censori stepped out together for a fast-casual meal at KFC in near-matching outfits: He wore a pair of shoulder pads under a black Vetements POLIZEI T-shirt he has not taken off in weeks, plus a set of opaque black tights-slash-socks. I am praying to whatever higher powers may be that he has taken these off, particularly given that, yes, he hit the sidewalks of L.A. sans shoes. Meanwhile, our bride of the moment also wore a black T-shirt but opted for completely sheer tights with seemingly nothing underneath them or on her feet. Though it is probably true that stranger things have happened in KFC's hallowed poultry halls, what feels indisputable is that these two are asking a lot of tights, especially in an outdoor environment. Can hosiery really stand in for pants? Can it hold up without snagging against the grainy scrape of concrete? Maybe more pressingly, can its thin mesh provide adequate protection against things like, I don't know, hookworm?
Practicality aside, I actually support the decision to shun any form of trouser and let the stockings speak for themselves. Censori is sort of riffing on the tights-as-pants trend that her own husband's former sister-in-law (lol) popularized late last year but in a more accessible way that seems … comfortable. It seems free. It seems fluid and stretchy, and I think we could all go with releasing ourselves from the shackles of hard pants more often, particularly where buckets of chicken are involved. The lack of footwear, though, I cannot forgive. That's an emergency tetanus shot waiting to happen. Surely Kanye has a big barrel of spare Yeezys lying around somewhere, no?