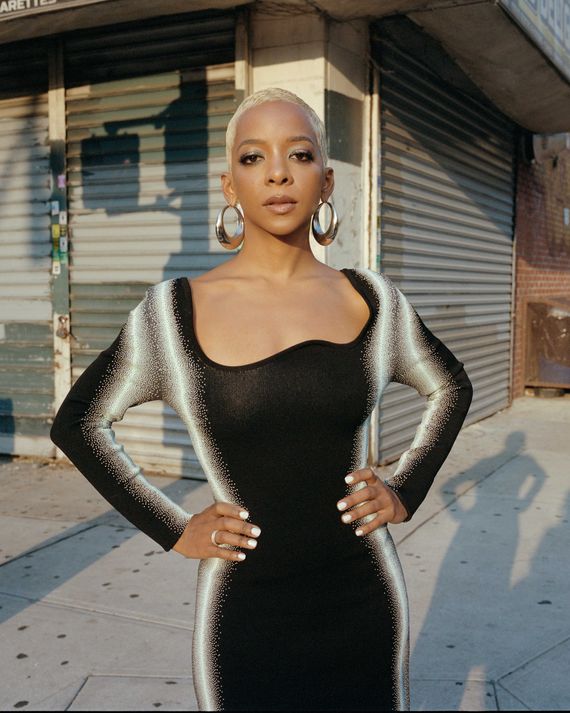 Kara Young stands at the top of the stairs of her parents' Harlem brownstone enthusiastically yelling for me to come on up, the front door left ajar for me to venture inside. When I meet her in the entryway, she immediately wraps her arms around me and offers me a bottle of water. These days, Young is a busy woman. She's preparing for Broadway's forthcoming revival of Purlie Victorious with Leslie Odom Jr. and starring in Boots Riley's Prime Video series, I'm a Virgo. On a warm weekday in June, the actress, dressed in a blue sweatpants set and multicolored sneakers, looks as though she has been running around all morning. But when we sit on the couch in her parents' cozy living room, I get a closer look at her closely cropped blonde hair and meditative eyes underneath the warm overhead lights, and there is not a bead of sweat dotting her forehead.
I'm a Virgo follows a 13-foot-tall Black boy named Cootie (played by Jharrel Jerome) living in Oakland, and Young plays Jones, a queer communist activist who befriends him. Jones is particularly interested in rent spikes and community eradication, which is something Young knows all too well. The daughter of two Belizean immigrants — one a former beauty queen, the other a Rainbow Room staffer, whose framed photos hang in the hallway leading to the dining room alongside titans like Oprah, Stevie Wonder, and Al Gore — Young was born and raised in Harlem. She still lives in the neighborhood to this day, but she mourns the communal bonding that has been leveled by gentrification: "We used to have a Father's Day tournament every summer. Dipset rolled through. Everybody from all the boroughs would come, and the people that moved into Harlem petitioned so that it doesn't exist," she says. "Our cultural references for rituals are diminished in the process of it all."
Those changes in the neighborhood inspired Young to pour back into her community through various projects. She has done voice-over work at the Schomburg Center for Research in Black Culture, played viola at the Classical Theatre of Harlem in a free production of Shakespeare's Twelfth Night, and applied to be a member of the community board. "I didn't get in, and I was so upset!" Young admits, comedically curling up into herself. "I have so many wishes to make this a better community in regards to the new people moving in." Young's desire to connect with other people who are surviving under the umbrella of capitalism and the threat of displacement has been in the making for years.
Young tells me that she didn't always want to be an actress, but when she was 5, her older brother decided to take miming classes at the 92nd Street Y's after-school program, and she wanted to sign up with him. One instructor took her under her wing, setting off a chain of events. "She really cultivated the performer in me in these imaginary worlds. We performed in nursing homes. We performed at schools," the actress remembers. In high school, Young participated in musical theater before going on to study at Gettysburg College. One class required her to improvise a scene with a fellow classmate. "It was about a mother who had an addiction problem and she was supposed to pay rent," Young says. During the scene, a lightbulb went off in her head — this was something she could get used to. "We looked up and everyone was bawling."
At that moment, Young made up her mind that she would dedicate her life to performance. Acting was magic, and she was the sorceress. In Off Broadway plays, she began to play more characters with one thing in common: their attempt to survive under capitalist structures. There was the young girl named Karma who searches for her missing foster brother within an impoverished city in Jonathan Payne's The Revolving Cycles Truly and Steadily Roll'd, and in C.A. Johnson's All the Natalie Portmans, the female lead tries to summon the energy of Natalie Portman as she and her sibling grapple with an imminent eviction. But these characters weren't the only ones trying to persevere through financial hardship. While working in the theater, Young also worked at a cigar bar, a restaurant, babysat, did some office handling, sometimes rotating five gigs at a time to make ends meet while juggling scripts.
In 2021, she made her Broadway debut in Clyde's, Lynn Nottage's play about formerly incarcerated people who get a second chance at life by working at a truck stop sandwich shop. She earned a Tony nomination for her role and then picked up a second nomination in 2023 for her role as Jess in Martyna Majok's Cost of Living, which explores the dynamic between disabled and able-bodied persons. But don't presume that her first and second Broadway appearances were small because they were supporting roles. Those jobs both felt hefty to Young, and her grind had been going long before she made it to Broadway. "You feel like you're changing the world when people come to see that," she says of her Tony-nominated performances. "The work feels so important."
When it comes to playing Jones in I'm A Virgo, Young says the character feels like an "energy source" for all of the other roles that she has played up to this point. Jones is the conduit for spreading Marxist philosophies to her friends and community, and Young plays her with intense verve. Her surreal monologues are pointed, and the camera lingers on her fierce expression as she hollers the truth to anyone who will listen. "Jones is trying to tell the people that they have more power than what they've been told," Young says. "She's fighting for housing injustice and a lot of the injustices of the world. She's trying to inform the community where they stand and there's more of us than them."
Aside from Young's political similarities with Jones, she was attracted to this particular project because of Riley's history with activism and his singular creative vision. After first meeting at Sundance in 2018, the two clicked. A few years later, Young was auditioning for I'm a Virgo by memorizing 13 pages of text. She was floored when she got the job: "I couldn't even believe it myself. I still cannot believe it honestly," she says. Today, Young exalts Riley, calling him "radical imagination personified." After trying her best to keep the project a secret, it's finally out in the world, and she's looking forward to the discourse. She argues that Riley's idea of a 13-foot-tall Black man in Oakland is a brilliant metaphor for our entire existence as Black people in contemporary society. But what is it that she's been dreaming about lately?
Young pauses, rolling her eyes up to the ceiling. It's been hard for her to slow down. She recently went to Bahia to participate in a dance-intensive program, and the opportunities keep coming, onscreen and onstage. "But I wanted to use that time to dream," Young says about her residency in Brazil. Her dreams are deeply rooted in humanity and all of its potential, and she carefully picks and chooses her words out of fear that she'll come off pretentious or self-righteous. But Young dreams of a world where people are kind to one another and emotionally invested in each other, too. And she hopes to accomplish this through her acting: "Storytelling is the most ancient thing we do. If people are telling stories to an audience, then they feel like there's something that's going to shift to either one person or 500 people. We did something inexplicable in those two hours."