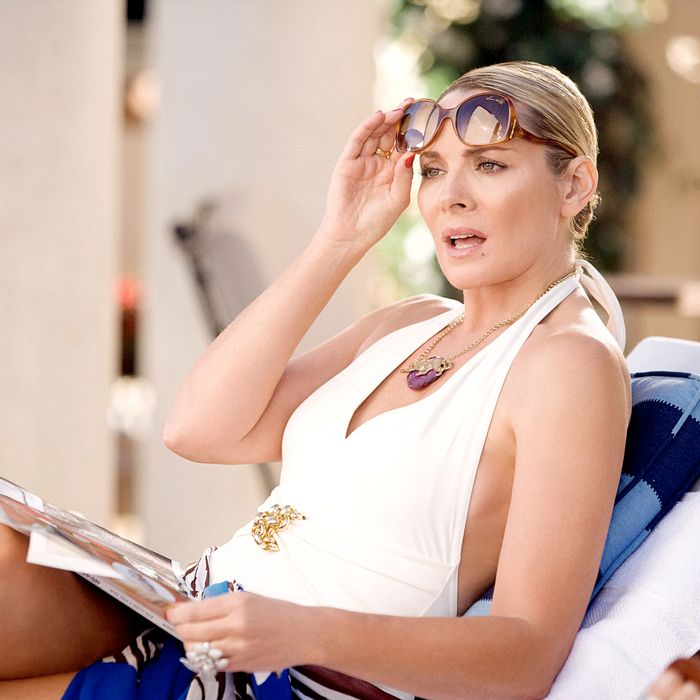 Photo: New Line Cinema/Courtesy Everett Collection
If there's one thing And Just Like That … is great at, it's delusion. At least that's what I thought until recently, when it became clear that one of the Sex and the City reboot's wildly optimistic ploys actually worked out — sort of. After a year of conspicuous and transparently hopeful hints at Samantha's return, Kim Cattrall somehow agreed to make an appearance on the show's second season. Provided HBO would meet her conditions.
Earlier this month, Variety reported that Cattrall filmed a scene for season two in March, "without seeing or speaking with the stars of the series" or its showrunner, Michael Patrick King. In it, Samantha speaks with Carrie on the phone, a conversation that was "shot alone as most phone calls would be," an HBO spokesperson told "Page Six." The rep went on to say that "this was an easy and convenient way for Samantha to return," but if the tabloid's sources are to be believed, it may also have been an easy and convenient way to fulfill Cattrall's purported contract stipulations — namely, that she "would not set foot on the Queens set," as "Page Six" put it, if King and her former co-stars were there.
The specter of Samantha loomed large throughout the first season of the reboot, which was green-lit without Cattrall due to decades of rumored beefing between her and the rest of the cast. But that did not stop And Just Like That … from confidently writing Samantha into the script via iMessage and suggesting in the finale that Carrie was going to get drinks with her in London after dumping Big's ashes in the Seine. Cattrall very tastefully made her opinions on the first season clear — which is to say that she did not like it at all.
And yet, sometime between Carrie buying a bird purse and Aidan not only returning to the franchise but also taking up smoking, Cattrall appears to have made an about-face. Carrie and Samantha have graduated from texting to exchanging one whole phone call! Did they really meet up for drinks in Europe? Who knows, but more important, how on earth did the show finally lure Cattrall back in? Blackmail? A lifetime supply of lube? A "shitload of money," as "Page Six"s source suggested? As to that last one, we can only assume, but in a June appearance on The View, Cattrall herself offered some insight.
"Well, it's very interesting to get a call from the head of HBO saying, 'What can we do?' And I went, Hmmm. Let me get creative," Cattrall said, drumming her fingers on her cheek with an aura of intrigue. As one of her top priorities, the actor then named getting Pat Field, legendary costume designer for the original SATC series, to dress her for the cameo. Though she remains close friends with Cattrall, Field is not known to have any behind-the-scenes drama with the show but opted out of the first season of the reboot to focus on styling Emily in Paris. "I just thought, if I'm going to come back, I've gotta come back with that kind of Samantha style," Cattrall said on The View. "I've gotta push it."
So there we have it, direct from Samantha herself: For the duration of a single long-distance conversation, the fissures in the Sex and the City universe will be filled. Congratulations to us all! This is the most exciting thing to happen to phones since Tampongate.
This article has been updated.