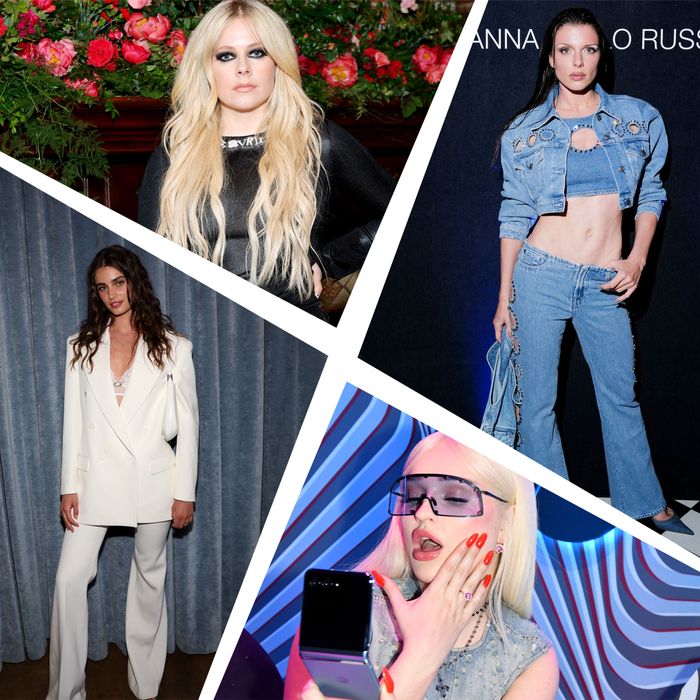 Photo-Illustration: The Cut; Photos: Getty Images, Courtesy of Christian Louboutin, Courtesy of Nordstrom and Michael Khors, Sansho Scott/BFA
We hope you're well rested from your Memorial Day weekend, because Pride season is here! And while we're celebrating the lives of our queer loved ones and historic queer activists who have paved the way for many, it only reminds us that pride parties are the best events of the summer. So strap in — the corporations will start plastering their logos in rainbow flags and throwing celebrity-filled parties with open bars, and we don't want you to have FOMO for the rest of this summer's Pride events.
Last night, streetwear designer Angelo Baque debuted his Awake store on the Lower East Side to a crowd of the coolest downtown kids. Basque says he wants to build a "hangout spot" where fashion, music, and art intertwine. The space has an art gallery showcasing rotating works, a striking replica of the iconic Queens Unisphere (a symbol of unity and cultural pride), and immersive experiences.
Most Iconic Duo: Angelo Baque and Vashtie
Baque and Vashtie, downtown royalty. Doesn't get more stylish than that.
Best Y2K Look: Kim Petras
Remember the Motorola Razr? Well, it's back. Even though we believed Paris Hilton was the last person seen with a Razr (in the early aughts), Kim Petras posed with the flip phone at the Motorola Razr+ launch event. From the phone to the face-eating blue-framed glasses and Cirque du Soleil performance at the event, it's safe to say that we've stepped back into the year 2000.
Best Business Casual: Taylor Hill
Business casual is the new casual. As we dive into conversations about old money and Sofia Richie, suits and businessy dresses are becoming ubiquitous at every party. But model Taylor Hill looked chill in an all-white suit she paired with a peeking lace bra to remind us that she hasn't fully sided with the suits.
Best Patchwork: Avril Lavigne
Avril Lavigne, recently romantically linked to Tyga, stepped out alone at Christian Louboutin's Caba launch event in my favorite silhouette — tiny shirt, big pants. These pants have some character: The reworked denim patchwork easily spices up a plain leather shirt and white stiletto heels.
Best Selfie: Alexia Elkaim
Where else would you find an "It" girl taking a selfie in the middle of an event? At the Miaou and Becky Akinyode SPACE installation, of course!
Best Denim-on-Denim: Julia Fox
It's not a Julia Fox outfit if there isn't something a little chaotic going on, but this is a very calm appearance from Fox, who has worn a poodle dress and full-body latex suit to fashion shows. At the 7 for All Mankind party, Fox played it cool in this light-washed denim ensemble.
Best Ruffles: Julia Fox (Again)
Yes, another Julia Fox moment, but it's for a good reason. Ruffles are back in a big way, and we're not going to gatekeep: This white top was designed by Sam Finger.
Best Big-Bag Moment: Milena Smit
Amid the mini-micro-bag trend, I have stayed true to my Mary Poppins slouch bag. So has Milena Smit — but hers is YSL.