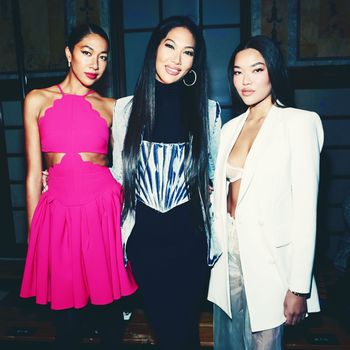 Photo: Jamie McCarthy/Getty Images
In a tearful Instagram Live on Monday, Kimora Lee Simmons said ex-husband Russell Simmons had hit "rock bottom," alleging that he verbally abused her and their daughters, Aoki and Ming Lee Simmons, over the years.
After Ming, Russell and Kimora's oldest daughter, wished her mother a happy Father's Day in an Instagram Story on Sunday, Russell appeared to respond on his Instagram, sharing a graphic that read: "Stop telling fathers they should have fought harder to see their children & start asking mothers why he had to fight at all." That post led Kimora to explain the family drama on her own page, writing, "This man has been threatening my kids' lives. I'm hearing so much more now. We won't be bullied threatened or afraid." She added: "Leave my kids alone. This narrative of attacking the only caregiver, the only parent in the home with the kids, the mom, AND the kids for one's own shortcomings and embarrassments is dead. Dead. Dead."
Per TMZ, Aoki, the couple's youngest daughter, supported her mother on Monday, sharing screenshots of text messages allegedly sent between herself and her father, the disgraced hip-hop mogul and one of the co-founders of Def Jam Records. "He's been awful to me for years," she wrote in an Instagram Story. In one message, Russell appears to accuse his ex-wife of stealing money from him, calling her "a piece of [s]hit." Aoki responds, "I'll never speak to you until you DIE. Don't ever say that again."
Aoki shared other messages sent to her father explaining to him why she distanced herself from him. "No one stops me from talking to you, my health does," she allegedly texted him. "Everytime I spoke to you you would yell and scream about a legal situation that I can't even respond to because I AM NOT INVOLVED, I am your child, not your lawyer your ex wife any of it. I can do nothing. You yell at me like it's my fault." TMZ reports that Aoki also shared a video without sound that showed her father appearing to scream at her. She captioned it: "This is not someone who will accept help."
In her own response, which came in the form of Instagram Story posts and, later, an Instagram Live video, Kimora said Russell was "abusive" to all the women in his life. Previously, 18 women accused Simmons of sexual abuse. He has denied all allegations.
"Your threats and lies and intimidation maneuvers and tactics are sad. Stop it please. Your own flesh and blood? Enough is enough," Kimora wrote. The Cut has reached out to Kimora Lee Simmons's and Russell Simmons's reps for comment and will update if we hear back.