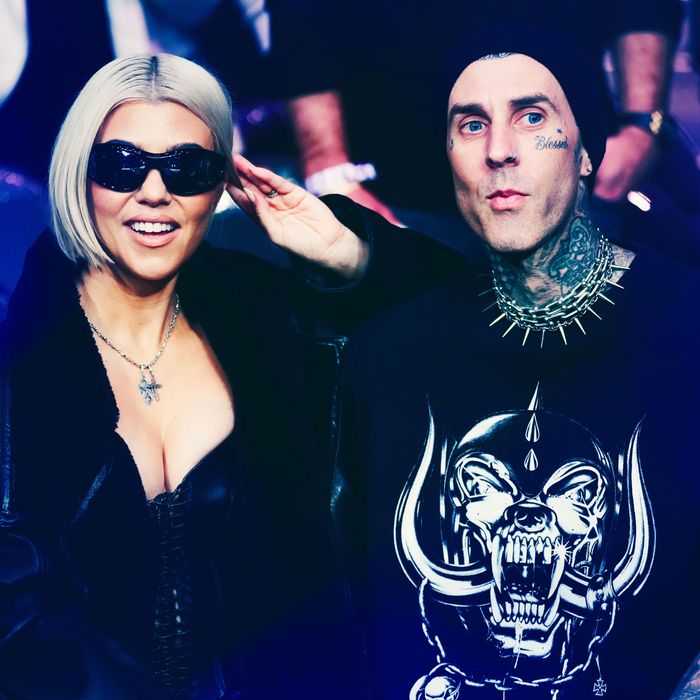 Photo: Jeff Bottari/Zuffa LLC via Getty Images
Drumroll, please: Kourtney Kardashian Barker and Travis Barker are having a baby boy! The couple shared the news on Sunday, posting a video of an outdoor gender-reveal celebration to both of their Instagram accounts. There was excitement from the crowd, confetti, and, of course, tongue touching.
In the video, Barker is sitting at his drum set and Kardashian is sitting on his lap. They kiss a couple of times while one of her family members — Khloé? Kris? — can be heard shouting off-camera, "Let's get the party started, we're all excited." Barker then builds anticipation with a little crescendo, and as the cymbals drop, blue streamers fly into the air around them, confirming that they're having a son. They kiss again as the crowd cheers. Very on-brand for Kravis.
Kardashian and Barker got married last spring, in three separate ceremonies: a nonbinding Las Vegas "practice" wedding, a Santa Barbara ceremony to make their union official, and a multiday affair in Italy to make it goth. Earlier this month, Kardashian told Barker (and the world) that she was expecting their first child at a Blink-182 show in Los Angeles, standing in front of the stage and holding up a homemade sign that said, "Travis, I'm pregnant!" Kardashian shares three children — Penelope, Reign Aston, and Mason Dash — with her ex Scott Disick, while Barker also has three kids — Landon, Alabama, and stepdaughter Atiana — with his ex Shanna Moakler. Congrats to the happy parents-to-be.