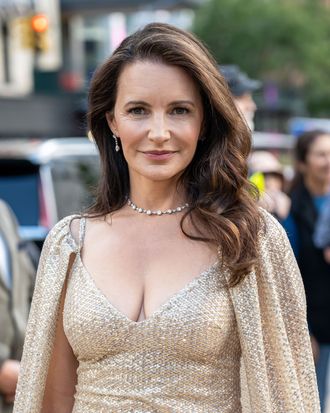 Kristin Davis
Photo: Gilbert Carrasquillo/GC Images
When the women of Sex and the City returned to our screens in 2021, they unsurprisingly looked a little different than they did nearly two decades earlier, when the show went off-air. That Sarah Jessica Parker, Cynthia Nixon, and Kristin Davis were older in And Just Like That … still seemed to come as a shock to certain fans online, who made unkind comments about the castmates' appearances — accusing Davis, in particular, of overusing filler in her face. The criticism was so harsh, Davis said in a recent interview, it sometimes made her cry.
Ahead of the second-season premiere of AJLT, Davis — who reprised her role as Charlotte York for the reboot — spoke with The Telegraph about the pressure to look young in Hollywood and the emotional toll of all that commentary about her looks.
"I have done fillers and it's been good and I've done fillers and it's been bad," she said. "I've had to get them dissolved and I've been ridiculed relentlessly. And I have shed tears about it. It's very stressful."
Unlike the original series and its movies, AJLT follows the women as they navigate life in their 50s. "Why shouldn't our lives still be interesting? Society expects you to diminish yourself as you age. But why should we?" Davis told The Telegraph. Still, Davis said that she was surprised by how critical people have been not only of her, but also of Parker, Nixon, and Kim Cattrall — reportedly appearing in AJLT season two in a cameo phone call — as they aged.
Davis has spoken candidly about how "angry" the ageist critiques make her, telling the Sunday Times in 2021 that the "level of intensity" was a "shock" this time around. "I'm going to be blunt," she said. "I feel like, 'Fuck you. Fuck you people, like, come over here and do it better.'" Her castmates have similarly hit back at the trolls, with Cattrall recently pointing out to the Sunday Times that Botox, fillers, and other treatments are not "just a vanity thing," but part of playing the characters she does.
Meanwhile, in 2021, Parker told Vogue that online, "everyone has something to say" about her appearance. "'She has too many wrinkles, she doesn't have enough wrinkles.' It almost feels as if people don't want us to be perfectly okay with where we are," Parker said at the time. Davis reiterated that point in her conversation with The Telegraph: "It's hard to be confronted with your younger self at all times," Davis said. "It's a challenge to remember that you don't have to look like that. The internet wants you to — but they also don't want you to. They're very conflicted."