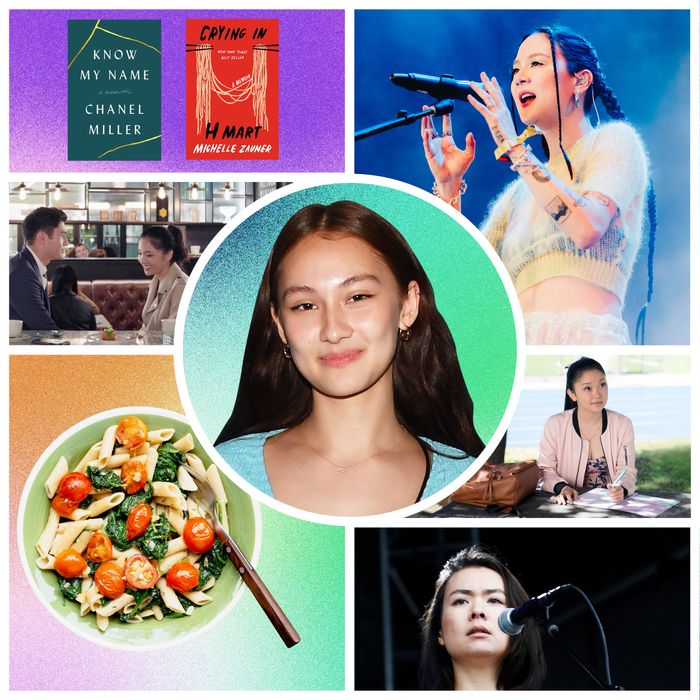 Photo-Illustration: by The Cut; Photos: Andrew Walker/ Shutterstock/ Nantucket Film Festival, Getty Images, Everett Collection, Amazon
Imagine wading through hundreds of screaming young teens as they holler "I love you so much!" at the top of their lungs while Taylor Swift's "Cruel Summer" pumps through the speakers. You'd probably think you were in the bathroom line at Swift's Eras tour. In reality, this was the scene at a book signing with novelist Jenny Han and actress Lola Tung at a library on an island off the coast of Massachusetts. Tung stars in Han's Prime Video series adaptation of The Summer I Turned Pretty, a trilogy of books centered on Isabel "Belly" Conklin and the yearly vacations she spends at a beach house in Massachusetts with close family friends. At the Nantucket Film Festival, the author and actress signed books for hundreds of young people, many of whom had taken a ferry to the island and stood in the rain for hours for a chance to get a glimpse of Han and her muse.
When Tung sent in her audition tape for The Summer I Turned Pretty a few years ago, she was a freshman at Carnegie Mellon. According to Han, when she saw the tape, "there was something in her eyes that made me want to root for her." Meeting Tung in person, it's not hard to see what Han means. She brings her down-to-earth energy to Belly onscreen and now, at age 20, she just wrapped season two of the series — the plot of which Han says is based loosely on the family vacations she took to the beach in Virginia as an adolescent and was also inspired by her grad-school summers in Cape Cod — which was filmed on the coast of North Carolina.
By now, Han is well known for her empathetic and realistic portrayals of the transition from adolescence to adulthood and the early relationships that leave long-lasting marks on a young person's heart (in addition to the Summer trilogy, there are Han's delightful To All the Boys I've Loved Before films and the spinoff series XO, Kitty). In The Summer I Turned Pretty, our protagonist's love triangle with brothers Conrad and Jeremiah Fisher is the subject of many fandom skirmishes, but if you ask Tung to pick which team she's on, she'll tell you firmly she's "Team Belly."
After Tung finished signing books and taking photos with hundreds of young fans, she slunk away, with several new friendship bracelets handed to her by adoring viewers wrapped around her arms, and spoke to the Cut about going from her college dorm room in Pittsburgh to spending her summers on the beach playing a beloved character from the Jenny Han literary universe. Later, she would go on to present Han with the Nantucket Film Festival's New Voices in Television Writing Award at a country club on the island, not too dissimilar from the one where Belly has her first debutante dance in The Summer I Turned Pretty.
There are a lot of funny dinner scenes in the first season of The Summer I Turned Pretty. Which five celebrities would you invite to a dinner party?
I feel like my list would be all over the place because I've met so many wonderful people I've enjoyed talking to and who have sort of become friends. Jenny has been a wonderful mentor, so she's there. I met Michelle Zauner from Japanese Breakfast. I love the band and Crying in H-Mart, so that was a life-changing experience to read that book and it would be great to have her there. Laufey is a jazz singer and someone who I've looked up to for so long. We met last year, and she's become a wonderful friend of mine. And I wanna say Michelle Obama. I'd be unable to talk because I'd be crying. I'd have to take some time to recover.
What's the last meal you cooked for dinner?
I made my go-to easy dinner: pasta with goat cheese, spinach, and tomatoes. I added some tomato sauce, pepper, garlic. It's good. I left it in the fridge to eat it the next day and then my sister ate all of it. But that's okay.
There are so many pop-culture references in the show and a really great Gen-Z soundtrack too. Where do you get your best pop-culture recommendations from? 
My best friends from high school are really cool! They know all the hottest places to be. My sister is 15, so she knows all the pop-culture stuff, and Jenny is really, really good about pop-culture stuff. They're the people I go to.
You've said your friends go away during the year for college and then you go away during the summer to film The Summer I Turned Pretty. Is there a pre-filming ritual that you have before you leave for the summer or before you start filming a scene?
Before we start the season, I read as many scripts as we're given because we're not always given the whole season before we start filming. I annotate them and use my little acting-school toolbox. Before each scene, music is huge. I have a bunch of different playlists. And journaling is a huge thing, too.
Are you a morning-pages girl?
No. I'm a "whenever I can fit it in, usually late at night" girl. I journal from Belly's point of view sometimes, and it's really helpful.
There are several scenes of you and the boys jamming out in the car in this series, and you said you make playlists. What's on the playlist?
It depends on the location, mood. Laufey is on my playlist. Lizzie McAlpine; I love her. Taylor Swift, obviously. Snoh Alegraa and a lot of SZA after her second album came out. Then I went back to her old stuff to relisten too. There's some Beabadoobee on there and Mitski.
Mitski can come to the dinner party!
Oh, yes. Oh my God, she's gotta be there! I really, really admire singers and songwriters like her because it's so hard to write and be that vulnerable.
The show references a ton of classic Hollywood films, and every year the kids rewatch It Happened One Night on the first night at the beach house in Cousins with the moms. What's your comfort rewatch?
Crazy Rich Asians! I rewatch that a lot. Pitch Perfect 2: I'll turn it on if I'm not doing anything, and it's fun to go back to. And To All the Boys I've Loved Before is a comfort rewatch for me! I remember when the first movie came out, I was a junior in high school just like Lara Jean, and my sister was in sixth grade like Kitty. I loved it, and I turn it on whenever I have time.
You were meant to be in the Jenny Han universe. Is there anything you'd never watch?
I don't like jump-scare horror movies. But I am trying to be like Belly and be more of a risk-taker! I'm open to watching new genres of movies!
There are definitely some good horror movies that don't have jump-scares!
I watched Midsommar. I'm Swedish, too. So I scare all my friends by saying, "Who wants to go to Sweden with me?!"
Do you go to Sweden often?
I do. When I watched To All the Boys for the first time, I was in Sweden because my mom's mom is from Sweden. It's beautiful. And usually, Midsommar is more of a joyful summer celebration!
Do you have a favorite game?
I love playing Spit, the card game. I am very competitive when it comes to that.
Just like Belly …
It's true! I am really competitive like her …
Do you play volleyball, too? Or just as that character?
I played in middle school. I was really athletic in elementary and middle school. It was really fun to revisit that for the show. We had to practice volleyball a lot, which I enjoyed. You have to have enough energy to get through those long days.
This show is based on a book trilogy. Is there a book you've read recently that you couldn't put down?
I recently read Chanel Miller's Know My Name. I met Chanel at an event last year. She's encouraged me to write a little bit, which I'm so appreciative of, and her book was an incredible read. Essential. She has a beautiful, heartbreaking way of writing.
On the show, one of the moms, Susannah, is a painter. What's the last piece of art you made or purchased?
Oh God, I made a Father's Day card for my dad and I drew a sunset on it. I was like, "I would draw you, but I'm a bad visual artist, so here's a sunset!"
There are also so many party scenes on this show, from debutante balls to house parties. What's the worst thing to do at a party?
To be rude to your guests or hosts. Just be polite. My mom was always really adamant about using manners with me and my sister growing up.
What would your last meal be?
It's something that I haven't had in a long time. My grandma used to make this incredible zucchini soup with a little baguette on the side for dipping. I guess I'm just missing her and that a lot. She was a great cook. That's not what I thought I would say, but it was so comforting, and it reminds me of her.
What's the best advice you've ever received?
One piece of advice that's resonating for me now is just to be present and take everything one day at a time. It can be really overwhelming and stressful to try to plan your whole future, to think about all the unknowns and even to dwell on the past, but I've been trying to be very present lately. I know it's easier said than done; it is tough to be out here in the world.
And the worst advice?
To not ask questions. Don't be afraid to ask questions and to take up space! It's always beneficial.