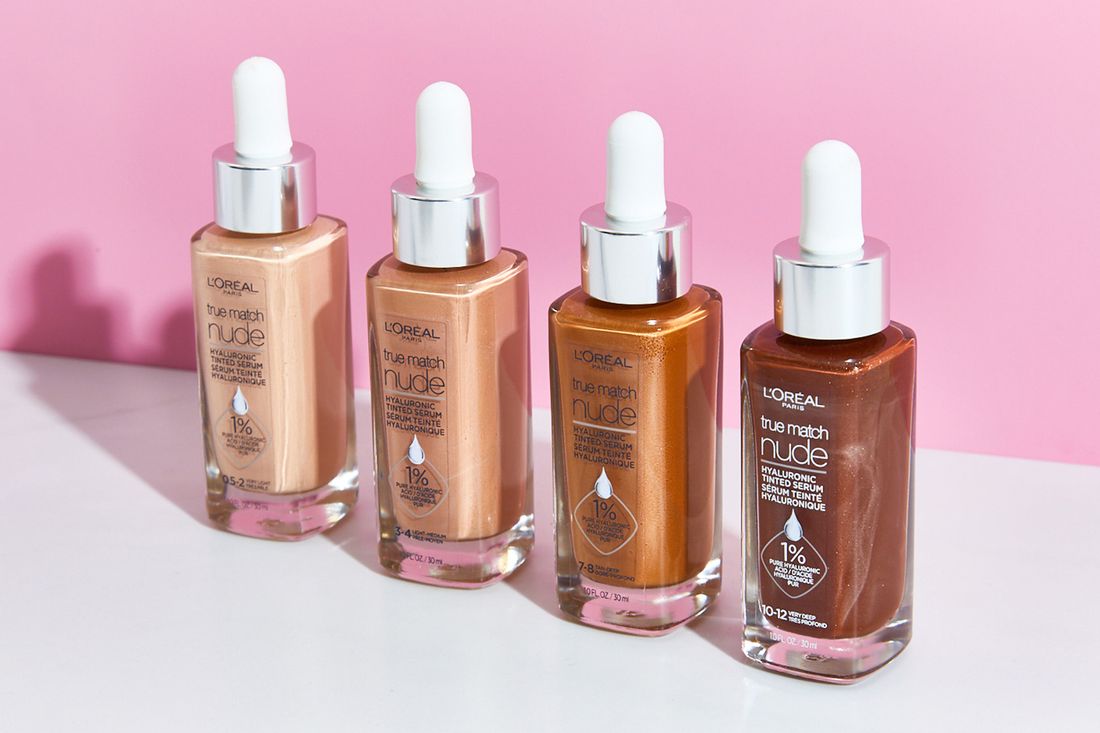 I have a penchant for natural-looking makeup and glowy skin, especially in the summer. I'm more inclined to go makeup free than to reach for a full-coverage foundation and that's simply because there just aren't enough formulas that provide the sort of light coverage I want. I've tried a number of different tinted moisturizers and lightweight foundations in the past that left me with a cakey, heavy complexion that gave very much the opposite of lightweight.
With time, I have been able to find natural-looking foundations and tinted moisturizers that are actually light in coverage, but it's not a category of makeup I ever stop looking for. I've found good options, but not great options, until the L'Oréal Paris True Match Hyaluronic Tinted Serum came across my desk. Tinted serums always spark my interest because, in theory, they sound like the lightweight complexion product of my very dreams. While I haven't had the best luck with them in the past — I've tried similar products from luxury brands that were oily and sticky on my skin, which is hardly what I imagine when I think of a serum — I had renewed faith this time around because it would be a perfect addition to my summer makeup routine.
Fast forward to a few months later, and my summer beauty look revolves entirely around this tinted serum and I can always count on compliments when I wear it. Below are all the reasons why I adore this tinted serum from the drugstore, and why I think you should add it to cart for your summer makeup routine, too.
The Formula
The name of this complexion product lends itself to something that wouldn't exist at the drugstore, but rather as a high-end formula that provides coverage with costly skin-care benefits. Unlike the oily, not-so-stellar tinted serum formulas I've tried in the past, this one really feels like a serum — it's lightweight, quick to absorb, and dries down without leaving a lingering residue.
The formula includes hyaluronic acid and it gives my dry skin a juicy, hydrating boost that I will never turn down. If my favorite foundation and hyaluronic acid serum had a baby, this tinted serum would be it. It's hydrating without feeling greasy or wet on the skin, so it's very easy to forget I'm even wearing anything, which is just what I want for summer.
The Wearability
I run hot, but during the summer months (call it a quite literal hot girl summer), it's an absolute curse. This means I break out in a sweat more often than I'd like, and because of this, my makeup tends to suffer (read: melt). Walking down the block is enough to make me break out in a sweat and it almost always leads to sticky, blotchy makeup. But this tinted serum? It's sweaty girl-approved. When I wear this product, I can park down the street and make it to brunch without my makeup turning into a sweaty, melting mess.
As for application, I love a complexion product that gives me the freedom to apply as I choose. This tinted serum passes the test — I can apply it with a brush, a sponge, or my fingers and I know it's going to look good because I've tried it all three ways. My favorite method is with a stippling brush, but when I did a not-so-great job of packing my makeup bag for a staycation a few weeks back, it looked just as good when I smeared it across my skin with my fingers.
Final Thoughts
File this tinted serum under drugstore products I'll repurchase time and time again. When I wear it, you see my skin, not my makeup, and that's always my goal whenever I'm getting ready. At this point, it's become a foolproof choice in my makeup routine that I know I can reach for on any occasion or instance when I want light coverage, skin hydration, and a glowy complexion. This sort of product is hardly what you expect to find at the drugstore, let alone under the $20 mark, but here we are. My skin has never looked better and I will gladly indulge in it for the summer months and beyond.
This advertising content was produced in collaboration between Vox Creative and our sponsor, without involvement from Vox Media editorial staff.