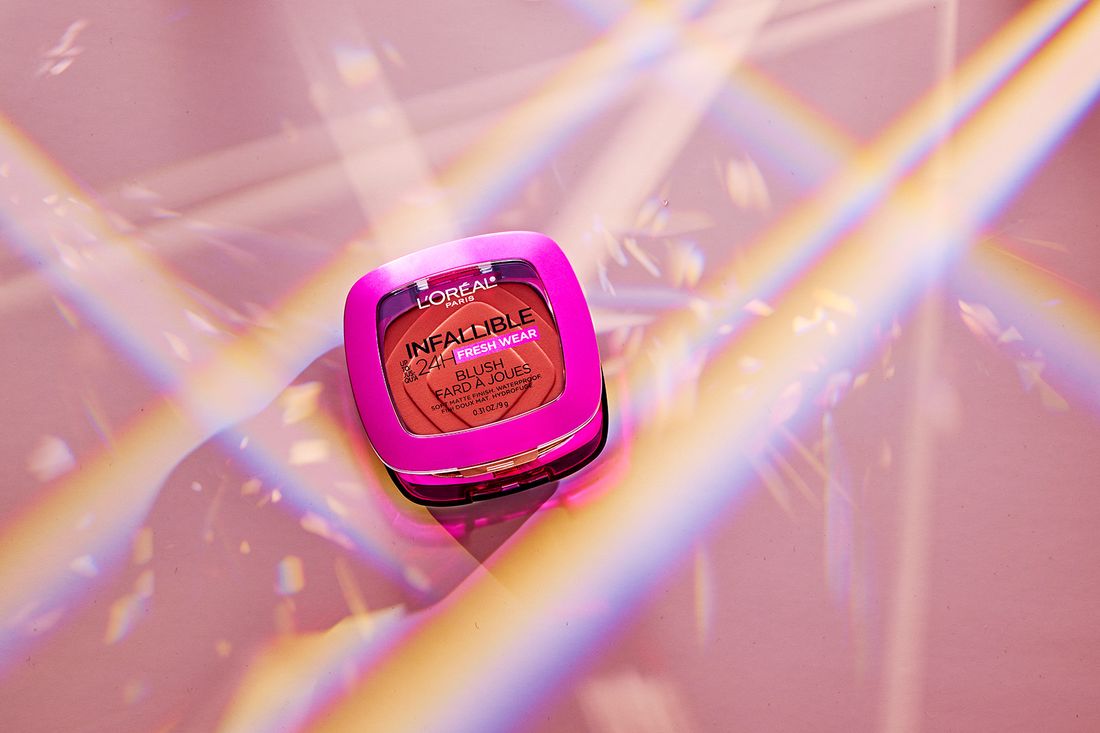 If the word blush makes your skin crawl, you're not alone. Blush can be an extremely intimidating makeup product, because even just a little too much of it can leave you looking like Pennywise. But between the blush hacks, blush draping, and blush contouring methods that have flooded TikTok, it's been having a moment. All of this makes us want to face our blush fears, and right on time, L'Oréal Paris dropped the new Infallible Up to 24H Fresh Wear Soft Matte Blush to help us conquer them all.
This powdery matte blush formula feels weightless on the skin and is transfer and sweat resistant. It comes in four stunning buildable shades that give you a healthy saturated flush without looking like you're about to sashay on stage with a ballerina troupe. After testing it out, our editors have a bold claim to make — we think this might just be the blush for people who don't like blush.
L'Oréal Paris Infallible Up to 24H Fresh Wear Soft Matte Blush in Daring Rosewood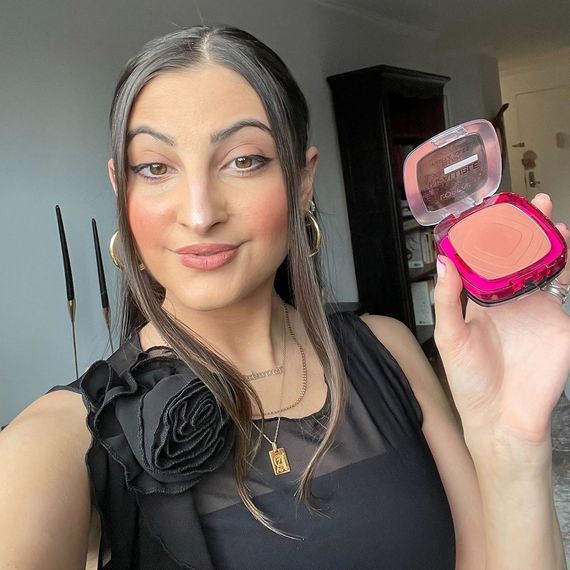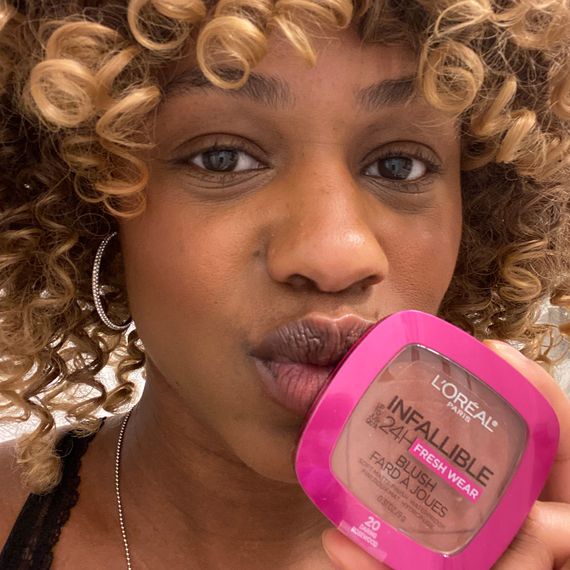 Why Alanna Martine Kilkeary, managing editor, likes it: Because I'm a former high school ballerina and actress, it took me a while to get used to wearing blush off the stage. I remember my mom piling it up onto my cheeks before my performances to help 'liven up' my skin underneath the bright lights.
Since then, I've learned a valuable lesson with blush: A little often goes a long way, and it's made me gravitate toward formulas that have a buildable, yet saturated pigment so that I get a lot of bang with a little product. This soft matte blush does exactly this — all you have to do is pick up a small amount, tap off the excess and swirl it onto your cheek area for a rosy flush. It doesn't cake or pill; rather the formula seeps right into the skin for a natural, yet noticeable finish.
Daring Rosewood is the ideal pinky-brown hue that adds dimension to the face, and pairs well with any makeup look whether it be a bold, glossy red lip or black winged eyeliner. It especially pops well off of my olive skin tone, and is an everyday blush hue I can see myself reaching for over and over.
Why Shalwah Evans, content director, likes it: My first few encounters with blush consisted of someone forcing it on my face with their bare hands — it turned me off from the product for decades. Now, I typically only wear it when I do a full face of glam, which means special occasions and date nights only. So while I don't hate blush, it's the one makeup product that would never make my deserted island must-haves list.
I do, however, really like this matte blush. Not only does it layer well over my all-over application of concealer (the powder blush acts almost like a setting powder for my cheeks), it recently lasted through a stress test, a back realignment, two coffee meetings, and one three-hour dinner. I didn't reapply, and I didn't pack it on during the initial application, either. It simply stayed put. My favorite shade is Daring Rosewood because it has a deep berry hue that best mimics the natural flush I get from working out or being in the cold. It adds a nice, subtle touch of color to my complexion when I'm wearing just concealer or tinted serum.
L'Oréal Paris Infallible Up to 24H Fresh Wear Soft Matte Blush in Legendary Berry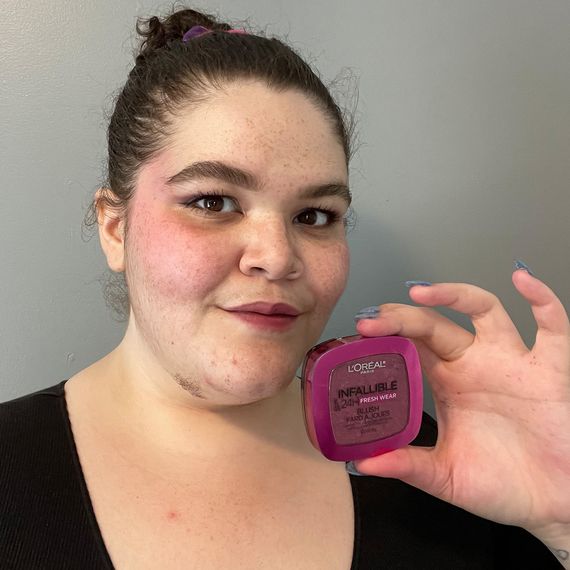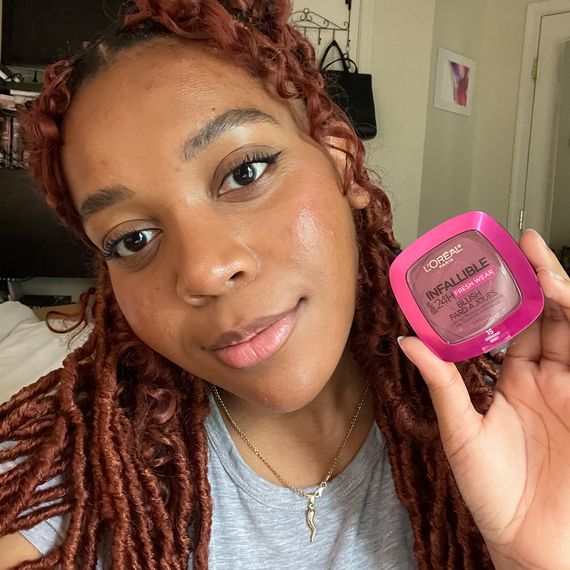 Why Alexis Gaskin, associate editor, likes it: Blush is one of those beauty products that I knew was a vital part of a makeup routine, but something that never really interested me. I thought you could only wear pink or red blush and had to always apply it to the apples of your cheeks, something that doesn't work for my face shape. As I grew into my makeup journey I discovered a new love for blush to take my makeup look to the next step.
With the concept that makeup has no rules, I now use blush on my face however I want. I tap the color to my cheeks and up near my brow bone (sometimes I'll extend over my brows too) to create a more flushed, layered look. I love wearing purples and oranges to make a statement and guarantee that my colored cheeks can be seen by everyone who passes me or sees me across the street. The shade Legendary Berry from the Infallible Matte Blush collection is my go-to for simple makeup days when I still want to add a pop of color. Since my oily skin usually turns powders into a clumpy mess, I often reach for a cream or liquid formula, but this blush has made me a believer again with its matte finish that doesn't crease. This longwear blush sets into my skin in such a natural way that you'd think my face naturally flushed like this. Also, as a self-proclaimed sweaty girl, I appreciate how long this blush lasts, even on days where I'm running around, breaking out in a sweat at every block.
Why Kat Pierre, social media editor, likes it: If someone told my younger self that I would be a blush lover, I'd probably laugh. Finding one with a texture I liked was next to impossible because I've always found that formulas tend to be chalky and not pigmented enough to show up on my skin tone. After discovering cream formulas, I just thought that I wasn't a powder blush kind of girl, but this one changed my mind.
This lightweight powder packs a serious punch. I was surprised to find that it's pigmented enough to show up on my skin with just a swirl of my brush. It's a finely milled powder that blends so seamlessly into the skin without compromising pigment. It's truly a buildable formula that doesn't get cakey with multiple layers.
Legendary Berry is a beautiful mauve color that I feel would really complement deeper skin complexions. It's the perfect summer shade that you're going to want to reach for all season long.
L'Oréal Paris Infallible Up to 24H Fresh Wear Soft Matte Blush in Fearless Coral
Why Reece Andavolgyi, associate editor, likes it: For many years, blush was non-existent in my makeup routine because I had rosacea. My entire aim was to mask my flushed, pink skin, not add to it. I see the logic behind it, but looking back at pictures, my face always looked flat. When my rosacea finally cleared up, I started using blush again after years of avoiding it, and now I can't do my makeup without it.
I like to go for cream formulas because they melt into the skin, but this matte blush isn't like your average powder blush. I love the Infallible Bronzer so I had a feeling I was going to love the blush version and that stands true. The soft matte formula melts into the skin without looking chalky or cakey — very similar to the way a cream formula does. The nice part is that it doesn't feel tacky on the skin and it layers well with the rest of my makeup, which can't always be said for cream formulas. Fearless Coral is just the kind of pink-meets-orange shade I gravitate toward in the summer, and you only need the slightest touch of product to get a pretty flush.
L'Oréal Paris Infallible Up to 24H Fresh Wear Soft Matte Blush in Confident Pink
Why Ariel Wodaryck, editor, likes it: The first thing that stuck out to me about this blush is how boldly pigmented it is. I tapped my blush brush into it one time — lightly — and came away with enough product to fully cover one cheek. The soft, velvety consistency is extremely easy to blend, so even if you go a little overboard with applying product, all you need to do is take a clean, fluffy brush and buff it out for a few seconds. I appreciate the blush's matte finish, too — I love matte blushes because I can wear them with glowy foundations and top them with highlighter without looking greasy or disco ball-like. I also loved the vibrant pink color — I can see myself pairing this blush with more natural, soft looks or with a cool-toned smoky eye for added drama.
One of my main issues with blush is how fast the product tends to fade, but this blush stays put through an entire work day and a dinner outing with friends, with zero fading or transfer. I have dry skin, but the water-proof and transfer-resistant formula leads me to believe this would stay put on oily skin types, too. This blush is also amazing for tan and deep skin tones — the pigmentation is striking enough to stand out no matter the depth of your skin.
This advertising content was produced in collaboration between Vox Creative and our sponsor, without involvement from Vox Media editorial staff.