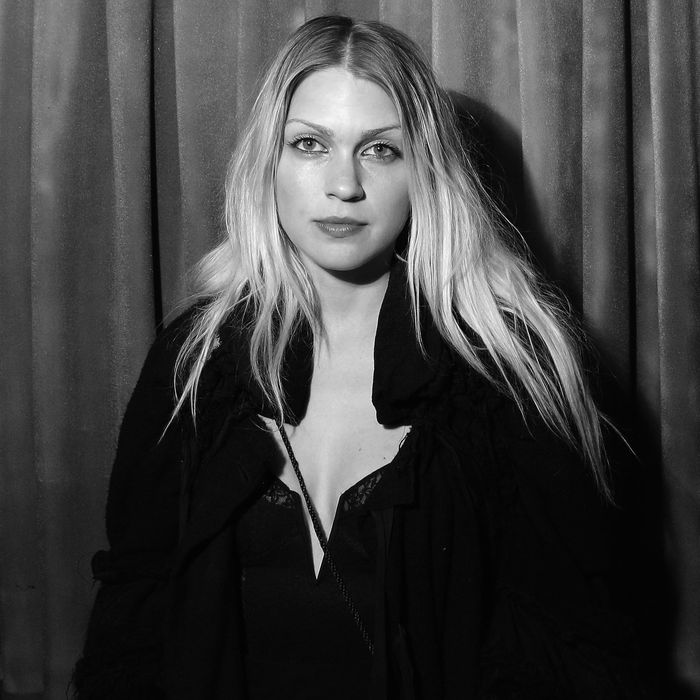 Photo: Andrew Toth/FilmMagic/Getty Images
A man has been charged in the fatal drugging of Katie Gallagher, an up-and-coming fashion designer who was found dead in her Manhattan apartment last July at the age of 35. Gallagher, whose clothing was worn by Lady Gaga and Laverne Cox, was reportedly working on her 27th collection when she was found unresponsive in her Lower East Side bedroom, her keys still in the lock on her front door. A medical examiner determined her cause of death to be acute intoxication from a blend of fentanyl, p-fluorofentanyl, and ethanol.
Police ruled Gallagher's death a homicide in March, investigating the possibility that she'd been intentionally drugged in the course of an attempted robbery, according to the New York Times. Last Wednesday, 34-year-old Kenwood Allen was charged with Gallagher's murder, having already been indicted in two similar deaths — of Nurbo Shera and Ardijan Berisha — in December. At the time, NYPD chief of detectives James Essig said Allen and an associate offered their targets "drugs in some cases," then ambushed them as they exited Lower East Side bars. They would then take jewelry, money, high-end watches, and phones, Essig alleged, "either through force or when the victim passes out."
Per the New York Times, prosecutors now believe that Allen, working with 36-year-old Sean Shirley, committed 26 robberies and attempted robberies between March and December 2022. Five of their victims ultimately died from overdoses — four of them in the span of 15 days. Last week, Allen was also charged for the killings of 25-year-old Rutgers student Alexander Rudnitsky and 33-year-old Queens resident Sadath Ahmed. He faces ten counts of second-degree murder — two for each death — in total, as well as 17 counts of robbery and attempted robbery. He pleaded not guilty at his arraignment. Shirley, meanwhile, has been charged with second-degree murder, robbery, and grand larceny in the deaths of Ahmed and Rudnitsky, per the Times. He also pleaded not guilty.
Gallagher launched her eponymous fashion line, Katie Gallagher, in New York City in 2010, according to an obituary from her alma mater, the Rhode Island School of Design. Her work has been featured in Vogue, Elle, W Magazine, and other magazines. In a statement, her family remembered her as a "talented, ambitious and beloved designer and artist" who was "excited for the future and new opportunities." They said they hope her case will bring awareness about the ways fentanyl and other lethal drugs are used "as weapons against innocent people." Gallagher's family added that the number of confirmed victims "is shocking" and that they are "gutted by the magnitude of this collective and senseless loss." A trial date has not yet been set for Allen.