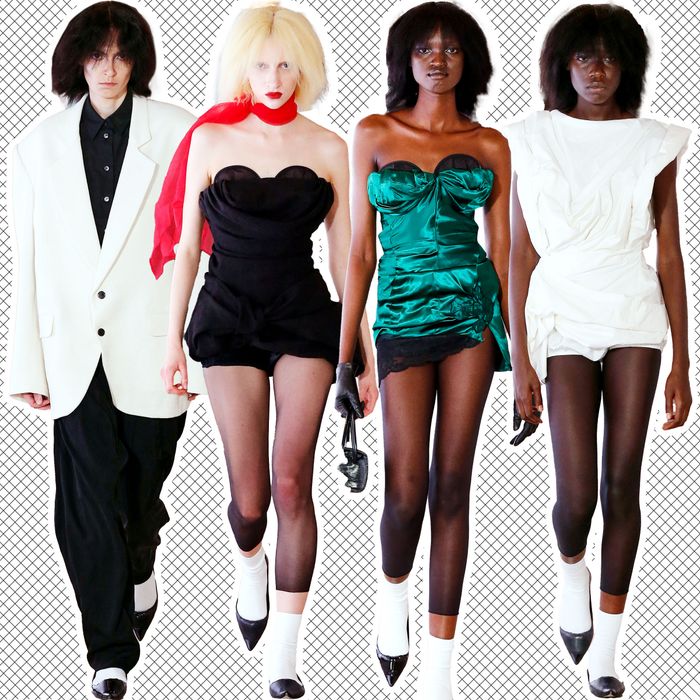 Photo-Illustration: by The Cut; Photos: Courtesy of Marc Jacobs
The eye roll about fashion shows has long been that they're only seven minutes long. Weeks of labor, tens or hundreds of thousands of dollars, untold carbon emissions and shipping miles, the agita and anguish of the creative process, and the shows don't even last as long as a catnap.
Some of that, no doubt, comes down to the constraints of contemporary protocol. The modern Fashion Week, with shows on the hour (sometimes more than one), in venues that may be across town and rush-hour traffic from one another, during weeks (5-day, 7-day, 10-day, the definition is flexible) of back-to-back motion, has squeezed the shows down into their current form. Go back 30 or 40 years, and the salon shows of Yves Saint Laurent and couturiers like him could go on for days, by comparison. The current-day fashion show is a product of our winched attention and workaholic optimizing.
Marc Jacobs, as he's wont to do, twisted the whole concept's knife. He no longer shows at New York Fashion Week — though he was the usually unchallenged highlight when he did — so he has no one to compete with. For the third June in a row, he's shown on his own, both in company and in scheduling, at the New York Public Library on Fifth Avenue. But even given space to luxuriate, Jacobs quickened. His show last night clocked in, by my watch, at three minutes: a full procession of models out, a full procession of models back, and done. Three minutes includes the lights going down and the music going up, the pause between the two revolutions, Jacobs's silent bow. From the first model to the last in one full rotation was 32 seconds. There were nervous, disbelieving chuckles up and down the audience when it became clear that the end really was the end. The revolution had been optimized.
Why? Jacobs still draws a crowd. Everyone in fashion wants to know what he's going to do, even for these latter-day collections, which have become inescapably boutique (they are available at one store and one store only, Bergdorf Goodman, as this one will be in late October). He's earned our focus. Why discard it?
The answer, one has to infer — Jacobs declined to speak after the show — is that this simply is the speed we run on now. I ran into Michael Ariano, Jacobs's head of press and de facto body man, who said only that the word "chaotic" had been thrown around a lot. "This is how fast everyone scrolls through Vogue Runway anyway," he said. (I'm sure I'm not supposed to quote him — sorry, Michael.) Complaints about the pace of fashion and the industry's relentless expectations have been commonplace for years, and the rest of the world seems to have caught up. ("When the TikTok account manager has been given too much power" was the assessment of one Twitter commentator.) It didn't read as a bratty expression of pique on Jacobs's part, exactly, but it also didn't leave you feeling the euphoria an amazing but ephemeral experience can. The humanity had been drained out of it. Jacobs had ChatGPT write the long, boring show notes left on every seat as if to underscore the point. ("The Marc Jacobs fashion show captivated audiences with its innovative approach to blending menswear-inspired tailoring with feminine aesthetics.")
The upside of this approach is a blow landed. The downside is that you leave talking about everything but the clothes. (Here they come, 566 words in.) This is a shame, because Jacobs was mining an era he knows and loves, the 1980s, to good effect. The baggy volumes of his recent collections had been cut back; in their place were truncated little bustier tops and dresses and boxy jackets and suits ("its innovative approach to blending menswear-inspired tailoring with feminine aesthetics"), most shown with black tights, flats, and frilly ankle socks. Some saw Blade Runner's Pris in the ironed, crimped hair; I thought more of Madonna and Desperately Seeking Susan, though there was a black-and-white striped suit Beetlejuice would've loved. If they were hard to see on the runway — nothing encourages a run like a flat — they're all available online. You can scroll through as fast or as slow as you like.
But did the show land? The clothes, despite their zippy, debulked energy, seemed far from the point. Besides, setting a record is not always an achievement. Give credit to Jacobs for this, at least: More than many of his peers, he's going forward, for good or for ill. We filtered out of the Library. Anti-fur protesters were still on the steps with their megaphones, though Jacobs's company hasn't used fur since 2017. (In fairness to them, Jacobs collaborated with the fur house Fendi last September.) The overriding feeling was the giddiness of being unexpectedly able to be home by dinnertime. And there out ahead of us all — hat-tip to the Washington Post's Rachel Tashjian, who spotted him — was Jacobs, in a bottle-green Lamborghini Huracán, pulling out and speeding away.