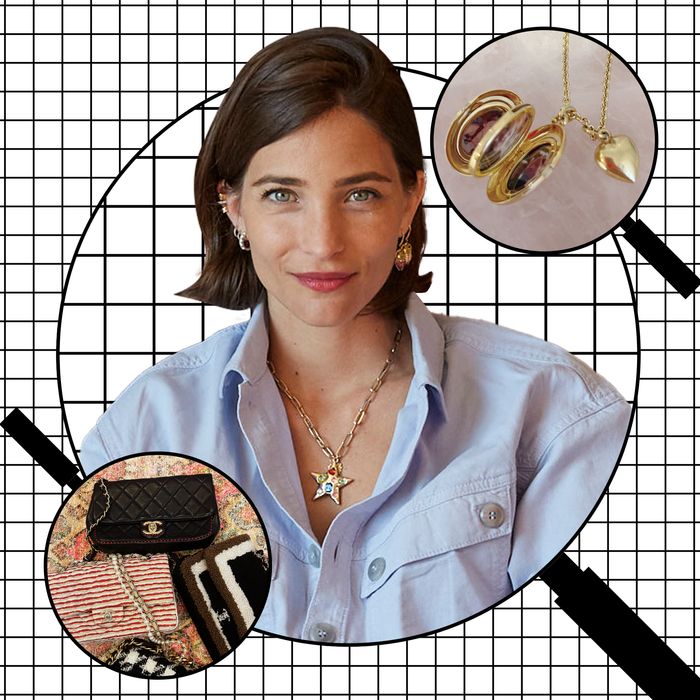 Photo-Illustration: by The Cut; Photos: Annie Schlechter, Courtesy of Maria Dueñas Jacobs
For more of the Cut's favorite fashion, beauty, and home finds, sign up for the weekly Cut Shop Newsletter.
Super Smalls founder Maria Dueñas Jacobs is a shopper through and through. "I get that adrenaline rush when I find something, and there are so many ways to get that rush," she says. "Sometimes it's through endless scrolling until you find something. I use apps like Editorialist YX, too. Whenever there's a new way to shop, I'm there." Etsy, eBay, and 1stDibs are also sites she frequents. If she's traveling, she'll search for the best vintage stores in the area.
To her, shopping is essential to great style because it's all about how you're wearing the clothes instead of the clothes wearing you. "In Spanish, there's a saying, 'no tiene salero,' which means 'they have no salt,'" she explains. "I think of bad taste like food that's bland. Not in a sense that it's basic, but as in, there's no spice or thoughtfulness" to their outfit.
Below, see where Dueñas Jacobs got the pieces that made it into her curated lifestyle.
Where did you get your nightstand?
It's custom. I was looking for something with rose quartz. I had seen a reference in Architectural Digest of a really beautiful nightstand that had a rose-quartz top. My designer, Jerry Capiello, sketched it out. We picked the finish of the wood, the brass on the legs, and the quartz top. It was fun, and it was like making jewelry in a way. It's supposed to have healing properties, and that's perfect for bedtime.
What's your nighttime routine like?
When I get home from work, it's really my time to try to put my phone down and be present with my children. My nighttime routine really starts with just being with them, getting a download on how their day has gone. We try to play or do something with them, and we transition into their bedroom. We usually read books and chat. After that, my husband and I have dinner. Unfortunately, sometimes I check my email again at nighttime and do some last-minute work. Then it's pajamas and skin care. My friend has a brand called Fig.1 that I like, and I like to use the Furtuna Skin oils.
Where did you get the inanimate object that brings you the most joy?
My locket is from Monica Rich Kosann. I add significance to all of my pieces of jewelry because it gives them more value in my eyes. Everything I own has a sentiment attached to it. I wanted something that had my husband and my girls in it, and the first thing I thought of was a locket. Monica Rich Kosann has this quadruple locket that was perfect. My girls are obsessed with it because they love the function of opening it and seeing that all of us are in there.
Where did you get your favorite piece of clothing?
Celine. They're so great, they're wide-leg, satin trousers with a stripe down each side. The fit and tailoring are so perfect. They're cool enough to wear on a date night but also to a boardroom meeting. They can do both depending on the top or heel or sneakers you wear them with. But it feels like you're not trying too hard, which I love. When I bought them, I didn't know that Phoebe Philo was ever going to leave Celine; if I had known, I would have bought them in every color.
Where did you get the item you wear the most?
My R13 puffer is from a store in Dallas called V.O.D. We had a pop-up for the brand in December at the store, and it was a really amazing event. The shop carries brands like Isabel Marant. I bought it, and I wore it on the plane, and it was like a cloud of flowers. I haven't taken it off since. Strangers on the street tell me they love this coat. It's a black puffer with florals on top of it. It's not too serious, it's that extra spice, that extra salt.
Where did you get your favorite pair of shoes?
New Balance. The 550s are my favorites. I always accessorize them with Super Smalls Shoelace Charms.
Where did you get the item you splurged on the most?
I like vintage luxury handbags from places like 1stDibs, What Goes Around Comes Around, and The RealReal. Vintage is always really fun, especially for designer bags like Chanel. They're the kind of things that are collectible. I really like the Kusama for Louis Vuitton, so I wanted one of those to add to my collection. I think of handbags the same way I think of jewelry in that they're heirlooms. I have three daughters, so I'm certain they'll be passed on to them.
Where did you get the item you've had for the longest time?
What Goes Around Comes Around. I was lucky enough to find my all-time favorite pair of jeans: the coveted Levi's Big E. I love vintage Levi's and hunting those down. They're a true collector's item, and I definitely could not afford them at the time. I put them on, and they instantly fit me better than any other denim I'd ever owned. It was just one of those moments where I felt like I absolutely could not walk away without them, so I splurged. I love the collaborations too. I have some stuff from their collab with Bode. I love Veronica Beard, Everlane denim, and Citizens of Humanity. I'm always willing to try new brands! I love Miu Miu denim, too.