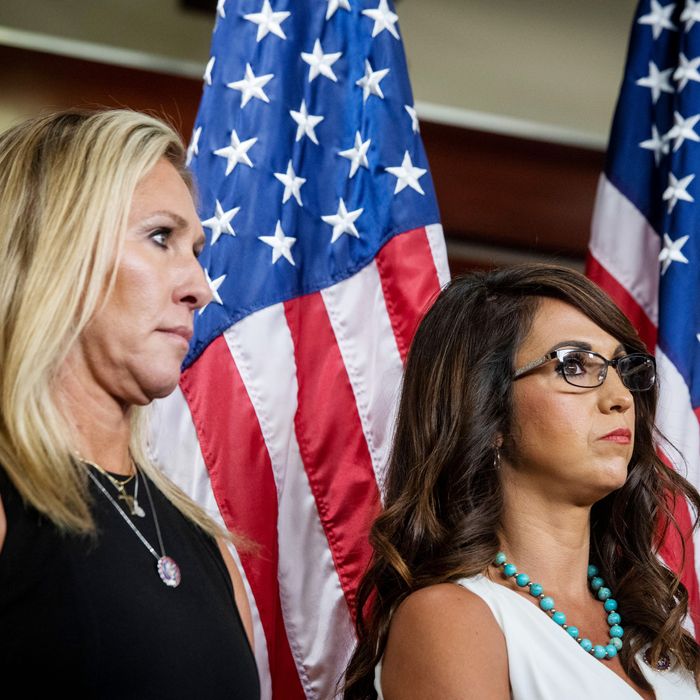 There appears to be trouble in conservative girlboss land. Tension has been mounting between Representative Lauren Boebert and Representative Marjorie Taylor Greene, two of the MAGA cohort's loudest and most controversial spokeswomen, for months. Much of it stems from the election of Kevin McCarthy as House Speaker, whom Greene supported and Boebert seems to vehemently oppose. In January, they reportedly had a huge fight about McCarthy in the women's bathroom at the House of Representatives, and now another man has deepened the rift: Joe Biden.
On the House floor this week, Greene called Boebert a "little bitch" for copying her articles of impeachment against President Biden. Apparently, both Boebert and Greene find Biden so vile that they each felt compelled to pen their own impeachment resolutions to get him out of office, subsequently putting their proposals in competition with each other. On Tuesday, Boebert used a procedural tool to force a House vote on her articles first, even though she technically filed them after Greene. This prompted Greene to tell reporters that she had planned to force a vote of her own "before this weekend," so there!
On Wednesday, while GOP congressmen decided to kick the resolution over to two other congressional committees to avoid pitting House members against each other in a vote, C-SPAN cameras caught a tense-looking exchange between Greene and Boebert. Behold, the body language of a ticked-off CrossFitter:
According to the Daily Beast, witnesses saw Boebert approach Greene to talk about "statements you made about me publicly," presumably referring to Greene's insistence that she had impeachment-filing plans first. At some point during the exchange, according to several people nearby, Greene stood up and accused Boebert of copying her own impeachment resolution, which prompted Boebert to claim she hadn't even read Greene's articles. The next few seconds reportedly went something like this:
Greene: I've donated to you, I've defended you. But you've been nothing but a little bitch to me. And you copied my articles of impeachment after I asked you to co-sponsor them.




Boebert: Okay, Marjorie, we're through.




Greene: We were never together.
Incredible. Greene's spokesperson confirmed the incident to People, and when asked about the confrontation by the Daily Beast, the congresswoman asserted, "Imitation is the greatest form of flattery." Greene also replayed her side of the exchange in an interview with Semafor, recalling that she told Boebert "exactly what I think about her" and reiterating her sentiment with a new and exciting twist: "She has genuinely been a nasty little bitch to me."
As for Boebert, she didn't confirm or deny what happened, saying instead, "Marjorie is not my enemy. I came here to protect our children and their posterity. Joe Biden and the Democrats are destroying our country. My priorities are to correct their bad policies and save America." She also clarified to CNN that she is "not in middle school."
It does not seem like Boebert and Greene will patch things up anytime soon, considering Greene was explicitly asked about the prospect of reconciliation and responded with a concise "absolutely not." I for one am amped for this petty feud between two terrible women to get a whole lot juicier.