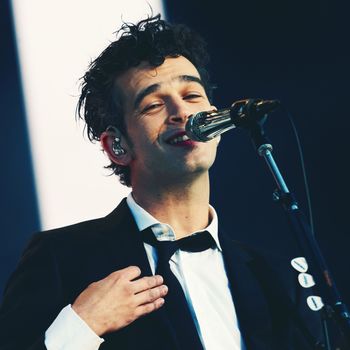 Photo: Roberto Ricciuti/Redferns
Earlier this week, before the smogpocalypse set in, Swifties everywhere breathed a sigh of relief after reports surfaced that a certain situationship had run its course. On Monday, tabloid sources announced that Taylor Swift and Matty Healy, controversial front man of the 1975, were "no longer romantically involved" and were, in fact, "never serious" to begin with, as one supposed insider put it to Us Weekly. Considering that Healy's past antics have included making racially charged remarks about Ice Spice and joking about masturbating to brutal porn, it's not hard to understand why Swift fans objected to their dating in the first place. But though the relationship (if that's what we're calling it) is over, Healy is very much still in the headlines. How is he doing? Back on his bullshit, but not reading the comments, allegedly.
At a show in Austria earlier this week, Healy — who also happens to be touring right now — appeared to acknowledge the celebratory mood amongst Swift fans who'd just heard of their then-rumored demise. After noticing a sign in the crowd reading, "You are loved," Healy acknowledged the backlash onstage: "I'm not very online at the moment, and I'm sure people have just been calling me a cunt relentlessly," he said. "I've not been online, but what I have been with is my boys." Still, it seems like he may have been a little online in the last few days: At a show in Dublin on Wednesday, while opening for his own band after the group's original opening act fell sick, Healy performed a guitar set with a white blanket pinned up behind him. Eventually, he spray-painted the word "SORRY?" onto it.
Was this a nod to the breakup? A literal blanket apology for any number of gaffes the Swifties have discovered these past few weeks? Difficult to say, though the latter category includes a lot of material: In addition to the incidents mentioned above, he's also come under fire for doing a Nazi salute during a January concert (satire, his fans said) and for participating in a series of racist jokes (including about Ice Spice) during a podcast episode that received so much backlash, both Spotify and Apple Music took it down. While seeing Swift, he did apologize, somewhat, to her latest collaborator — if not to anyone else whom he may have offended.
And over the course of the rumored tryst, he did make some attempts to clean up his act — for example, by putting a moratorium on his penchant for kissing fans onstage. Earlier this year, Healy told a crowd he would not be "kissing anybody in front of Taylor Swift" in apparent deference to "the queen," but now that things are finished, smooches appear to be back on the table. While performing at Denmark's NorthSide Festival in late May, Healy knelt in front of a security guard, bottle of booze in hand, and planted one on the man's mouth. (To be fair, he did first ask him for consent.)
Performative gestures at remorse and romance — seems like our guy is doing just fine.