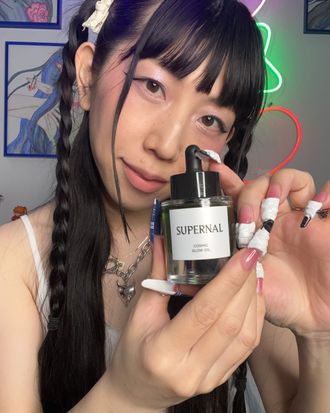 Photo: Courtesy of Mei Kawajiri
Mei Kawajiri got her start working at 18 at a nail salon in Kyoto. "It was more conservative and traditional," she recalls. When she turned 22, she moved to Harajuku, Tokyo, to open up her own salon, and that's when she honed in on her fun over-the-top style of nail art, which she is still known for today. In the early 2000s, she found herself itching to move to New York City: "I found myself getting restless in Japan and wanted to be No. 1 in the world." Kawajiri spent a little time at a salon in Nolita before quickly getting recognized for her unique nails. "I quickly went out on my own, working with celebrities and on set for fashion shoots." Now, she's worked with City Girls' JT, Miu Miu, and Dua Lipa and created nails that are inspired by unexpected everyday items like computer pixels, scrunchie socks, and bubbles. Mei also takes nails to extremes, creating exaggerated points and heights. "I love meeting like-minded creatives who recognize my talent as a nail artist and share the same passion."
Most recently, Kawajiri can be found sharing her work from her latest campaign for Blumarine and sharing updated photos of her baby bump. That said, her beauty and wellness routines are more important to her than ever. "Through self-care, I am learning about myself more," she shares. "When I make time for meditating, exercise, and eating healthy, it changes my whole day and keeps me motivated to do the best I can for me."
.

Here, Kawajiri's A.M. routine:
7:00: In the mornings, I make drip coffee. I love to practice toga, too (usually with Melissa Wood). I'm pregnant right now, so I am keeping active but adjusting the exercises to be a little less intense.
8:30: I wash with just cold water, which tightens skin and boosts circulation.
8:32: I follow with the Shiseido Elixir toner to remove excess dirt from my face.
8:33: For hydrating my skin, I use the Shiseido Elixir moisturizer.
8:34: For sun protection, I use Shiseido Haku SPF before going outside.
8:35: In the morning, I brush my hair and use Oribe Gold Lust hair oil. Every few days, I cut my own bangs.
8:45: My signature makeup look includes a black eyeliner from Heroine, a Japanese brand.
.

Kawajiri's P.M. routine:
8:30: At night, I love peppermint tea … or water with hot lemon and honey. Twice a week, I will take a bath and light a candle.
9:30: My hair is really long right now, down to my butt! After I wash, I towel-dry and apply the K18 hair mask … I don't rinse it out.
9:45: Once my hair is completely dry, I make two braids before sleeping.
9:50: I wash my face with a Japanese cleanser called Cow Brand. It's moisturizing and good for sensitive skin.
9:52: Then I'll follow with Shiseido Elixir toner and moisturizer again.
9:55: I finish up with the Supernal Cosmic Glow Oil. I have been using it for three years. It makes my skin soft and it feels super luxurious when I apply every night.
.

On finding confidence:
During the COVID pandemic, I felt I finally had some time to myself. Every day before that, I was traveling or working with clients and brands. I started practicing yoga and Pilates at home. I finally started to take care of my natural hair after having been bleach blonde. Now that the pandemic is over, and I am as busy as ever, I am still prioritizing making time for myself to continue these things. This self-love improves my self-confidence and keeps me grounded in my crazy world.
.

On the beauty marketing ploy that makes her cringe:
The bleached-eyebrow thing. It was cool for a second, and now it just feels like everyone does it.
.

On the types of products she avoids:
Ones that are really strong and harsh. I am afraid of peeling!
.

On deciding what's worth trying:
I test everything I receive. I'll use them for a few weeks and see how my skin reacts. I love cute packaging … sometimes I'll keep it for that reason.
.

On the beauty service she swears by:
I get facials by my trusted Japanese facialist Norico Kobido once a month.