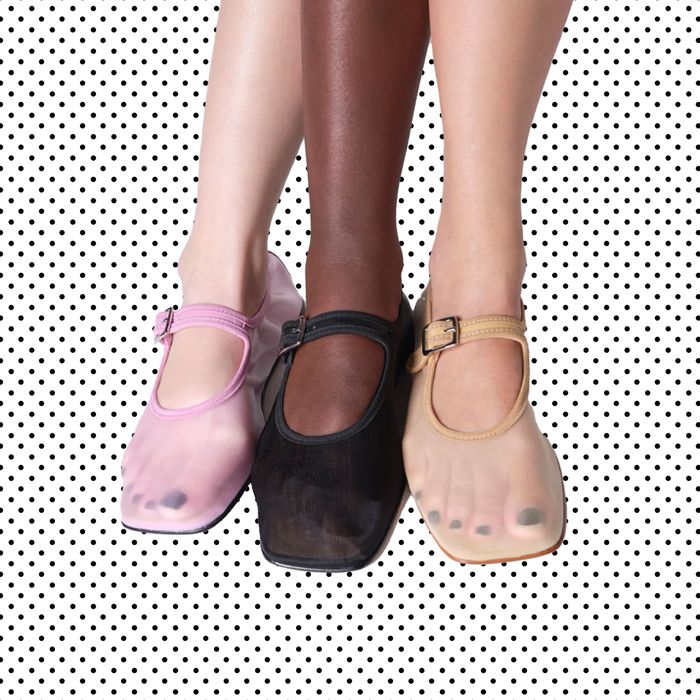 Photo: Retailer: Sandy Liang
For more of the Cut's favorite fashion, beauty, and home finds, sign up for the weekly Cut Shop newsletter.
Ever seen a shoe that made you physically gasp? For some, it might have been a strappy, lace-up high heel or a Prada slingback, but for me, it was these sparkly mesh Khaite ballet flats. I was scrolling on Instagram when a post from stylist Caitlin Burke pulled into view and I could think about nothing else but these see-through beauties.
There is something about the material that makes these flats so much sexier than a stiletto. Mind you, this is the first time I've ever described a shoe as "sexy." I hate it as much as you probably do, but it's the truth. If you pass them on the sidewalk, these are simply shoes, but upon closer inspection, they are purely vessels to show off your feet — bonus points if you have a color-coordinating pedicure. They're basically the footwear equivalent of lingerie: enticing because something's not fully visible but just visible enough to keep things interesting. As with a mesh bra or even a Pollock painting, from far away you could be seeing anything, but if you take a second look, you realize, Yes, those are nipples; yes, those are paint splatters; yes, those are someone's God-given toes.
And it's not just this specific Khaite mesh pair — it's the ones from Dear Frances, it's the ones from Sandy Liang, it's the ones from The Row, arguably the brand behind this whole trend. Mesh flats have arrived, and in my own Carrie Bradshaw moment, I couldn't help but wonder: Do I have a foot fetish now? A logical question, as I've never had such a strong reaction to seeing toes before.
But this is just one piece of the puzzle that speaks to an overall foot renaissance. We're living in barefoot-boy summer — a time when J. Law's Cannes flip-flops overshadowed her Dior dress and Carolina Herrera's rainy Rio runway show was more chic sans heels. Feet are in. Dear Frances just restocked some sizes of its previously sold out mesh flats, meanwhile Sandy Liang's are completely gone in black and selling out quickly in other colorways. As someone who has been somewhat embarrassed my whole life that my third toe is ever-so-slightly longer than my second toe (a sign that I am a good family mediator according to my Indian grandmother,) I'm ready to let them shine — but only under a veil of mesh that blurs (almost) as well as La Roche-Posay's tinted sun fluid.
Do these flats have support? Absolutely not. Your podiatrist would be aghast. Will they hold up against rain? They're definitely not Gore-Tex. But after years of chunky dad sneakers; thick, pillowy soles; and sky-high Versace platform heels, it's refreshing to see silhouettes that are ultraminimal — i.e., you can actually feel the sole of your foot hit the earth, sensitive arches and the elements be damned. If you're just as compelled as I am, shop the pairs below.
Better snag these now before they sell out yet again. They come in black and white, so pick your neutral — or get both.
Sandy Liang's first-ever shoe was this mary jane silhouette, and now she has introduced them in mesh. Several sizes are still up for grabs in this pink shade.
If you're a size 8 or 10, this is your lucky day. These Rachel Comey slides are on sale from a past season, and they look so chic.
If the Khaite crystal flats are a little out of your price range, opt for these similar sparkly ones from Loeffler Randall.
This Etsy seller makes mesh flats in all sorts of colors, and the price tag isn't too shabby for a made-to-order style. The almond toe and beige hue make these a great everyday shoe.
The fishnet-inspired material is dressed up with a gold chain around the ankle and a stylish square toe.
Mix up your neutral hues with this black and soft-pink pair from up-and-coming brand Piferi.
A pretty olive-green shade is here for those who want a bit more color in their mesh footwear.
Influencer and content creator Jenny Walton wore these on her recent Sicily vacation, and I am obsessed. Right now, they're available only for preorder with a delivery date of July 7, so it's worth the wait to lock in your size.
Let your feet literally shine with this Miu Miu style.
Of course, it wouldn't be a roundup of mesh flats without these "sock flats" from The Row. Jennifer Lawrence is a big fan of this particular style.