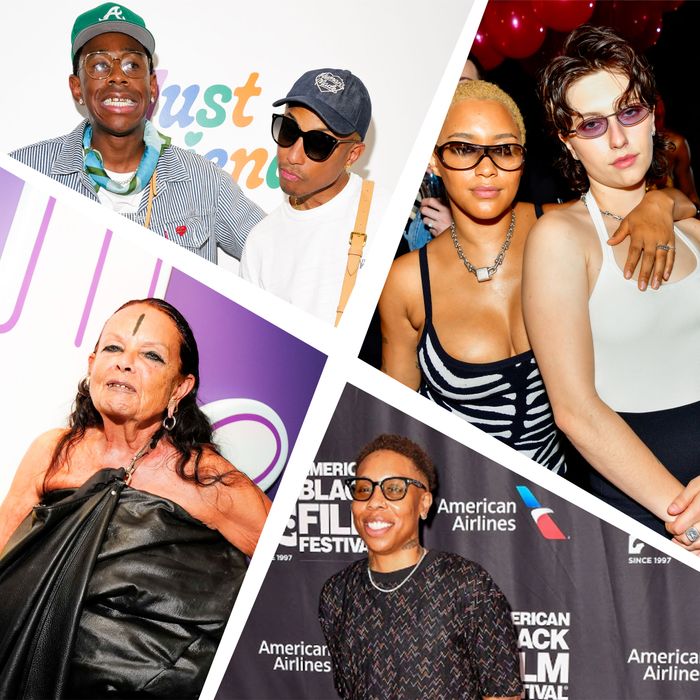 Photo: BFA, American Black Film Festival
So much has happened this week — in the fashion world, the most important event was Pharrell showing his first work for Louis Vuitton in Paris, which naturally transitioned to a star-studded after-party. Not only did fashion-show attendees get a performance from Jay-Z, but they also bore witness to a very unlikely holy-trinity sighting: Beyoncé, Rihanna, and Zendaya in the same place. Paris Fashion Week and its parties would've given me major FOMO if it weren't for its party pics, so while we scroll and look with envy, think about how we're basically (virtually) there.
In Paris, Joopiter revealed the 61 lots that form Just Phriends: A new auction-and-shopping experience constructed from the orbit of Pharrell Williams and his longtime collaborator Sarah Andelman. You may have seen Pharrell's last Joopiter auction and exhibition in New York, the one where Drake acquired his secondhand $2.2 million diamond chain. Now, it's going digital and aims to spotlight the intersections of hip-hop, art, and community. Along with showing a mix of artwork, jewelry, furniture, and more, Just Phriends' retail auction experience is open from June 19 to 27 on joopiter.com.
I Love It, But What Am I Looking at? Michèle Lamy
In Rick Owens, Michèle Lamy steps out to the Joopiter auction event in Paris in this mind-puzzling piece. Maybe it's a dress, maybe it's a set, but for now, it's best to call it a garment or even a work of art. This all-leather look will surely be added to the archives of Lamy's Best Dressed from Owens fans and hypebeast Reddit users.
Best Hair: Aaron Rose Philip
A new season means new hair, and pink feels like the right choice for summer. At Le Crocodile Cellar, Willie Norris celebrates 33 years among fashion fans and family. Philip commemorates Willie Norris's angel year in this toned-down pink curly cut. So cute.
Best Ombre Look: JoAni Johnson
JoAni Johnson is stunning, and that's well known. But her ability to make ombre look new and modern is hard work, and that hasn't gone unnoticed. At the Nordstrom x Missoni Dinner, Johnson wears a form-fitting, coral-to-white midi dress. This is the only ombre dress that doesn't remind me of a Starbucks drink.
Best Father and Son Duo: Pharrell Williams and Tyler, the Creator
Despite their very close relationship in real life, these two aren't actually related. But the resemblance between this picture and any other photo of a hipster dad and his son posing on the first day of school is uncanny. I mean, look at the childlike overalls.
Best Jumpsuit: Lena Waithe
As an actor and producer at the American Black Film Festival, you will surely be running to red carpets, panels, and screenings. And it was definitely in Waithe's best interest to wear something comfortable and well equipped for easy and fast mobility. Printed jumpsuit it is!
Food Can Be Fashionable, Too: Maryah Ananda
Food is just as cool as fashion, and we may be witnessing the rise of a New Age influencer and "It" girl because of it. "Baking babes" like Gabriette, Sydney Carlson, and Maryah Ananda have no problem merging the two. Cake Zine, a zine that covers food in a literary-magazine format, threw a party at Public Records to celebrate the launch of its newest issue. Ananda bought the pies, style, and vibes.
Best Floral: Kristina Bumphrey
What's more feminine than florals? Advocating for women's health, of course. In New York, SHE Media hosted an intimate event with influencers across media, entertainment, and women's health to commemorate the launch of its new brand Flow. Flow is a new digital and live-media platform that will produce content surrounding community and commerce that serves women's health.
Best Sunglasses: King Princess and Quinn Wilson
Wearing sunglasses indoors is no longer a faux pas. And vintage sunglasses are always a good choice, especially at the Michael Kors x Interview Pride party.
Best Entanglement: CeCe
At the same event, CeCe appeared in this aqua-blue barbed, wire-inspired garment. Although it's an eye-catching look, I can only imagine how many people and things got trapped inside it.
Best Micro Miniskirt: Christian Cowan
The micro miniskirt arrived last year, most famously from Miu Miu, and it hasn't gone anywhere since. This week, a formal iteration of the micro miniskirt appeared at the AmEx and CFDA Pride event.
Best All-White Look: Cyrus Veyssi
This look would've been perfect for an all-white party, but it was worn just as well and paired with a signature fruity drink at the 818 sustainable Pride party.
Pretty in Pink: Jemima Kirke
As much as we hate to admit it, not every pink outfit in 2023 is Barbiecore. But it's still a good moment when Kirke wears a pink and polka-dot Qipao-inspired dress at the Pioneer Works Village Fête.
Belts Galore: Young Wavy Fox
Belts can be a useful accessory to cinch in the waist of a jacket or tighten your pants, but Young Wavy Fox wears big big belts for aesthetics only at the 2023 Brandon Blackwood Foundation Juneteenth Event.