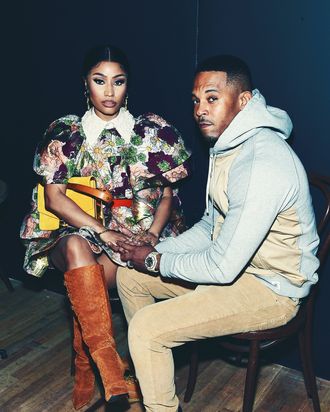 Photo: Jamie McCarthy/Getty Images for Marc Jacobs
Hours after reporting that Nicki Minaj and her husband, Kenneth Petty's neighbors started a petition to try and get them kicked out of their Hidden Hills home, TMZ says that the petition was an elaborate prank by Cardi B fans.
"We, as nicki antis, can turn the residents of Hidden Hills AGAINST Nicki and her pedo husband moving in, hurting her assets in the process," a fan tweeted, per TMZ, which alleges that the same fan then created the petition under the name Beverly Bardan.
More than 800 people signed the petition, which urged the couple to relocate because of Petty's status as a registered sex offender. The petition claimed that Petty living in the neighborhood would lower home values because he is a registered sex offender with a "high likelihood to reoffend." (Other celebs in Hidden Hills include Kim Kardashian, Kris Jenner, and Jada and Will Smith.)
In 1994, when then-16-year-old Jennifer Hough told police that Petty, who was also 16 at the time, had raped her after holding her at knifepoint. Petty was charged with first-degree rape, later pleaded guilty to attempted rape, and spent more than four years in prison for that charge, the New York Times reported. In 2006, per People, Petty went back to prison for seven years after pleading guilty to first-degree manslaughter in the shooting of a man named Lamont Robinson — something the fake petition also noted. Petty is currently on house arrest for failing to register as a sex offender when the couple moved to California.
This post has been updated.