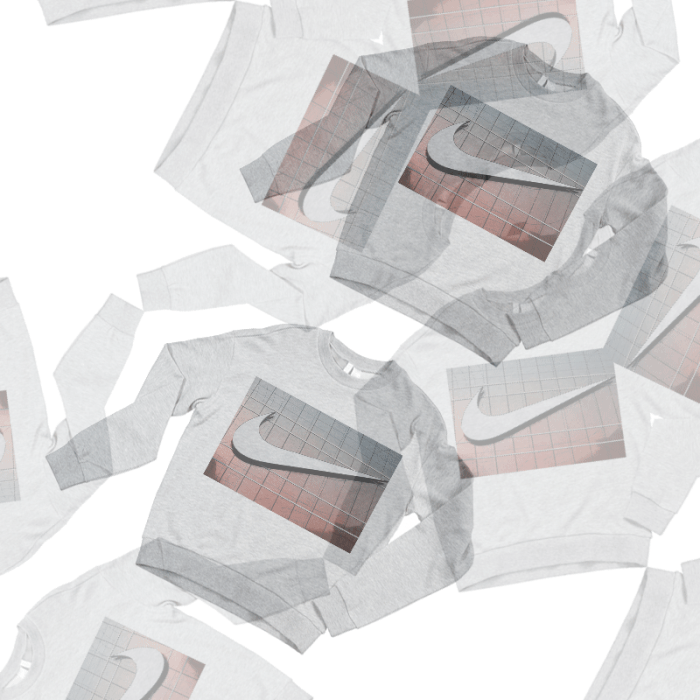 Photo-Illustration: the Cut; Photos Getty Images
"Peak Dupe" is a series about the end of authenticity as we know it.
I spend much more time than I probably should on crafting TikTok, and, six months ago, among the videos about sewing techniques or painting with plaster, I began to notice a trend that hasn't gone away: bootleg Nike sweatshirts. Some creators hand-embroider the Nike swoosh onto Gildan sweatshirts, sharing tutorials on how to stitch these designs, while those with embroidery machines (who advertise the designs for sale rather than teach techniques) create professional versions that use the same uniform stitching found on merchandise in stores and can't be re-created by hand with needle and thread. Many sellers put their own spin on the standard design: Sometimes the word Nike might drip hearts or sprouts flames or the I might be replaced by a character like Stitch from Lilo & Stitch, Hello Kitty (a double whammy for infringement), or even, in one case, an embroidered drawing of Harry Styles. The cottage industry is booming. Etsy creators have sold hundreds of their DIY Nike sweatshirts. One of the largest sellers, PDX Customs (which does Chanel and Dior fakes too) has more than 180,000 followers on TikTok (and 41,000 on Instagram) and drops new designs every week, selling out each time.
These days, there is a dupe of nearly everything, but these bootleg Nike sweatshirts break a few key rules of the dupe. Unlike, for example, a fake Louis Vuitton Speedy bag — a commonly copied bag designed to skate under the radar as the real thing and cost much less — bootleg Nike sweatshirts, priced nearly the same as the real thing, are designed to broadcast their dupe-iness. Alyssa Ramos, an L.A.-based embroiderer who sells bootleg Nike merchandise, told me she'd almost rather have buyers know her designs are fake, because knowing who it came from is better for business. One frequent buyer told me that people comment more on her fake Nike designs than on her real Nike items, which proves to her that it's almost better than the brand itself. And a teenage buyer told me that, whenever she buys a bootleg Nike sweatshirt, "I post on my Insta story that it was from the account I got it from" — she wants others to know the item came from an independent creator rather than a big "greedy" brand.
Of course, everyone from buyers to sellers knows that this practice is technically illegal. While Instagram is more of a free-for-all — you simply DM the seller, then send a Venmo or Cash App payment — Etsy strictly prohibits selling infringing merchandise. But, according to Ramos, there are loopholes. Nowhere can she mention Nike in the text (sellers instead say "NKE" and "N1K3"), and she purposely misspells words to avoid being flagged — especially if her designs, which she draws herself, feature additional characters outside of just the Nike logo — and she manipulates the images, because Etsy scans those too. "If they see, like, a solid Nike sign, then they'll recall the listing. But if you blur the picture of it, and you can't really see it as clear, then you're good," says Ramos. (Etsy says it constantly updates its systems to account for new loopholes and complies with intellectual-property laws.)
And for a lot of buyers, the illegality actually adds to these appeal of the dupes. Young shoppers appreciate the clout that comes from wearing the big-name label, but they don't want to monetarily support the brand. "I'm aware of the repercussions if independent sellers do get caught, but I'm willing to support small businesses over a big company, which can be greedy, like Nike. I don't believe this business is cutting into Nike's profits much," one 24-year-old says. Another 24-year-old, who purchased a sweatshirt with an embroidered drawing of Styles in place of the I, added: "If Nike made a Harry Styles sweatshirt, I might have bought a real one, but they don't." A 21-year-old buyer in Chicago, who purchased a Stitchified Nike sweatshirt, wanted to support "a fellow student just trying to make some money" — as opposed to a corporate behemoth. Plus, she added, "I'm a sucker for Stitch anything." A 22-year-old from Indiana agrees: "Nike is a billion-dollar company. They don't need my support, and it isn't like Nike would come to my house and burn my sweatshirt."