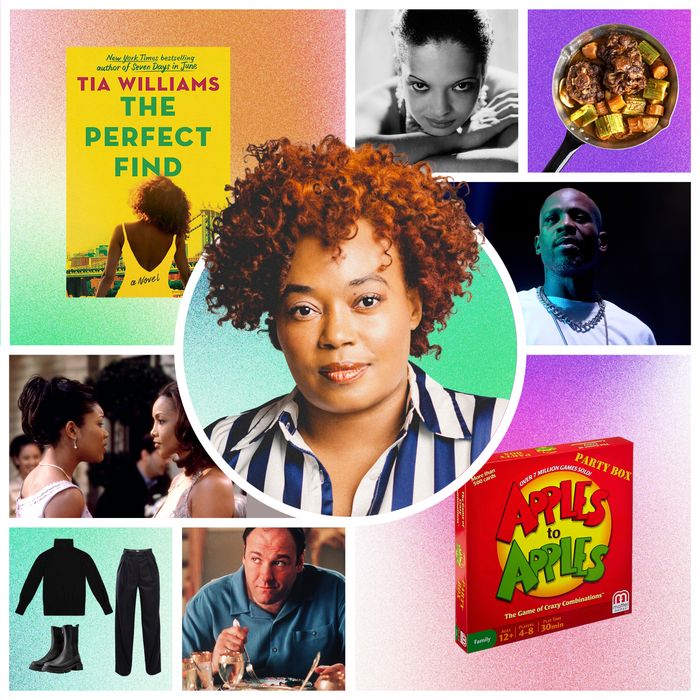 Photo-Illustration: by The Cut; Photos: Steven Meidenbauer, Getty Images, Everett Collection, Shutterstock, Amazon
Whether she's decked out in all-black casual-comfy stretch pants or a filmmaker's "fancy frock," Numa Perrier knows how to make an entrance. The director of Netflix's new romantic comedy The Perfect Find brings that same energy to dressing a scene with a level of intimacy that leaves the audience biting their lips for more.
Adapted from Tia Williams's 2016 novel of the same name, The Perfect Find follows 40-year-old Jenna (Gabrielle Union), who returns to the fashion-editorial space for a fresh start after a high-profile firing and breakup. That comeback involves a plot twist: a steamy love affair with Eric (Keith Powers), who happens to be the son of her new boss (Gina Torres).
Of course, the key ingredient to a successful rom-com is the red-hot chemistry between the leading lovers. For Perrier, it's the first thing she looks for in casting. She says she actually found Powers through his Instagram page, and when she presented him to Union as a possible co-star, she realized Union had already known him. "Even in that Zoom meeting, I could feel their chemistry," Perrier recalled with a smile, a meta moment bringing attention to the fact that our own interview is conducted on Zoom. "I just knew. I was like, This is going to work because I have the main ingredient that I need."
Gabrielle Union has spoken about how natural the chemistry was with Keith Powers. As a director, how did you make the talent feel comfortable, given the intimate and vulnerable positions they were placed in for several scenes?
I gave them a lot of creative freedom. We had great meetings with our intimacy coordinator — they were great, as well. When it came down to those scenes, I was never shy about telling Gabrielle and Keith if I felt like I needed more out of the moment. I just remember whispering certain things into Keith's ear that he could surprise Gab with — uh, spoiler alert — this postcoital scene where we got to do some really lovely things with the cinematography. I really wanted to approach that in a different way than I had seen love scenes approached.
They were very, very game for that. I took Keith aside at one point and I said, "So when we do the next take, I want you to tell her that you like it, that she shaved and that you're surprised that she shaved. Your assumption is that older women don't fully shave." And he was like, "Okay, Numa, I got you." And we ended up using that part in the scene. He said, "Hey, your Brazilian … that's very nice. I didn't know older women did that." And Gabrielle just cracked up. She was definitely caught off guard; it was just so honest, pure, and funny.
Watching this movie is like playing a game of finding classic film references — which rom-com in particular made you fall in love with the genre? Why?
I love When Harry Met Sally, I love Boomerang, but I'm gonna tell you my No. 1 all-time favorite rom-com, you're gonna laugh — it's Two Can Play That Game. It's one of my favorite films. Period. Gabrielle's in that film, as well. I actually want to do a spinoff about her character, Conny Spalding. I don't know if she knows that or not. I just love a good dual story. We see his point of view; we see her point of view … and all the games that are played. It's something that my sister and I will watch every year together. We have a Two Can Play That Game party. 
The fashionable themes in this film certainly line up with your personal style. What is one fashion staple you can't live without?
Oh, gosh. I'm trying to break out of this, but I love wearing all black. I love my black turtleneck and black stretch pants combo … and black boots, the softer the leather, the better. It's something that I've always worn.
Where do you get your best culture recommendations from? 
My 12-year-old daughter! [Laughs.] She knows everything that's going on. She actually has an incredible sense of artistry and fashion. I run most of everything by her. She is about her business. Because if I ask her to advise me on what I should wear to something, she does make me pay her a consultation fee! [Laughs.]
Which celebrities would you invite to a dinner party?
I'm gonna bring some people back from the other side. Let's get DMX … let's have that conversation. Let's get Wanda Sykes. Let's get Coco Jones. Rest in peace and rest in power to DMX, he's someone I would've wanted to know better. Just, like, go to the garden with him. Talk about arrangements and all of the things that he talked about loving — the nurseries, the horticulture, and everything. That would be really cool.
What's the last meal you cooked for dinner?
Oh, gosh … when was the last time I cooked? I do a really mean oxtail and my family begs me to make it all the time, but especially over the holidays. So that would be the last time I really threw down in the kitchen. I don't count opening up freezer bags and throwing them in a saucepan, which I don't do much of either. But yeah, I make a really great Haitian oxtail cuisine.
Oooh, yeah … with extra gravy.
But don't buy oxtails. Oxtails are bad for you.
[Laughs.] Right! I heard it causes a weird mutation!
Price went up. [Laughs.]
Yep! So, what is your pre-filming ritual? What is your hype song before walking onto set? 
Every song you hear in the film is the playlist that I made for the film. I would listen to that playlist every day. It ended up being in a different order … I didn't know which scenes the songs would play over. I take really great showers. I listen to my music and then I do a little bit of meditation. I like to get to set, always early. Earlier than early. I like to be there to bless the set. I kind of do my little Haitian thing over it. It's very brief, but it's for me to have ownership of that space and set the tone for everything that's gonna be created on that day in that space. That's something that I do consistently when I work.
I love that energy. The aura's gotta be right, right?
Gotta be right. And people remarked on it all the time. Like, "Oh my gosh, I love being on this set. This was so different." And I'm like, "That's what you get when you mess with Haitians." [Laughs.]
What's your comfort rewatch?
The Sopranos. The first time I watched The Sopranos was over the pandemic. I'm so embarrassed. I recently finished a second rewatch of Sopranos and the characters feel so, I don't wanna say comfortable because it's super problematic, but the familiarity of the characters and knowing what's gonna happen … not being stressed about what's gonna happen, because you already know what's gonna happen. 
I heard that was a thing people did to quell anxiety, especially during the pandemic. On the flip side … What is something you'll never, ever watch, no matter what?
I don't watch everything, but I watch a lot of things and even things that I don't wanna watch, because it's my industry. [Laughs.] I'll know people that are attached to things and I'll be curious about it. I don't watch Fox News or anything that comes out of that organization. So, I guess if they were to make a movie, I wouldn't watch it.
Valid. Protect your peace! What's the best piece of gossip you've ever heard?
The best? Oh, now, now you're trying to get me in trouble. [Laughs.] Um, probably stuff having to do with people that I used to deal with dealing with other people that I know. You know, just that whole cross-pollination of the "lovers to friends" dynamic. Those are probably like the juiciest things when your worlds all collide.
Favorite game to play?
Apples to Apples. That's the one game that I play with my family and friends. It's just fun to defend something that may be completely reaching. I just love the idea of correlating things that don't necessarily have correlation, but then fighting to the death for it. Any games that deal with debate, but in a lighthearted way are things I like to play. I'm also still very much into Wordle. I play Wordle every day. I stopped posting about it on social media because I was like, "Oh, I'm that annoying Wordle poster." But I've played about 450 games of Wordle and I'm at 98 percent solve rate. I'm very proud of that.
What music do you listen to when you're alone?
I listen to a lot of soundtracks. The original soundtrack to Oldboy — that beautiful classical music all throughout that film moves me so much. It's not something that I can get other people to listen to with me. I'm always the one with the most eclectic playlist.
Name a book you couldn't put down?
Sula, by Toni Morrison. Kindred, by Octavia Butler. And then I gotta say The Perfect Find! It's such a good read. You could really see the film when reading … it's very visual. It's very emotional. It's very sexy. It's like the perfect book to adapt.
What's the best and worst advice you've ever received?
The best advice is, shoot the rehearsal. It's something that I've always done, and in a way, it's good life advice, as well. It applies to the cinematic sphere. I think that that advice applies in all arenas.
I think the worst advice is — especially in this industry — anything around letting someone else fully speak for you. We have incredible teams that we build and work with, but there's nothing like you talking for yourself, you know? Sometimes you could get a little bit lost in the sauce, especially when you wanna do something that supposedly hasn't been done before or hasn't been done before by someone like you. To put it more simply: Don't let anyone tell you that you can't do something or go after something even if that person is close to you.
Worst thing to do at a dinner party?
Throw up. That popped right into my head because every single movie or TV show I see has someone vomiting and it's a pet peeve of mine! Oh, God, it disgusts me, and I swear everything we watch, it's like I see someone throwing up. I'm like, "Why? Why is this happening?" There's even a moment in The Perfect Find, where there was something written about someone throwing up into a garbage can, and I cut that. I was like, "There will be no vomiting in my movie!" [Laughs.]
Exactly. Raised right! The Nina Mae McKinney tribute in the film was so beautiful, especially the way you juxtaposed the surrealism of her archived clips with Jenna's and Eric's shared love of film history. How has Nina's trailblazing career inspired you? 
That was a learning curve for me because I didn't know a lot about her body of work or the film Hallelujah. I hope that people also have that sense of discovery when they watch the film. She's a real woman. She was one of our first-ever stars. As I was putting the film together, I found myself more and more inspired by her, and I wanted to include how personal that is for us to have that discovery. For Jenna to feel such a kinship with a woman who was so glamorous and so celebrated in her time. That should not be erased.
She paved the way for all of us, so I grew to love her more and more. I would ask for ten different posters of Nina to be brought to me. There was all of this archival research that went into getting those film clips, but it was also important to get these images of her, because there weren't that many. Finally, they were all right before me and I was just staring at all of them and getting inspired. And that's where that scene blossomed. This whole wave of emotion is coming over me. What a beautiful moment of falling in love between Jenna and Eric for them to both staring at this photo as well and letting that overtake them. I just love the tie-in between falling in love with movies and falling in love with a person.
Speaking of love, I loved the quote Jenna tells Eric in the film, "I want a love so intense, it makes people so uncomfortable to be around us." How has love gotten you through your own journey as a filmmaker?
The love and support of my husband definitely carried me through this entire process. He talked me off so many ledges. He's seen me through so many really stressful, intense moments. The moments of doubt. Having someone who loves you, sees you, celebrates you, is not scared of you or jealous of you in any way … is tremendous. Shout-out to Black love.