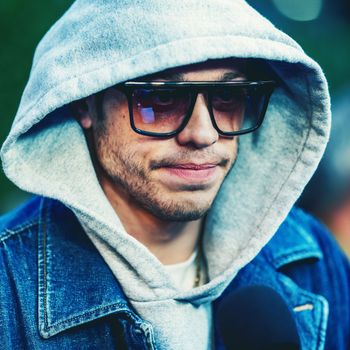 Photo: Roy Rochlin/Getty Images
On Friday, three months after Pete Davidson allegedly crashed a car into a house in Beverly Hills, prosecutors in Los Angeles charged the former SNL star with reckless driving, a misdemeanor. "We believe that Mr. Davidson engaged in reckless driving, which ultimately resulted in his involvement in a serious collision into a home," the L.A. County District Attorney's Office wrote in a filing, according to the Associated Press.
Although the D.A.'s office didn't reveal any details about the incident, "Page Six" previously reported that the March collision happened after Davidson had been driving a Mercedes-Benz at a "high speed," causing the car to jump a curb, hit a fire hydrant, and skid across a lawn before hitting a corner of the home. It was widely reported at the time of the crash that Davidson's girlfriend, Chase Sui Wonders, had been in the car with Davidson.
The homeowner told TMZ that his 16-year-old daughter had been home alone when the crash happened and the impact of the car hitting the house made her wonder if there had been an earthquake. "Luckily, no one was seriously injured as a result of this collision," prosecutors said on Friday.
Reckless driving can carry a sentence of up to 90 days in jail and a $1,000 fine. Davidson's arraignment is scheduled for July 27.