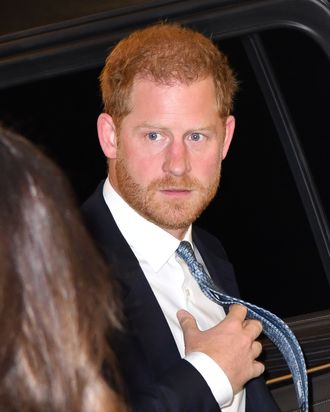 Photo: James Devaney/GC Images
Maybe Prince Harry did share a little too much in Spare. Following his descriptions of drug use in his tell-all memoir, the Heritage Foundation — a conservative think tank that apparently has a lot of time and money on its hands — is demanding that the U.S. government unseal Prince Harry's American visa application.
In Spare, Harry wrote that he has tried mushrooms, smoked marijuana, and used cocaine in the past. Under U.S. law, drug use can lead to rejection of visas, green cards, and citizenship. According to the New York Post, however, officials are allowed to make exceptions. Neama Rahmani, president of West Coast Trial Lawyers, told Newsweek that if Harry had admitted to using drugs when applying for his visa, his application "would likely have been denied." Harry has been living in the U.S. since March 2020.
In a Freedom of Information Act request asking for Harry's immigration files to be made public, the Heritage Foundation said the documents are of "immense public interest," per CNN. "Widespread and continuous media coverage has surfaced the question of whether DHS properly admitted the Duke of Sussex in light of the fact that he has publicly admitted to the essential elements of a number of drug offenses in both the United States and abroad," the foundation's complaint says.
So far, the U.S. government has refused to hand over the documents. Both parties will appear in front of a judge in Washington, D.C., on Tuesday to hash things out. It's hard to know just yet how this will pan out, but as British broadcaster Henry Bonsu put it, the whole thing feels "like a political hit job" by an organization that "hates everything Harry and Meghan stand for."