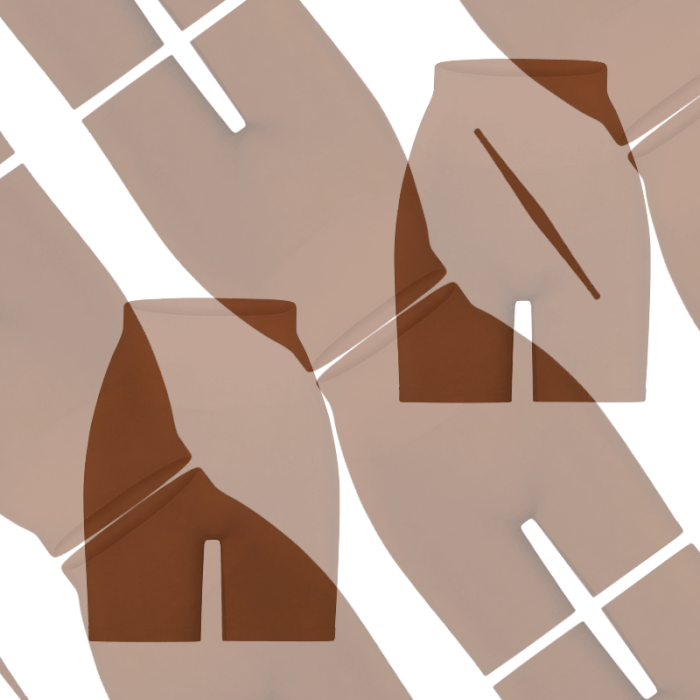 Photo-Illustration: the Cut; Photos courtesy the retailers
"Peak Dupe" is a series about the end of authenticity as we know it.
Chances are you own a "Skims dupe" — mostly because any stretchy tee and classic bodysuit are now considered one. In fact, Kim Kardashian's shapewear and fashion basics (née Kimono) may just be one of the most "duped" brands of all time.
Take the Skims Cozy Collection, for instance — just a day after the series of teddy bear-like yarn knits in the nine-piece collection was released, Fashion Nova dropped its own eight-piece line of "Fuzzy Fits" in its "Cozy Shop". In August 2020, Zara's Limitless Contour Collection was labeled as having "Skims energy." A collection of sweats, ribbed shirts, and leggings in muted colors, without any of it being actual shapewear, by that logic the brown hoodie in the back of your drawer does too. White long-sleeved T-shirts from H&M are now dubbed "viral Skims dupes." Even the basic rompers at Target are being posted by creators with the hashtag #Skims. Intimissimi, an Italian clothing label founded in 1996, released its Ultralight With Cashmere collection five years ago, only for the long sleeves to go viral this year as "the best Skims dupe."
While large fast-fashion houses can weather the wrath of a Skims comparison — it may even increase sales due to Skims often selling out — indie brands are not immune from the loungewear basics to "Skims dupe" pipeline. In fact, the Skims dupe category seems to have become a category all its own, coming with the perk of going viral on TikTok. The trade-off? Forgoing the opportunity to establish your smaller boutique as a recognizable brand in its own right.
Brooklyn designer Vanessa Celissaint, who's currently working on a rebrand of her business with a launch date of this summer, says her initial product line (which started with satin-lined hoodies) was dubbed a Skims dupe "almost instantly" after launching the brand in January 2020. "I saw a growth in my community for sure after being called a Skims dupe online, especially in the months following the release of the loungewear pieces," says Celissaint says on the constant Skims comparison.
Celissaint has been working to establish her own name, away from the dupe label, with community building. "I think the resources celebrity brands have when launching is not anything small brands, especially self-funded brands like mine, can compete with," she says. "What we can do and what I've done is focus on connecting with them in an authentic way. That's our edge compared to most celebrity brands." Celissaint says her brand has attracted those looking for affordable options, but also those looking "to support someone who reminds them of themself".
After watching the "dupification" of smaller brands online, creators themselves are experiencing #SkimsDupe hashtag regret. Ania Nelson, 28, Los Angeles, posted Celissaint's brand on TikTok earlier this year, calling it "the best Black-owned Skims dupe." Nelson discovered Celissaint's products after looking for loungewear with a thicker material than Skims, after trying Skims and discovering that many of the products were see-through. She now says she would think twice about calling another product line a dupe online. "I shouldn't have referenced her brand as a dupe because I think sometimes labeling something as a dupe can really hurt a business when they want to expand because they might get boxed into one thing," she says. "Loungewear is extremely popular right now and I think, because Skims is so popularized, people just associate anything loungewear or shapewear with Skims."
For many brands, becoming a viral "Skims dupe" is an anointed category from happy customers rather than an intentional marketing technique. April Bee, the owner of Seknd Look, first discovered that her brand was being called a "Skims dupe" on TikTok through customers in the comments section after the May 2021 launch.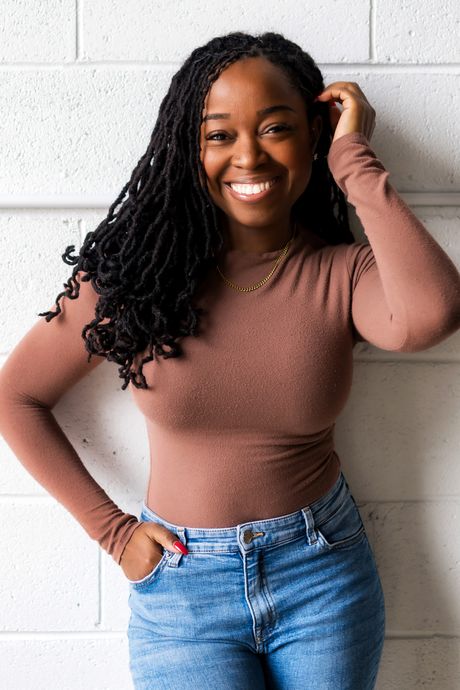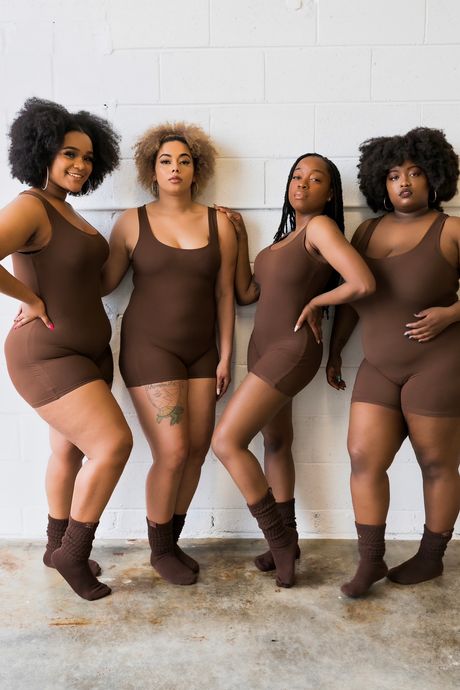 After sitting back and watching her brand being shared as a "dupe," she decided that if her customers liked it, she loves it, and started to roll with it. "Dupe culture is at least budget friendly and everyone deserves to lounge in comfort," Bee says that as people became eager to try the Seknd Look "Skims dupe," sales also increased. "Loungewear is loungewear, no matter what brand you chose to get it from."
Still, Bee has concerns that people won't support her brand if they think she's actually copying Skims. "Although there are many loungewear brands that have originated way before Skims, Skims will always be known as the original because it has reached the masses that many smaller brands haven't been able to do," she says. "I think sometimes it can be discouraging when people won't support you simply because it's not cool to support you, because you're not the 'popular brand'. It's like high school when all the kids just want to hang with the popular girls."
For new designers entering the loungewear space, there currently is a giant Skims shadow hanging over the category. Even brands that have long been in the shapewear or loungewear space can't seem to escape a Skims comparison. Faced with no escape from the rise of dupe culture, many designers like Bee are instead accepting that "Skims" seems to have become a shorthand for loungewear itself. This leaves fast-fashion knockoffs, affordable basics that have existed for years, and emerging businesses in the same "dupe" category, often without proper credit — feeling somewhat duped.