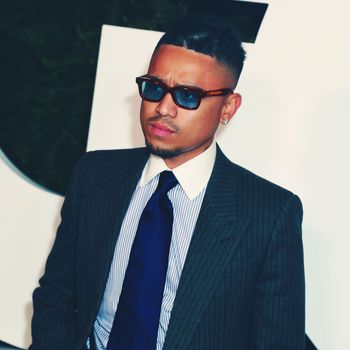 Photo: Leon Bennett/Getty Images
Rhuigi Villaseñor, the self-taught designer behind the celebrity-favorite streetwear brand Rhude, has been accused of financial misconduct via a federal lawsuit by a business partner.
According to the Los Angeles Times, George Robertson, a 20 percent stakeholder in the brand, alleges that the designer has "been pilfering the Rhude Companies' coffers to support" a "lavish lifestyle," one that included private jets, expensive cars, Mediterranean vacations, and an assortment of watches totaling at least $100,000 in value. In the suit, Robertson also claims that he received only $41,000 annually of the more than $30 million in revenue Villaseñor claimed to be raking in, stating the creative director has taken "advantage of his power and control over the Rhude Companies' products" and "consistently diverts what should be RD income to himself."
Villaseñor founded the brand Rhude in 2015; it's known for graphic tees, varsity jackets, and its hero product, "traxedo" pants, which cost $795. In 2016, Robertson invested $50,000 in the business, the lawsuit says. The line quickly grew in popularity and has been worn by Justin Bieber and Jay-Z. Last year, Villaseñor was appointed to be the design director of the Swiss fashion house Bally, where he debuted belted leather coats and mini, slinky party dresses that were generally not well received: "Many of his clothes would look fine on a rail in a store, but they're not cutting it on a runway," wrote the Cut's fashion critic Cathy Horyn. Celebrities like Luka Sabbat, though, continued to support him: "Rhuigi started out really small, and built up Rhude from scratch — I've known him since we were teenagers. And now he has a whole community of people who are behind him and rooting for him," he told Vogue. Villaseñor departed Bally suddenly in May and was followed by Simone Bellotti, a designer who had been at the company since October 2022 after a 16-year tenure at Gucci.
In the suit, Robertson also says that the company's tax returns do not match Villaseñor's public statements. In 2020 and 2021, the designer publicly claimed Rhude's revenue was $30 million and "over $30 million," respectively. But Robertson claims the brand's tax returns cite a revenue of $10 million in 2020 and $18 million in 2021.
Villaseñor's co-owner also alleges he was "diluting the Rhude Companies' trademarks" by personally agreeing to collaborations with Zara, which featured clothes with the letters RHU originally developed for the Rhude brand. Robertson claims the use of company-owned trademarks by Villaseñor is part of an "unlawful scheme" to misappropriate them for his personal benefit.
Robertson is seeking a minimum of $10 million in damages and the removal of Villaseñor from his position at the fashion label.
Kevin McIntosh Jr., a representative of Villaseñor's, wrote in a statement to the Cut: "Mr. Robertson's assertions are completely unfounded and his legal claims have no merit at all. Mr. Villaseñor and RMV Group will vigorously defend against this lawsuit and look forward to presenting their defenses in court."