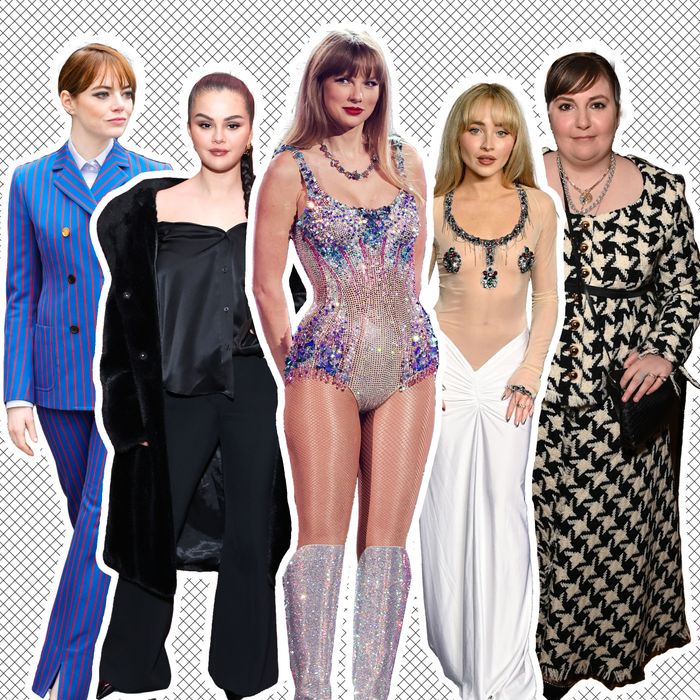 Photo-Illustration: The Cut; Photos: Getty Images
The Squad is back, folks. Taylor Swift, who is in the middle of both a major stadium tour and the fallout of two messy breakups (with longtime boyfriend Joe Alwyn and short-time controversial rebound fling Matty Healy), has once again been parading around with the likes of Haim and Blake Lively. Not since the "Bad Blood" music video in 2015 has the role of Swift's Famous Friend been so visible, reminding everyone that she is really cool and everyone likes her. The Squad serves a dual purpose: It inoculates Swift from criticism (if Emma Stone is palling around with her, she has to be fun and normal, right?) and helps market her tour as the only place to be this summer. Swift even has a highly visible VIP tent at all of her shows, where celebrities can exchange friendship bracelets.
But not everyone who attended Swift's many epic July 4 parties in the mid-2010s has joined this new iteration of the clique. There are some new faces in the mix as well, and they're not even all Victoria's Secret models. Who's in and who's out? Behold, a cheat sheet.
Old Standbys
As of this summer, a few of Swift's close friends from the "Bad Blood" days are still on "good blood" terms with her. Selena Gomez, who called Swift her "only friend in the industry" in an interview last year (aw), showed up to one of Swift's first Eras-tour dates in Texas in April. Former Victoria's Secret models and "Bad Blood" co-stars Gigi Hadid and Lily Aldridge attended one of her Nashville dates and warmly embraced Healy in the VIP tent (before Swift decided he was canceled). Cara Delevingne showed her support at the tour's opening night in Arizona. Blake Lively, whose daughters' names are memorialized in Swift songs, joined Swift for an old-school "girls night" and pap walk in New York just after Swift leaked her breakup with Alwyn in April. All three Haim sisters were there too.
Other semi-long-term friends and associates include Emma Stone, Mariska Hargitay, Ellen Pompeo, Laura Dern, and Chloë Grace Moretz (all the best actresses). Oh and Lena Dunham! She showed up to one of Swift's dates in Philly and made her a bridesmaid in her 2021 wedding.
Dunham's ex-boyfriend and Swift's longtime collaborator, Jack Antonoff, is still in the Squad, too, as is his newish fiancée, Margaret Qualley. They double-dated with Swift and Healy during their brief relationship. Hopefully it's not awkward now.
New Girlies
Most recently, Swift has welcomed Ice Spice into her clique by collaborating with her on a remix and inviting her onstage at a concert in New Jersey. This happened just as Swift was getting backlash for dating Healy, who'd mocked Ice Spice and her looks on a podcast earlier this year. Interesting timing!
And the several new famous faces spotted in the VIP tent should at the very least be considered an honorary part of the Squad, right? Phoebe Bridgers, who has opened for Swift on several tour dates, was spotted making out with her new boyfriend, Bo Burnham, in the tent in Philly in May. The footage was unwittingly captured, then posted by Keith Urban, who was dancing around with his wife, Nicole Kidman.
Jennifer Lawrence was spotted in the VIP tent in Philly, though she has not been previously known as a member of the Squad. (She even dared to publicly comment on Swift's friendship breakup with Karlie Kloss in 2018.)
After Lawrence, the list starts to get random. All of these celebs have attended at least one show on the tour, and many of them have participated in friendship-bracelet swapping: Flavor Flav, Bradley Cooper, Aaron Rodgers, J. J. Watt, Hoda Kotb, Lin-Manuel Miranda, Molly Ringwald, the Fixer Upper couple, Emma Watson, Emma Roberts, Nathan Chen from the Olympics, Ethan Hawke, Ben Stiller, and Diplo. My solemn prayer is that Swift brings back her July 4 party this summer and invites them all.
The Excommunicated
Swift's most famous ex-friend is undoubtedly Kloss. But there are a few other gals who were prominently featured in Swift's Squad during the "Bad Blood" days who are now missing in action. Zendaya, Martha Hunt, Lorde, Serayah, and Jessica Alba have all fallen by the wayside. And Jaime King, who made Swift a godmother to one of her children in 2015, has not shown up to any Eras-tour dates so far.
The most obvious recent dismissal from the Squad, however, is Olivia Rodrigo. Swift became fast friends with the teen pop star during her rise in 2021, but their relationship apparently cooled during the Grammys earlier this year over songwriting credits on Rodrigo's debut album. Now, Swift has announced that Rodrigo's nemesis Sabrina Carpenter will open for her on several international tour dates this year. Oh shit!
I am not sure what this means for Iris Apatow, younger daughter of Judd Apatow and Leslie Mann, who was famously photographed partying with the Swift Squad in 2019, when she was just 16 years old. Iris and Rodrigo are now best friends. Maybe they can start their own squad?