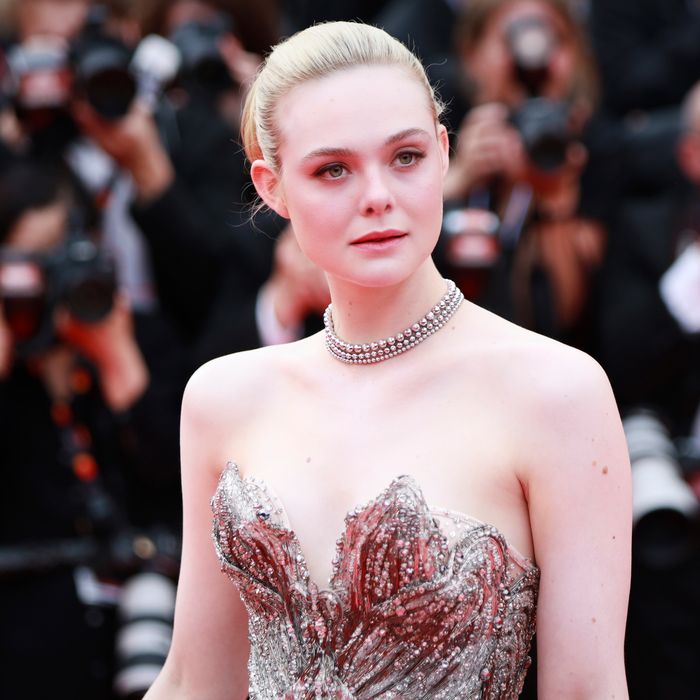 Photo: Laurent KOFFEL/Gamma-Rapho via Getty Images
If you thought you'd heard all possible horror stories of being a child star in Hollywood, please hold. Elle Fanning claimed in a Hollywood Reporter roundtable conversation released on Tuesday that when she was 16, she was passed over for a role because she was "unfuckable." What was the role, you ask? Allow Fanning to explain.
Speaking with Ayo Edebiri, Devery Jacobs, Natasha Lyonne, Jenna Ortega, and Sheryl Lee Ralph during the Hollywood Reporter's roundtable for comedy actresses, Fanning recalled the experience. "I've never told this story, but I was trying out for a movie. I didn't get it," she said. "I didn't hear from my agents because they wouldn't tell me things like this — that filtration system is really important because there's probably a lot more damaging comments that they filtered — but this one got to me. I was 16 years old, and a person said, 'Oh, she didn't get the father-daughter road-trip comedy because she's unfuckable.'"
Ralph's shock at the comment prompted Fanning to add, "There are so many stories like this. I've talked to people about this. And I can laugh at it now, like, 'What a disgusting pig!'"
Fanning is, of course, right. Me Too surfaced countless stories of Hollywood execs hypersexualizing, harassing, and abusing girls and young women trying to break into the industry. At the roundtable, Lyonne shared one of her own: "I remember auditioning for Lolita, the remake, when I was 14 or 15, and it was like, 'Can you eat this banana slowly?'" she said. But still, you have to wonder what kind of father-daughter film calls for the teenage girl to be "fuckable," and who the target audience would be. Anyway, Fanning said she doesn't think the movie was ever made, and thank God for that.