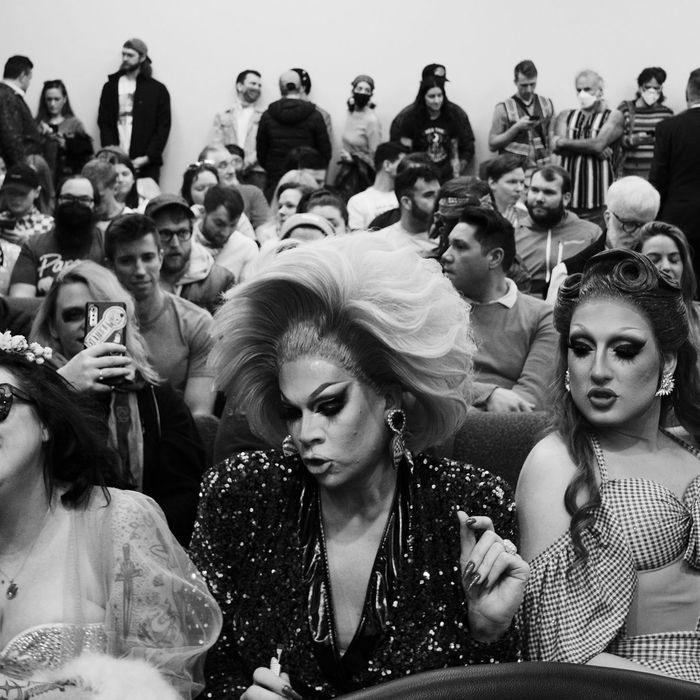 LGBTQ+ activists and supporters sing Dolly Parton's "9 to 5" ahead of a Tennessee House Criminal Justice Committee hearing about a law that would have banned drag shows in public places.
Photo: Ray Di Pietro/Shutterstock
A federal judge ruled on Friday that a Tennessee law banning drag shows — in public or where children could see them — was unconstitutional, deeming it both "vague and substantially overbroad," the Washington Post reports. Not only did the measure violate the First Amendment, U.S. District judge Thomas L. Parker wrote in his decision, but lawmakers passed it "for the impermissible purpose of chilling constitutionally protected speech."
"Simply put, no majority of the Supreme Court has held that sexually explicit — but not obscene — speech receives less protection than political, artistic, or scientific speech," Parker, an appointee of former president Donald Trump, continued, per Reuters.
The legislation in question targeted "adult cabaret" performers — including "topless dancers, go-go dancers, exotic dancers, strippers, male or female impersonators," and any "similar entertainers," whose work lawmakers deemed obscene and, therefore, potentially "harmful" to children. First-time offenders could have faced nearly a year in prison and up to a $2,500 fine, while any future violations would've been treated as felonies carrying up to six years behind bars. Tennessee's Republican governor, Bill Lee, signed the bill into law in March. On the same day, he signed legislation banning most gender-affirming care for transgender people. At the time, the ACLU of Tennessee was quick to point out that "drag performances are not inherently obscene," so the law did not necessarily outlaw them wholesale. And on April 1, hours before the drag ban was supposed to go into effect, Parker temporarily blocked it, saying the state had not shown a "compelling government interest" for why it should control drag shows so strictly, per CNN.
Although the law was the first of its kind to be signed by a governor, similar bills have been introduced in at least 13 other states as part of a broader Republican effort to limit LGBTQ+ rights ahead of the 2024 election, per the Post. Jonathan Skrmetti, Tennessee's attorney general, said he planned to appeal the ruling at "the appropriate time."