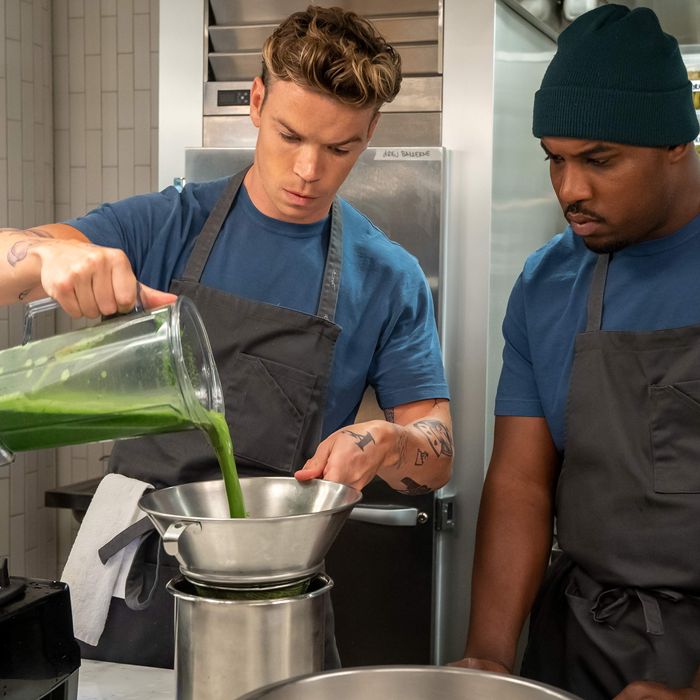 If the restaurant industry is all about hospitality, The Bear's second season took hosting duties to a new extreme. An overwhelming horde of guest stars passed through the show's many dining rooms during its latest installment, and everyone was offered good food, familial comfort, and at least one emotional monologue. Of everybody who filtered in (Mitra Jouhari, John Mulaney, Bob Odenkirk, Olivia Colman, Sarah Paulson, and Jamie Lee Curtis, to name a few), I'd argue the most delightfully familiar face was the freckled visage of Will Poulter. Boy is it nice to see those eyebrows, and even nicer to watch them do something … kind of new?
"Honeydew," which makes even its namesake fruit sound appealing, might be The Bear's most peaceful episode yet. Directed by Ramy Youssef, it leaves our usual crew in the chaos of restaurant renovation to follow Marcus, the restaurant's nascent pastry chef, who's been sent to Copenhagen for dessert boot camp. There, he trains in a weirdly empty flour-filled kitchen under Carmy's old friend Chef Luca, played by Poulter and styled a lot like an alternate-universe version of our troubled protagonist: same sporadically placed arm tats, same studious intensity, same gruff but assuring mentoring style.
In his gorgeous kitchen kingdom of dough, Chef Luca teaches Marcus how to make shiso gelée, how to stack fine-dining Jell-O, and other vital life lessons. Between ice-cream-scooping sessions, he and Marcus have a few soulful chats, during which Luca reveals a surprisingly pleasant outlook on life in the highly competitive restaurant industry. (And judging by the size and heft of his biceps, he's been kneading bread for a very long time.) Is this what Carmy would sound like if he started therapy and moved to England?
As Luca, Poulter thrives in the calm of this episode, which takes advantage of The Bear's quietest scenes: those artfully framed shots of raw ingredients, the exaggerated sizzle of oil hitting a pan, the rhythmic clink of spoons. For all the teeth grinding I do while watching The Bear, these montages, which are sprinkled throughout both seasons, are surprisingly serene, and Youssef managed to stretch them into one long, Zenned-out episode.
The rhythmic lull of Luca's world looks good on Poulter, who's so often in roles where he's surrounded by chaos (of both the funny and the scary variety). Poulter is a natural fit for the kitchen, actually — he's an avid cook and told the Cut that chefs were his "rock stars," which he was perhaps trying to embody in the most unorthodox of ways with Luca. Still, seeing him glide around his kitchen with the grace of a buff gazelle feels altogether new, making his appearance in the episode both fresh and well calibrated. Did you ever think the words "minty Snickers bar" could sound so smooth?