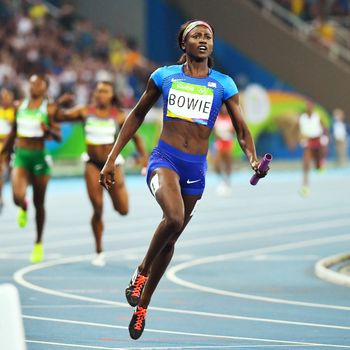 Sprinter Tori Bowie
Photo: Kevin Dietsch/UPI/Shutterstock
When sheriff's deputies in Florida conducted a wellness check on Frentorish "Tori" Bowie, on May 2, they found the 32-year-old track star unresponsive at eight-months pregnant. The New York Times reports that Bowie hadn't been seen or heard from in several days and appears to have died during childbirth: An autopsy report names respiratory distress and eclampsia as possible contributing factors in her death, though the exact cause and date remain unknown.
In some people, preeclampsia — a disorder characterized by high blood pressure during pregnancy — turns into eclampsia, a severe complication that can lead to seizures and coma. It can be life-threatening if not treated immediately. In the U.S., Black women face an increased risk of both complications, making childbirth more dangerous, according to the National Institutes of Health. According to a March report from the CDC, the maternal mortality rate for Black women in 2021 was 69.9 deaths per 100,000 live births, which is 2.6 times higher than for white women and 2.4 times higher than for Hispanic women.
Bowie's agent and close friend, Kimberly Holland, told NBC News that she had encouraged Bowie to stay on top of her prenatal doctor appointments and to mind her nutrition during the pregnancy. "I started to come off, I think, a little preachy, because she started to shut me down and she was like, 'Miss Kim, the baby is fine,'" Holland said. Bowie apparently told Holland she didn't plan to have the baby in a hospital, and the last time they spoke, sounded "just so happy" about becoming a parent.
"I thought that conversation, overall, was a conversation of new beginnings," Holland said. "I think that that would have been one of the most luckiest babies ever, because she had so much love to give."
Bowie earned gold, silver, and bronze medals at the 2016 Olympics in Rio de Janeiro, going on to clinch the title of fastest woman in the world at the 2017 IAAF World Championships, where she won the 100-meter race. In a May 3 statement announcing her death, USA Track & Field described her as "one of the most exciting athletes to come out of the state of Mississippi," her home state. USATF noted that Bowie had also made her mark as a model, walking at Paris Fashion Week in 2019 for the Adidas and Yohji Yamamoto collaboration Y-3, and working with Stella McCartney and Valentino.
According to the Times, Bowie — though always a private person — had grown increasingly withdrawn in recent years, losing touch with people from her racing days. Still, a friend told the paper that Bowie made a habit of visiting foster children, having spent time in foster care herself as a child. Tanyeka Anderson, a program director at Mississippi foster-care provider Apelah, said that during a 2019 trip to the agency, Bowie had been "very vibrant, very happy. For a person of her magnitude to come help? To come give back to our children? That's a very special thing."
This story has been updated.