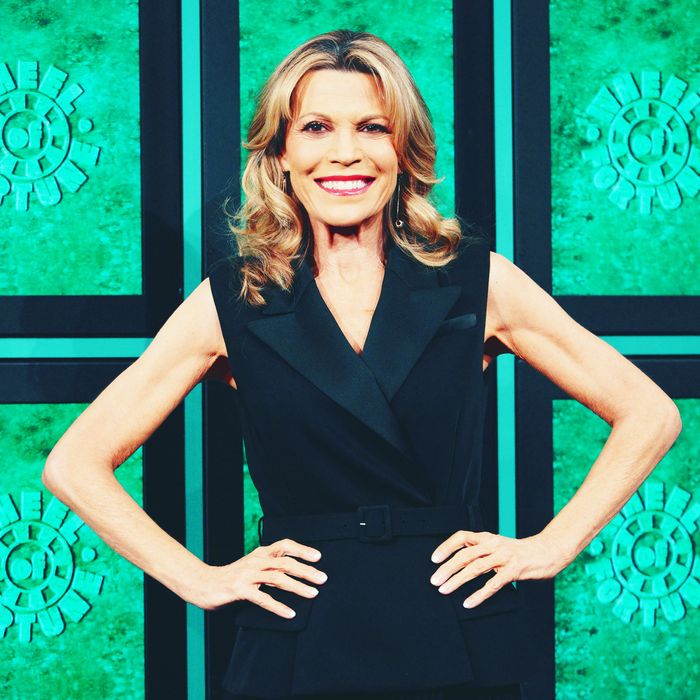 Get this woman a raise!
Photo: Christopher Willard/ABC via Getty Images
2005 was the year Brad Pitt and Jennifer Aniston broke up, Tom Cruise and Katie Holmes got engaged, and Mariah Carey released The Emancipation of Mimi. 2005 was also, apparently, the last time Vanna White got a raise for co-hosting and iconically card-turning on Wheel of Fortune, according to Puck News.
On Tuesday, Puck reported that, though she has received bonuses, White's annual salary has been stuck at the same rate — about $3 million — for 18 years. She has been on the show since 1982, and although her role has changed somewhat during that time (she no longer flips the letters, but instead taps the tiles), hers is likely the name most people think of when they hear the words Wheel of Fortune. Still, as the show's host, Pat Sajak makes about five times as much as White — $15 million in 2016, according to Forbes. Yet Puck contends that of the two, White spends more time on set and does more press promotion for the show. While Sony declined to comment for the article, sources at the company's TV branch, which hosts the program, said research reveals that White's appeal to women drives the show's older, female audience.
White, meanwhile, is under contract for another year and is in negotiations to stay on the show after 2024, when Sajak retires. She has reportedly retained attorney Bryan Freedman, who has represented Tucker Carlson, Chris Cuomo, and Don Lemon, and who Puck says is looking into whether there was gender discrimination at play in regard to the pay discrepancy. Hopefully Sony will start its new season on a good note: by paying White what she deserves.