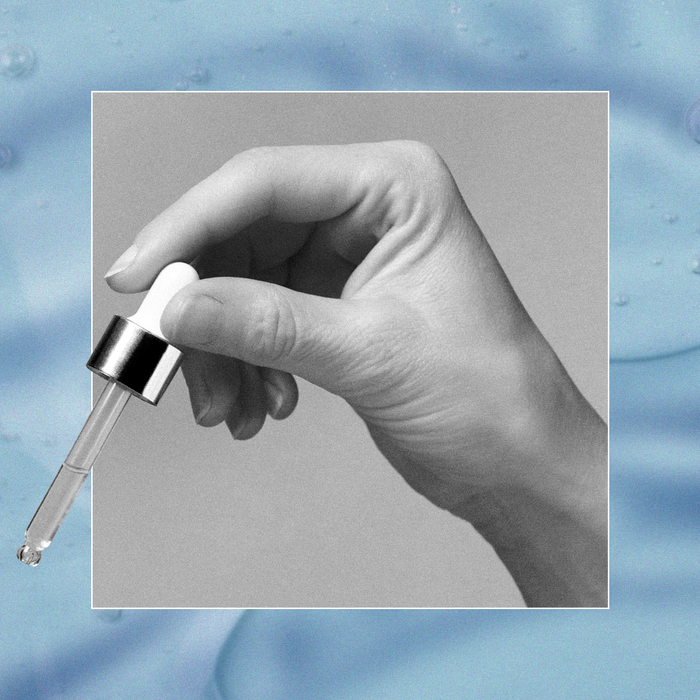 Photo: Shutterstock; Photo Illustration: Clara Shader-Seave
By definition, a "nepo baby" is someone who benefits from nepotism based on the connections and likability of their parents. While everyone starts on home base, a nepo baby is already on third. This term is usually reserved for the Hollywood elite, but we've uncovered a new skin-care ingredient that's similarly destined for stardom because of its familial lineage. Enter blue hyaluronic acid, stage right.
This new ingredient shares the surname of the very famous and very popular hyaluronic acid (HA), a ubiquitous humectant beauty editors and dermatologists have been waxing poetic about for years. This isn't to say that hyaluronic acid's heyday has passed (we're sure it'll be raking in fans for years to come), but blue HA, the elusive ingénue, is ushering in a new era of hydration and skin barrier repair. But what is it?
Don't bother googling it — you won't find much. The ingredient was only just introduced to the world by South Korean beauty brand, Laneige. Born from HA, the brand's proprietary ingredient inherited everything you love about its predecessor but with some added benefits. According to Laneige, it's faster, molecularly smaller, and capable of hydrating the skin in ways your mother's HA could never.
What Is Hyaluronic Acid?
HA may be a household name, but a refresher doesn't hurt. HA is a naturally-occuring substance found in the skin (also the eyes and joints) with one main purpose: To trap and retain moisture by binding to water molecules. Like collagen and elastin, the production of HA decreases as we age. If you want to maintain the look of youthful, supple, and bouncy skin, you need to find HA elsewhere like in serums, moisturizers, and cleansers. When applied topically, HA can penetrate skin and attach to the water in your skin cells, inflating them like a car tire, so skin appears plump. As a humectant, it can also draw moisture from the air, so it not only maintains the moisture you already have in your skin, but continues to add more.
What Is Blue Hyaluronic Acid?
In 2022, Laneige introduced its proprietary blue HA to consumers with the Laneige Water Bank collection (more on this later). The brand says, like regular HA, blue HA offers long-lasting hydration but faster. The proprietary ingredient is a micro-sized version of its parent created through a double fermentation process with deep sea algae, followed by a 10-step microfiltration and purifying process.
The power of HA lies in its molecular size — the smaller the size, the deeper the ingredient can penetrate skin. Larger HA molecules are just as beneficial, but tend to stick to the surface of the skin, while smaller HA molecules can more easily penetrate the skin barrier and retain moisture below the surface. According to Laneige, blue HA is 4,000 times smaller than regular HA* and 2,000 times smaller than the HA originally used in the previous iteration of the Water Bank collection. Because of this, its reparative and moisturizing effects are about 300 percent more powerful at improving dryness and a damaged skin barrier.
Who Can Use Blue Hyaluronic Acid?
HA is considered to be generally tolerated by all skin types. Whether you have oily, combination, dry, sensitive, or acne-prone skin, HA — and its cooler offspring, blue HA — shouldn't stir up drama. If you want softer, smoother, and hydrated skin, this ingredient family is worth considering.
How to Use Blue Hyaluronic Acid In Your Routine
You can only find blue HA in the new Laneige Water Bank collection, which includes an eye cream, exfoliating toner, hydrating toner, serum, cleanser, gel moisturizer, and a cream moisturizer — the latter being the lead singer to this collection's band. Blue HA, squalane, ceramides, and glycerin are the driving force behind the Water Bank Blue Hyaluronic Acid Cream Moisturizer, which can visibly help firm, strengthen the skin's moisture barrier, and deliver replenishing, long-lasting hydration. This blue HA moisturizer can be especially helpful for anyone with dry, sensitive, or dehydrated skin. Blue HA can also be found in the Water Bank Blue Hyaluronic Gel Moisturizer. Filled with tiny cream beads that melt on contact, this cooling gel moisturizer can help flood skin with 48-hour hydration.**
A useful rule of thumb to applying HA is to use it on damp skin. You can either use water to cleanse your face first or use a hydrating toner, like the Water Bank Blue Hyaluronic Revitalizing Toner. As the name implies, the liquid essence uses blue HA to moisturize skin. If you're looking for exfoliation while you hydrate, you can start with the Water Bank Blue Hyaluronic Exfoliating Toner, a lightweight formula that uses PHAs (polyhydroxy acids) alongside blue HA to gently exfoliate and help soften and smooth skin.
While it's not necessary to load skin up with HA, you can layer your toner with a serum that provides similar benefits, like the Blue Hyaluronic Acid Serum, which uses peptides and a green tea enzyme to help visibly firm skin, improve elasticity, and strengthen the moisture barrier. Top it off with your blue HA moisturizer and you could see hours of sustained hydration.
What Ingredients Can You Mix with Hyaluronic Acid?
Hyaluronic acid is one of those friend-to-all-enemy-to-none ingredients that's relatively compatible with other popular skin-care ingredients, like vitamin C, retinol, and niacinamide. It can even be helpful to use alongside exfoliating AHAs and BHAs. While these ingredients can be harsh or cause irritation, especially for people with sensitive skin, HA isn't there to cause a commotion — it just wants to keep you hydrated.
*Comparing the molecular sizes of commonly used HA (1,000kDa) with blue HA (0.5kDa).
**Based on a 48-hour clinical study on 32 Asian women ages 21 to 35.
This advertising content was produced in collaboration between Vox Creative and our sponsor, without involvement from Vox Media editorial staff.