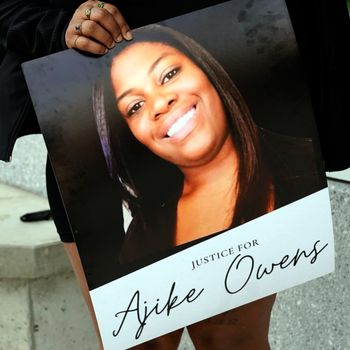 On June 7, a white woman in Florida was arrested for shooting and killing her Black neighbor, Ajike "AJ" Owens — a development that came four days after the fatal dispute between the two women. Marion County sheriff Billy Woods had previously insisted that, under the state's "stand your ground" laws, he could not arrest the shooter, Susan Louise Lorincz, unless he could prove she had not fired in self-defense. But following interviews with witnesses and facing pressure from the public and Owens's family, Woods announced that officers had taken Lorincz into custody on charges of manslaughter with a firearm, culpable negligence, battery, and two counts of assault. Later in June, Florida attorneys announced that Lorincz will be charged for manslaughter and assault.
The New York Times reports that, on the night of June 2, police received a call about trespassing and were en route to Lorincz's Ocala home when they got a second call about a shooting there. When they arrived, they saw that Owens, a mother of four, had been shot through the front door. She was pronounced dead at a local hospital.
Per the Times, investigators believe the argument between Lorincz and Owens occurred after Lorincz confronted Owens's children, who had been playing in a field near her apartment that evening and whom authorities subsequently interviewed. According to CBS, police say Lorincz threw a roller skate at Owens's 10-year-old son, and after he and his younger brother went to her apartment to try to talk with her, threatened the boys with an umbrella through her door. Meanwhile, a neighbor reportedly told police they heard Lorincz yelling at the kids. According to police, the children went home and told their mother what had happened, and when Owens went over to confront Lorincz, investigators believe she fired at Owens as she was knocking. At least two of her children witnessed her murder, authorities said.
The arrest affidavit reportedly shows that Lorincz told police that she'd had issues with two of Owens's sons for two years because they didn't have "respect for her peace and privacy." She also claimed to police that when she told the children they were trespassing, they threatened to kill her. The sheriff said that Lorincz claimed that she shot Owens in self-defense because Owens had been trying to break down her door. She also alleged Owens had attacked her before.
But Ben Crump, the civil-rights attorney representing Owens's family, contends Lorincz shouted racial slurs at the kids, and while investigators haven't commented on that, they have said the two women had a history of disagreements: According to CBS News, police had been called to the apartment complex at least six times since January 2021. Neighbors, however, told NBC News that Lorincz has a history of harassing children in the neighborhood and taunting them with racial slurs. Franklyn Colon, who lives in the area, told the outlet that, hours before the shooting occurred, he was playing with his son and other kids in the nearby field when he saw Lorincz give him the middle finger. Phyllis Willis, another neighbor, told NBC that "everybody in this neighborhood has feuded with this lady over our children." Sharna Mozell, who has lived in the area for 12 years, claimed that Lorincz's habit of recording children and calling them names earned her the label of the neighborhood "Karen." And according to the Daily Beast, which viewed the arrest affidavit, Lorincz herself admitted to calling the Owens family racial slurs and to having purchased a gun after a prior disagreement with Owens.
In the days immediately following the shooting, Woods cited Florida's "stand your ground" law — which permits the use of deadly force when a person reasonably feels their life is in danger and, per the Associated Press, puts the burden of proof on prosecutors — as the reason his office had not taken Lorincz into custody. But as the case gained national attention amid protests at the Marion County Judicial Center, Woods changed tack. In his statement on the arrest, he said the shooting was "simply a killing" and, based on interviews with witnesses, forensic evidence, and surveillance footage, was "not justifiable under Florida law."
In a statement after the arrest, Crump and Anthony Thomas, another attorney working with Owens's family, said that while they were "relieved that the woman apparently responsible for the tragic killing of Ajike 'AJ' Owens has been arrested, we are no less concerned that accountability has taken this long because archaic laws like Stand Your Ground exist."
Weeks later, Florida state attorney Bill Gladson filed criminal charges against Lorincz, charging her with one count of manslaughter with a firearm and one count of assault. Per Gladson's statement, his office considered second-degree murder charges but determined there was "insufficient evidence" that Lorincz had hatred, spite, ill will, or evil intent for the victims. Lorincz faces up to 30 years in prison if she's found guilty. During a virtual press conference following the news, Thomas (one of the Owenses' attorneys) stated that the family is "deeply disappointed" that Lorincz wasn't charged for murder. "Only a living, breathing AJ would be true justice," Owens's mother Pamela Dias said, "and today's charge could not be further from that."
This post has been updated.