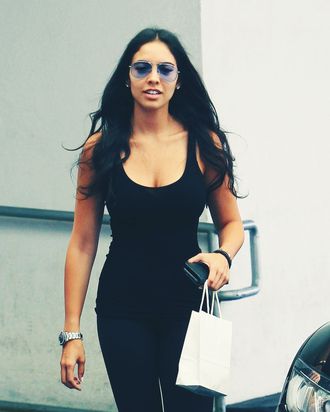 Photo: SMXRF/Star Max/GC Images
In May, 83-year-old Al Pacino confirmed to TMZ that he's expecting a child with his girlfriend, Noor Alfallah. A flurry of rumors quickly followed, including one (since debunked) that claimed the two had broken up. Most of the chatter, though, is fixated on Alfallah, who is 29 and the latest of Pacino's several significantly younger girlfriends. Actually, she seems to have her own habit of dating much older men — in 2017, she dated Mick Jagger, who was 74 at the time.
Alfallah first appeared in Pacino's circle in 2022, when both of them popped up in a hectic group-dinner photo posted by Jason Momoa. Perhaps because the photo also revealed that Al Pacino uses a Shrek-themed phone case, no one seemed too interested in the fact that his newish lady was 53 years younger than him, though tabloids did report that they'd started seeing each other sometime in 2020. Now that Pacino is yet another very old male celebrity expecting a child, people seem much more fixated on the age difference.
Several anonymous sources rushed to Alfallah's defense, informing "Page Six" that there's absolutely nothing weird about this woman in her 20s dating a string of geriatric men, okay??? According to them, Alfallah is "a very decent, good person" and "a guy in his 70s or 80s would feel young around her." As for her very particular taste in men, she apparently "loves old people and these guys are fascinating."
What else do we know about this woman, beyond the fact that she's fascinated by old men? She's a Kuwaiti American film producer at Sony and reportedly comes from an absurdly wealthy family. One source claims her father is an oil investor. As further evidence that she enjoys spending time with old people in a totally normal way, another person divulged that she was close friends with producer Brett Ratner's grandmother (she didn't date Ratner but is reportedly friends with him too), joining him to take her to the hospital for cataract surgery at 5 a.m. Okay!
Actually, Alfallah seems to have befriended a large swath of Hollywood elders. She was once seen hanging out with Clint Eastwood, who she told the Daily Mail was her family friend. Restaurateur Michael Chow (84), painter Ed Ruscha (85), and two members of the rock group Electric Light Orchestra (75 and 76) have all made appearances on her Instagram. She's about to be the most well-connected mom at Grandparents' Day.