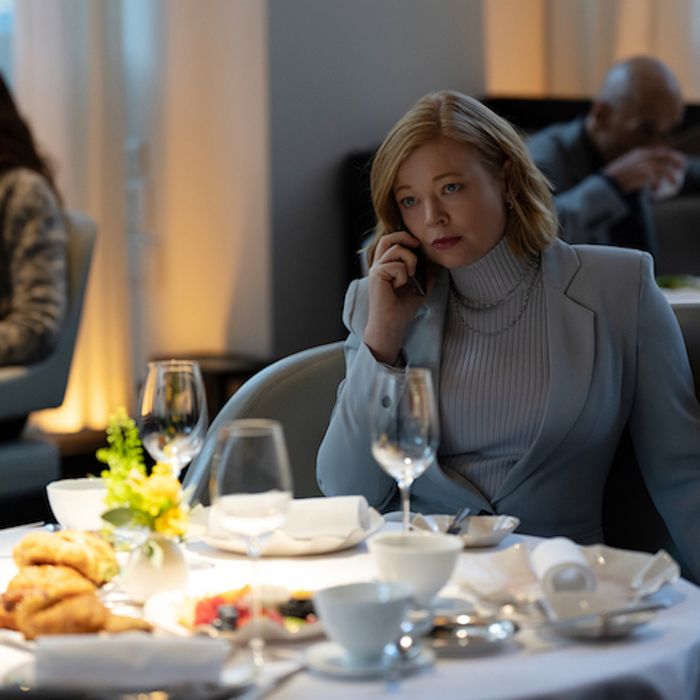 The buzzword "aspirational" has come to mean many different things. For women who've seen too many thankless female TV characters dutifully plod through life's straight and narrow, a truly aspirational alternative might be Sam (Bridget Everett) of HBO's Somebody Somewhere: A woman who unapologetically sings the praises of lying around in your underwear on the weekend, drinking wine. Messy, complicated, flawed, and sometimes downright nefarious women are one of the best things about the current TV landscape — and there needs to be more of them.
The presence of flawed men on TV isn't a bug, of course, it's a feature. The most-beloved male characters are the ones with the most glaring flaws: Tony Soprano. Al Swearengen. Larry David. (Both real and fictional, apparently.) In a pervasive double standard, female characters have, traditionally, been the counterparts, the moral centers, the ones who clean up the messes — literal and figurative — and make the men feel better about their ethical shortcomings. Yawn. There's a reason the word "nice" is the kiss of death when used to describe a romantic prospect: Is there anything more boring than nice? Especially when it comes to storytelling.
In recent decades, women on TV have started to break out of the mold, but viewers can still be surprised when a female character veers from the established norms. Sarah Goldberg, whose character Sally Reed on the pitch-black dramedy Barry is a struggling and wildly narcissistic actor, once recalled a moment that perfectly encapsulated the gender disparity. At an early test screening of the show, a male member of the audience deemed Sally unlikable. Her response: "Barry f–king kills people. He's a murderer, and you don't like Sally because she's self-involved."
Self-destructiveness has been a popular theme for female characters in some of the best TV shows in recent years. Marti Noxon's adaptation of the Gillian Flynn novel Sharp Objects starred Amy Adams as talented and troubled journalist Camille Preaker, whose self-harm habit is referenced right in the show's title. In Mike White's canceled-too-soon Enlightened, Laura Dern played Amy Jellicoe, navigating the aftermath of a breakdown with equal parts passion and cringe. And Lena Dunham's Girls delved gleefully into the contradictions of early twentysomething-hood, chronicling the turbulent relationships of a female-friend foursome with a darkly comic tone, one that would pave the way for countless bad-behavior dramedies to come.
Those women characters walked so today's female antiheroes could run. Some of the most critically-acclaimed shows now feature a wide range of women screwing up, slacking off, and generally sowing chaos through their relationships and careers. It's infinitely more interesting than being good.
Veep, the political comedy that ran from 2012-2019, is the connective tissue between some of those formative shows and today's pantheon of flawed female characters. Julia Louis-Dreyfus gave a masterclass in profane incompetence as Selina Meyer, the vice president who failed upwards into the presidency — twice. Louis-Dreyfus has spoken about the rarity of being able to inhabit such an unhinged mess of a woman: "Playing that character, who was so out of her f–king mind, and so undeveloped; it was just freeing! Everything was about her ego, with not a care in the world for another human being."
Few characters could approach that level of deranged imperfection. But on Hacks, Hannah Einbinder's character, Ava, is her own brand of delightfully problematic, self-centered comic. In the show's first season, she develops a close relationship with her comedy-legend boss, Deborah Vance (Jean Smart), then proceeds to entirely throw her under the bus in a meeting with TV writers, to whom she sends a laundry list of secrets about Deborah.
The role of women's anger, and the still-prevalent societal pressure to keep it under a calm facade, radiates through some of TV's most memorable dramas. Dern continues her reign as one of the queens of internal conflict in her role as Renata on the two seasons of Big Little Lies. Amongst the group of women known as the Monterey Five, it's Renata who gets the showiest meltdown scenes, and an unapologetic hunger for money and status. Anger shimmers through Kate Winslet's role in Mare of Easttown, too: The hit true-crime drama sees her detective character, who's terrific at her job and a fundamentally kind person, give in to petty revenge on occasion; she's also completely disinterested in performative niceness.
But it is Sarah Snook's Shiv Roy on the recently-wrapped Succession — the comedy masquerading as a drama — who may be the truest successor to the Selina Meyer crown. Shiv, the only daughter of late media mogul Logan, is a "flame-haired weapon of mass destruction," as one savvy critic put it. In a show completely devoid of likable characters, Shiv has always been a standout for her professed liberal loyalties combined with her total willingness to set them aside when it suits her own goals: To become the one true heir to the Roy empire. In the show's penultimate episode, she jettisons everything she knows about the wannabe-authoritarian presidential nominee Jeryd Mencken and offers to work with him: "I'm flexible," she says coolly.
Until we get bad-behavior parity, TV won't feel like it really represents the human condition. So as the next wave of great TV percolates, here's hoping the practice of putting female characters on a pedestal can be kicked to the curb for good. As a certain feminist icon was fond of saying: "A pedestal is as much a prison as any small, confined space."
To watch all the series mentioned in this article, subscribe to Max.
This advertising content was produced in collaboration between Vox Creative and our sponsor, without involvement from Vox Media editorial staff.