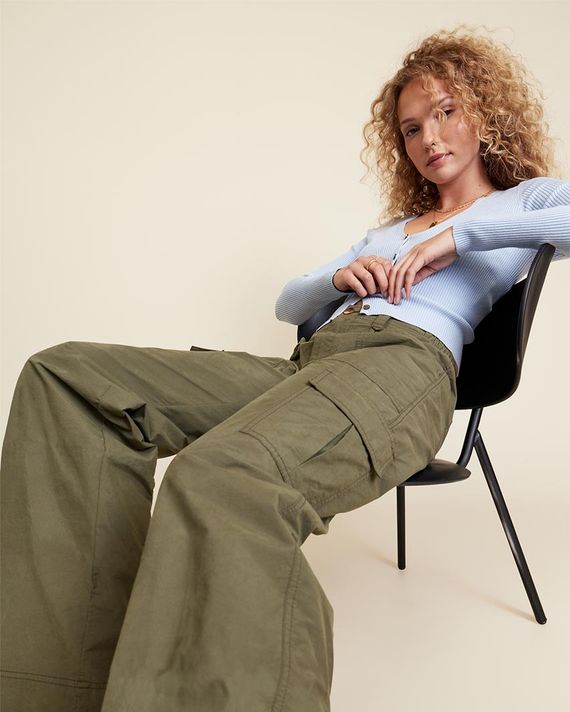 I distinctly remember coveting a number of outfits as an impressionable tween in the '90s, mainly centering around decade-defining trends like cargo pants, tube tops, and platforms. So, consider me shook when these now cringe-inducing photos have become relics of worship in 2.0 form — aka the 2023 wave of '90s nostalgia that refuses to quit. While I guffawed at initial resurrections, I've somehow found myself titillated by many new-era versions of the pieces that originally struck my pre-pubescent heart. Behold: '90s pieces my younger self would be so jealous of (and my current self in disbelief that I'm legit adding each one to cart).
Life-Altering Cargos
Cargos were and are once again everything. Seriously, all I want to wear is a loose-fitting pair slung lower on my hips with a simple tank top, slim sunnies, and slides.
Traffic-Stopping Halter
This rose-adorned halter is totally the traffic-halting type of top Carrie Bradshaw would have worn in Season 1 of SATC. Sign me up.
Preppy, Pleated Mini
With a polo top, bobby socks, and loafers? Consider my middle school dreams made in this pleated mini.
Shrunken Baby Tee
A re-watch of Friends reminded me of the utter grip shrunken baby tees had on us in the '90s. Specifically, lettuce-edge designs like this adorable (and highly versatile) crewneck.
Slouchy Overalls
Why did it feel so freaking cool to let one overall strap listlessly hang off the shoulder in the '90s? Truth be told, it still does.
Plaid Tube Top
If Cher Horowitz's closet will never be my reality, at least a plaid tube top channeling her iconic twinset suit can be.
OG Jeans
Before Y2K hit and jeans dipped way down low, it was all about the high-rise straight (as my fave sitcom characters demo-ed on the reg).
Slinky Cowl-Neck Slip Dress
This slinky cowl-neck number would have been my premiere choice on the formal circuit, complete with open-toe mules, icy makeup, and a heavily hair-sprayed (and super piece-y) updo.
Platform Pumps
I didn't quite have my learner's permit in the '90s, but I was ready to start practicing in my sky-high Mary Janes. As Cher said, "You try driving in platforms."
Racerback Tank
Fact: There is no more perfectly constructed '90s-era tank than a racerback like this one (and yes, it would have violated my middle school's two-inch wide strap minimum).
Punk-Rock Choker
Like most everyone else, my punk-rock phase included many a black tattoo choker wearings. This cord and 14-karat-gold design feels like a sleek and modern upgrade.
Minimalist Maxi
Okay, I may not have mastered minimalism in middle school, but if I did, it would have been in this pretty-in-pink rib-knit maxi.
This advertising content was produced in collaboration between Vox Creative and our sponsor, without involvement from Vox Media editorial staff.