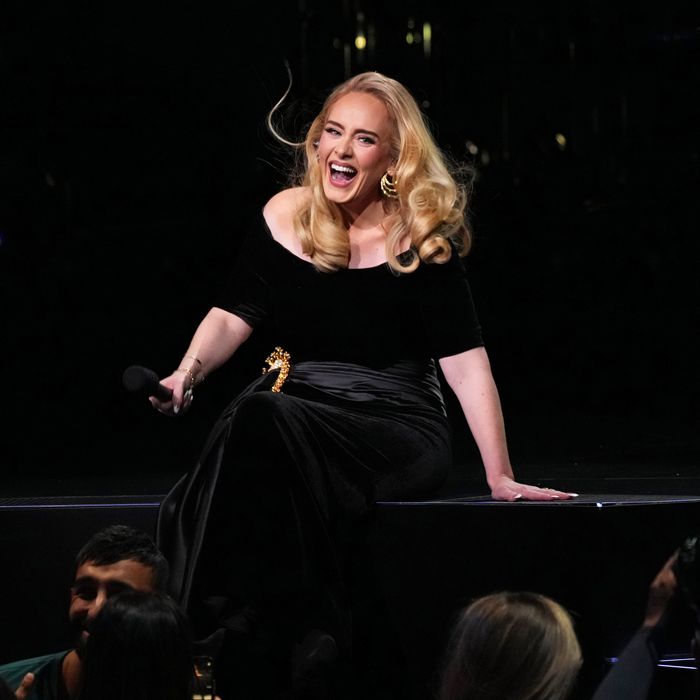 Photo: Kevin Mazur/Getty Images
The shift was swift and abrupt: At some point in the past six to 12 months, for reasons that remain mysterious to most, summer concerts became breeding grounds for social devolution and general bloodlust. Fans are not only slapping but also kissing performers. They're pelting the artists with phones, bracelets, vagina-shaped sex toys, and Ziploc baggies of their mother's ashes. They are, as Adele wisely pointed out at a recent Weekends With Adele show, "forgetting fucking show etiquette." And she has some choice warnings for them.
"People just throwing shit onstage, have you seen them?" she asks the audience at her Las Vegas residency as seen in a video posted to Twitter. Armed with a T-shirt gun, she challenges her fans: "I fucking dare you. Dare you to throw something at me, and I'll fucking kill you." To put a finer point on it, she then fires off some free merch for the crowd. "Stop throwing things at the artist, but you can shoot things into people," she says, laughing, making her way to the other side of the stage to return the gun to its original bearer. "I've been seeing these people — these people lost it. Can you imagine?"
Indeed, the people have lost it. Might I recommend taking a look at our humble summer concertgoing decorum guide?