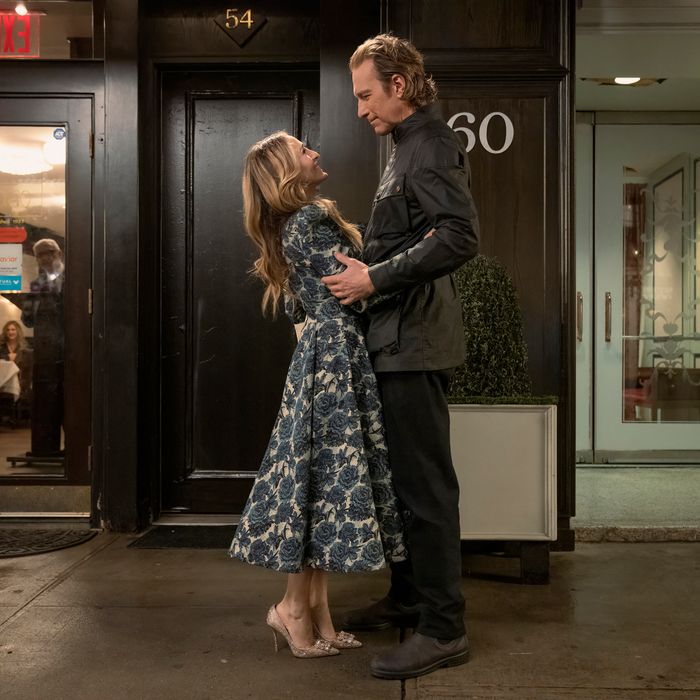 Come on!!
Photo: Craig Blankenhorn/Max
Let's say you have this one ex, a charismatic egoist who has consistently proved themselves unreliable and fickle over not just a couple youthful years but decades. Let's say you've broken up with this ex repeatedly: the first time after they cheated on you with an ex of their own, an oily business mogul they refused to oust from their life when you asked, and the second after you, in your boundless optimism, proposed marriage, they accepted, and then decided — only after you had purchased their Upper East Side apartment for them — that they actually aren't the "marrying kind." Let's say that you, having finally seen reason, break things off, move on, and start the family you wanted. Would you, 20 years on, give this emotional albatross another chance, knowing that the only reason they are available to you now is that their perennial first choice died by Peloton some 12 months prior? Would you, seeing their name in your inbox alongside the subject line "Hey stranger…", open the email, let alone reply?
No, you would not. You are a reasonable person and you have your limits, plus none of us is that much of a chump. But Aidan Shaw, one of the three banner boyfriends to Sex and the City's Carrie Bradshaw, does not inhabit our reality. Aidan has risen from a graveyard of dead plotlines to participate in the second season of the series reboot, And Just Like That ... Having baited audiences with improbable set photos and a jarring trailer cameo, the maniacs at HBO made us wait until episode seven to find out exactly what Aidan's role would be: romance, suckers! It appears he has returned for a fourth shot with our protagonist, a development that strains credulity past its breaking point. Not that the SATC and AJLT universe has ever been bound by what feels true to life — see: Carrie as would-be political spouse, or the fact that she underwrites her designer lifestyle on the currency of a weekly column — but it can only ask its viewers to suspend their disbelief so far. Aidan, my guy, what about self-respect?
To be clear: Yes, I am aware that I am pleading with a fictional character. I'm aware that the man who plays him (John Corbett) is just doing a job, one that likely offered him a whole pile of money to supply fans with a hit of nostalgia. And to be fair, the beginning of this rebound arc has only just begun. While we don't yet know exactly what will happen, the episode that teased his return worked hard to signpost untrodden territory ahead. These characters are different now, reads the subtext on Carrie's lunchtime recap of Aidan's recent developments. (He's rich from selling his furniture brand to West Elm, living in Virginia but still visiting the city on occasion, and, above all, divorced.) They've learned how to communicate and trust, whispers a setup that has both parties sitting alone at neighboring restaurants on Valentine's Day, each thinking they've been stood up until Aidan sends a text. "We're on the same page now," they repeatedly assure one another, and us, during their date. "It's the same place, but we're not in the same place," Carrie reasons with Aidan outside her apartment after the memory of everything that went wrong within its walls hits him on the stoop. He insists he can't ever go back there again, no matter how much he wants to; he turns around in the street, seems poised to pack himself into a cab, and then: "Fuck it! This is New York; they have hotels, right?"
With that acknowledgement of their calamitous history neatly swept aside, they are back to making out in the street. Have we learned nothing?!
SATC has always been for heart-over-head romantics, but this is three bridges too far. Aidan's return does not make sense hypothetically; it does not make sense structurally; it does not make sense dramaturgically. The scene is reminiscent of the Aidan-Carrie reunion from season four, when — some six months after they broke up over an affair she launched with Big while Aidan was stripping and refinishing her floors — she showed up under his window and begged him to take her back. "You broke my heart!" he screamed from his doorway, experimenting with the concept of consequences for five whole minutes before sprinting across town and back into her arms. They fumble their way through the rest of the season, Aidan punishing Carrie for her mistake and Carrie lying to herself, and Aidan, about Big. She sneaks off to a secret dinner with him under the auspices of meeting her editor, later inviting him to Aidan's country house, where he stays the night.
Although she ultimately talks herself into accepting a proposal from Aidan, Carrie knows — and we know, even before she finds the ring and projectile vomits; before she gets a full-body rash in the wedding-dress showroom — that marriage is not in the cards for them. Carrie's appraisal of the situation is bang-on: They had been dating for, what, like half a year at that point? Things were happening way too quickly, in part because Aidan seemed to believe that "locking this down" would prevent further straying on Carrie's part. She was right to pull the emergency brake.
Aidan and Carrie were a bad match. He runs on open affection and loud feelings, but for all his ostensible understanding, he also keeps score. She meets his advances with skittishness and, on more than one occasion, straight-up selfishness, wincing away from such naked love because it did not come from the person she really wanted. For Carrie, Mr. Big was always No. 1. Aidan knows this; he's read Carrie's critically acclaimed memoir on grief. And yet every time they see each other post-breakup — whether Carrie is running to Aidan on the street corner, baby strapped to his chest, or at an Abu Dhabi spice market — they look incorrigibly wistful for a past they are misremembering.
But in AJLT, a middle-aged Aidan does seem to remember the past, clearly, for the first time. He remembers "the fucking floors" and the walls he "couldn't break through," the pain of it cracking his voice just before he abruptly abandons all reason. I am screaming. You are screaming. Carrie's long-term neighbors are probably also screaming, having heard those arguments before.
In the buildup to Aidan's return, the people responsible have signaled that things will be different this time around. "He's really, really listening to her now," Corbett recently told the New York Times. AJLT creator Michael Patrick King corroborated: "I didn't bring Aidan back to fail." I should hope not, because while ancient history is one thing, this season's narrative is another. The AJLT writers have finally shaken off some of the self-imposed pressure toward political correctness, an impulse that made so much of season one feel like box-ticking. Whereas last season saw each of our ladies awarded one inaugural friend of color, this one sees those new characters step into their own (admittedly undersketched) storylines. We are finally getting back to the uniquely weird strain of sexiness that gave SATC its fizz in the first place: A suddenly sort of chill and funny Charlotte is coaching her husband through kegels after he spontaneously loses the ability to cum; Carrie is fielding geriatric dick pics from Bitsy von Muffling while listening to Gloria Steinem speak in the ex-Vogue EIC's living room. While I still can't claim AJLT is for me, I appreciate the willingness to fling so much spaghetti at the walls. A surprising amount sticks, above all because it's fun to watch these characters behave like little freaks in middle age. It's nice to see them try new things.
Against that backdrop, a backslide as monumental as Aidan feels both disappointing and disorienting. In the midst of all this growth and all this development, Carrie is suddenly texting her ex, and no one in her life is waving a red flag? Charlotte and Miranda are just sitting in their familiar brunch seats, smiling along, greeting the news of Aidan's return not with skepticism or concern but with excitement? From a series that prides itself on its portraits of female friendship, this may be the least believable element of all. I don't understand why no one is asking, even gently, if reopening the wound is really a good idea given how much it hurt before. I mean, come on: Imagine yourself, 25 years older than however old you are now, listening to your best friend rehash the same stale dilemmas about the same wrong ex you were talking about two-plus decades ago. Would you humor them, continuing to give advice as your brain begs for mercy and pretending you don't already know the conclusion to this story? No, of course you wouldn't. You are a reasonable person, and you have your limits, after all.
For more, join us for And Just Like That Club …, our subscriber-exclusive newsletter dissecting and obsessing over all the minutiae of the new season. Existing subscribers can visit this page to sign up. If you're not a subscriber yet, click here to get started.