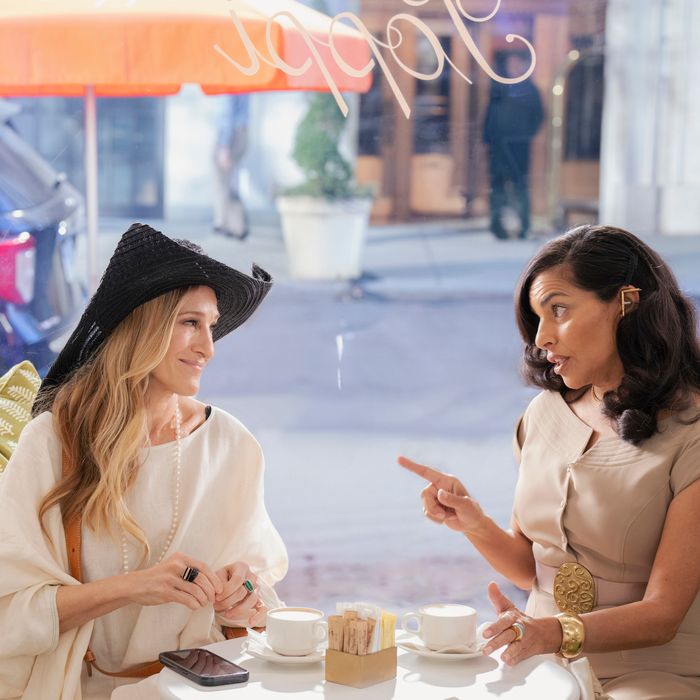 Photo: Craig Blankenhorn/HBO
While many things have changed from the original Sex and the City days — Carrie's natural curls are out, blowouts are in; Big was out, then in, then out, then in, and finally very, extremely out — one element of And Just Like That … remains the same: These women will turn a look if it's the last thing they do. Luckily for you, you no longer need to hate or gawk at or gush over the costuming all by your lonesome. We'll do it together right here. Every. Single. Week.
This week's episode of And Just Like That … served us a big, heaping helping of cringe with a pretty solid side of "we're so back." This installment focused on three key concepts: ejaculation (or lack thereof), excruciatingly awkward and unsexy threesomes, and committing to a bit for the sake of fashion.
Costuming took a bit of a back seat this episode, but flashes of the old Sex and the City plotlines, like discussing anal sex at brunch and witnessing Tantric massages firsthand as a group activity, flickered through. Harry is struggling with finishing; Che, Miranda, and Lyle attempt an awkward throuple; and Charlotte decides wearing athleisure is sure to help her man come again. It was a bit lovely, actually, to bear witness to these relics of the past, like ye olde SATC tradition of only name-dropping designer labels when it served the story. Like, hello, Carrie's random hat (we'll get to that later)! Hello, Gloria Steinem in a power blazer and statement belt! Hello, Enid (and good-bye, Vogue)!
It can feel tiring to tune into a series that once set the tone for artfully toeing the line between relatable and aspirational only to be met with utterly out-of-touch outfits and styling choices. So hats off, literally, to the costuming department on this one.
I Couldn't Help But Stare …
Carrie continues her homage to animal-adjacent fashion accessories via her stingray-shaped hat. I don't even remember what she and Seema were discussing in this scene because a little ticker was streaming at the bottom of my mind-screen simply repeating the word stingray stingray stingray stingray. It's interesting to think Carrie would pay tribute to any sea creature when one of her most traumatic memories occurred by the sea (she found out about Big's new girlfriend at a shunned Sam Jones PR intern's Hamptons hoedown). Maybe this hat was supposed to be Carrie's version of stinging them right back — an intentional fashion faux pas. But if you want to get the look at home, here it is. Don't say I never did anything for you.
Can we call stingrays the birds of the sea? If so, that brings our bird count to three episodes out of four!
Honorable Mentions:
• Charlotte wearing a full set of workout clothes to teach Harry how to Kegel. (Pelvic health is wealth!)
• Enid's white, airy outfits to match her cold, abrasive exterior. (Bonus fashion points to those of you who noticed Enid's home in this episode is also Miranda Priestly's home in The Devil Wears Prada.)
• Gloria Steinem! Great blazer! Fantastic hair! 10/10!
• Seema in animal print again … noted … again …
• LTW's flowing caftan after her husband fumbles their party invites (it's imperative to look fabulous when your partner makes a fool of you both).
• Che's massive cowboy hat and Texas-size water jug when they wish Miranda "Mornin' from Houston!" Yeehaw!
Steve's invisible shirt. Big loss for Miranda tbh.
For more, join us for And Just Like That Club …, our subscriber-exclusive newsletter dissecting and obsessing over all the minutiae of the new season. Existing subscribers can visit this page to sign up. If you're not a subscriber yet, click here to get started.