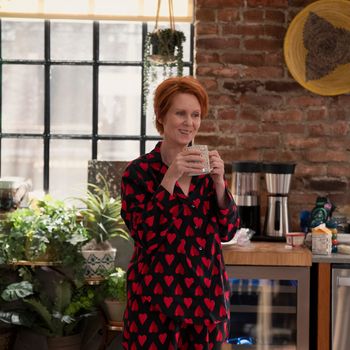 Photo: Craig Blankenhorn/HBO
While many things have changed from the original Sex and the City days — Carrie's natural curls are out, blowouts are in; Big was out, then in, then out, then in, and finally very, extremely out — one element of And Just Like That … remains the same: These women will turn a look if it's the last thing they do. Luckily for you, you no longer need to hate or gawk at or gush over the costuming all by your lonesome. We'll do it together right here. Every. Single. Week.
There are two definitive categories of humans on this planet: those that sleep in a ratty, old T-shirt they might've stolen from an ex-boyfriend paired with oversize shorts they've had since high school, and matching-pajama-set people. While I, unfortunately, fall into the former classification, all of the women on And Just Like That … fall into the latter.
This episode was huge for sleepy girls, and the level of hygge exhibited in this singular hour of television was enough to make me miss winter … sorry. From LTW's baby-blue silk jammies and matching nightcap to Miranda's heart-patterned set (an ironic choice for someone going through one of the worst/painful/cringe love triangles ever imagined) to Charlotte's flannel snow-day onesie (pre–condom run), I started wondering if procuring some high-quality sleepwear would significantly enhance my levels of rest and relaxation? Nay — perhaps it could improve my entire life?
Maybe this linen J.Crew ensemble could save me from nights of tossing and turning? Or I could splurge nearly $200 on this pink Sleeper set in hopes of banishing all nightmares forever and evermore. Would these $3,300 Prada pj's somehow file my taxes for me?
The thought of spending money on clothes only my bedsheets would get to admire passed quickly and swiftly. I slept like a baby in my 8XL sleep shirt last night.
I Couldn't Help But Stare …
My No. 1 rule for leaving my home when it's snowing in New York is — and this will come as no surprise — bundle up. You cannot be caught dead (or, I guess you will be caught dead) wandering about in a bomb cyclone in some flimsy bomber jacket and Adidas Sambas. I need to see the hem of your puffer coat skimming the tops of your shoes. Pretend like it's 1880 and HIDE THOSE ANKLES!
With that in mind, our leading ladies did a decent job of layering up. Of course, most of their outfits were impractical (high-heeled Dries Van Noten boots, LTW???), but we must suspend our disbelief and ingrained measures of safety for the sake of fashion. Between Lisa Todd Wexley's snowstorm look (a Balmain cape draped over a Dior sweater and Celine skirt accessorized with a Valentino bag) and Charlotte's long, pink trench coat, it was a close call for this week's standout fashion moment. But Carrie's Moncler Genius x Pierpaolo Piccioli puffer maxi-skirt set took the cake (a similar set from the collaboration is selling for over $13,000).
While I hope Carrie was wearing some serious snow pants underneath that billowing skirt, it's impossible not to admit how fun it was to watch this behemoth of down feathers make its way along some nondescript New York avenue in the middle of a life-threatening snowstorm. Absolutely nonsensical and fabulous at the same time. Incredible!
Honorable Mentions:
• Carrie's turquoise jumpsuit — she's a casual, onesie girl this season!
• Seema's fabulous, over-the-top faux-feather jacket worn just to go to the Apple Store. That's a woman with taste.
• Carrie in another crew neck while typing up her email to Aiden! She's a changed woman!
• Carrie's pink cable-knit sweater!!!! I need it more than anything else I've seen on the show. Chic and cozy!
• The Loewe hand dress on the emcee at MoMA. It's currently on sale for $389.99 from the original $1,300. There's only one size left, and it happens to be mine …
For more, join us for And Just Like That Club …, our subscriber-exclusive newsletter dissecting and obsessing over all the minutiae of the new season. Existing subscribers can visit this page to sign up. If you're not a subscriber yet, click here to get started.