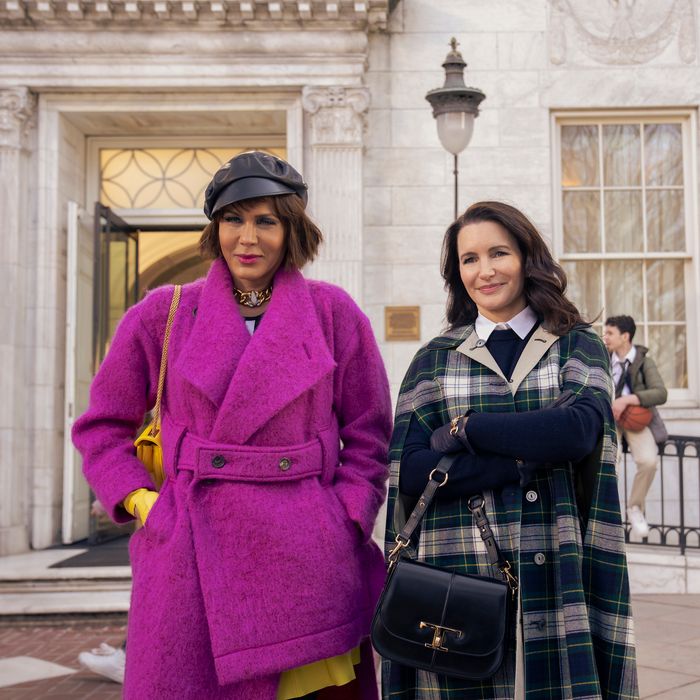 Photo: Craig Blankenhorn/Max
While many things have changed from the original Sex and the City days — Carrie's natural curls are out, blowouts are in; Big was out, then in, then out, then in, and finally very, extremely out — one element remains the same on And Just Like That …: These women will turn a look if it's the last thing they do. Luckily for you, you no longer need to hate or gawk at or gush over the costuming all by your lonesome. We'll do it together right here. Every. Single. Week.
What happens when a ballbuster (Carrie and her serial-cheating ways) and a nutcracker (Aidan, solely because of his cinched-waist Barbour jacket) reunite? Mess.
Carrie's old on-again, off-again flame has returned once more, to both anticipation and many an "Oh brother, here we go again." After having his heart ripped out not once, not twice, but thrice and being repeatedly stomped on by different pairs of Jimmy Choos and Manolo Blahniks, Aidan decided enough was not enough. In my heart of hearts, Aidan was always my favorite: rugged, creative, good with his hands, and handsomely gargantuan. Sure, he and Carrie had a horrible relationship — she sucked the life and love out of him, and he sucked the character out of her — but God, were they fun to watch onscreen. In truth, my desire to see Aidan back in Carrie's life isn't based on logic but on heart. It's my own selfish desire to see him on an episodic basis in his flannels and gray T-shirts and backward baseball caps, though this episode's snatched coat had him appearing in anticlimactic form standing like🧍‍♂️. And funnily enough, while every single character wore something plaid this episode, our resident plaid king was left without. Sad.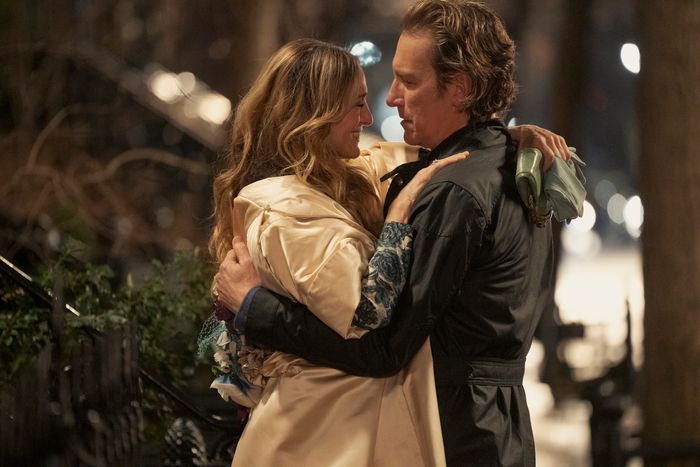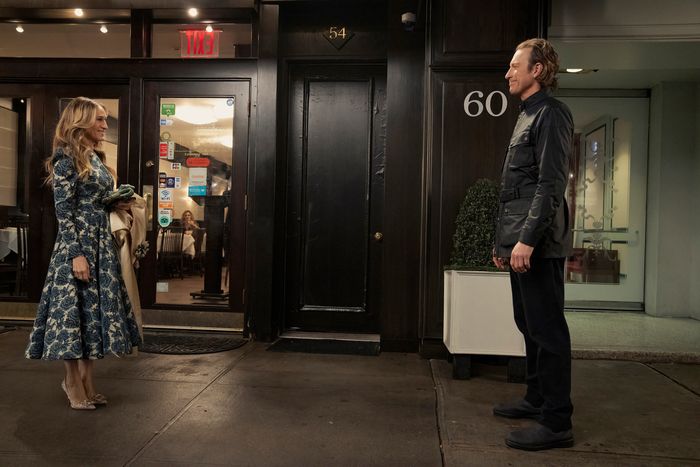 Meanwhile, Carrie's vintage satin hooded coat adorned with crushed flowers felt like the perfect thing to wear when reconciling with a lost love on Valentine's Day. It's romantic, nostalgic, and doused in a very specific type of melancholy, my favorite concoction. While I assume these two won't work out, let's all at least cherish the time and the rustic outfit choices we have left together.
I Couldn't Help But Stare …
While the rest of the characters were playing plaid checkers, Lisa Todd Wexley was playing crimson chess. Her Valentine's Day outfit was jaw-dropping. The red feathered shawl and matching strapless jumpsuit, paired with some "Don't F with me" leather gloves and dramatic earrings, was perfection — somewhat a rarity in this series and a sight for sore eyes.
Honorable Mentions:
• Miranda's knitted sweater and cozy coat, which one of my colleagues referred to as "fuzzy horse blankets" but I loved.
• Carrie's plaid coat and mismatched plaid skirt. (The very same coat that caused the biking accident, a confirmed outfit repeater. Sustainable!)
• Giuseppe, a.k.a. Romeo in a card store, and his fisherman's sweater. Not quite a Chris Evans in Knives Out moment but something to chew on!
• DREW BARRYMORE!!! IN A PINK PANTSUIT!!!
• Carrie's newsboy cap. It's giving "Read all about it!"
For more, join us for the And Just Like That Club …, our subscriber-exclusive newsletter dissecting and obsessing over all the minutiae of the new season. Existing subscribers can visit this page to sign up. If you're not a subscriber yet, click here to get started.