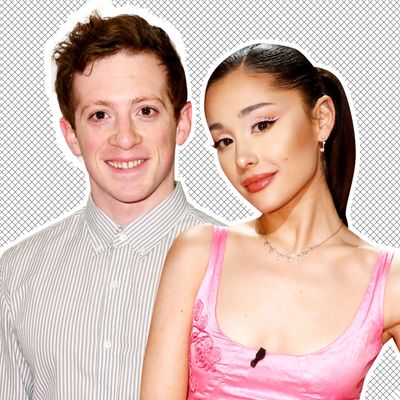 Who is this guy?
Photo-Illustration: by The Cut; Photos: Getty Images
How many rumors about Ariana Grande's love life have you heard this month? First, she surfaced at Wimbledon without a wedding ring, fueling speculation that she separated from her real-estate husband of two years, Dalton Gomez. Next thing you know, their wedding photos suddenly disappeared from Grande's Instagram, dashing Gomez's reported hopes to win her back. And now, another development: It seems Grande might be dating one of her co-stars in the Wicked film adaptation, Ethan Slater, whom you might know as SpongeBob Squarepants. Not the cartoon SpongeBob you grew up watching, but the live-action-musical version of the Nickelodeon character. No rest for the weary (the weary being those of us keeping track of horny musical-theater antics).
What is Slater's deal, you're wondering? He has a lengthy Broadway résumé, which includes a Tony nomination for his turn as the aforementioned talking and singing sponge in 2017. Huge! And serendipitous, considering Grande got her start in the Nickelodeon universe as well. Until very recently, Slater was understood to be married to his high-school sweetheart, Lilly Jay, with whom he welcomed a baby last year. The couple got married in 2018, after six years of dating, but certain sources now contend that the two have been "separated" for a few months, and that Slater only "recently" started dating Grande. Now, People reports that Slater has filed for divorce. The magazine says he did not include a reason for the split in his filing, while various tabloids claim the breakup "blindsided" Jay.
This tracks with the statement Jay gave to "Page Six," in which she said Grande is "not a girl's girl" and added, "My family is just collateral damage." Other anonymous sources claimed Jay was being civil to Slater, telling him "she only cares about protecting their child," but has been calling multiple outlets behind his back to express more hostile sentiment.
One important caveat: The actor who voices cartoon SpongeBob, Tom Kenny, is not involved in the above romantic drama, as his wife — Jill Talley — has clarified in the comments section of the Cut's Instagram. "I don't know if Ethan Slater (who played SpongeBob in the musical) is or isn't dating Ariana Grande. However, they're both adorable and I totally ship it," she wrote, adding that she and Kenny were celebrating their 27th wedding anniversary. Congrats to Talley and Kenny!
This article has been updated.