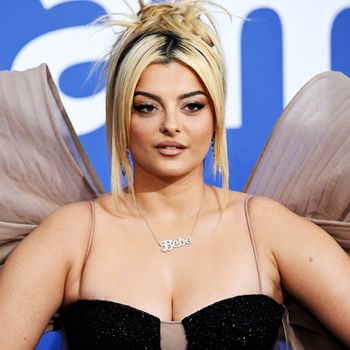 Photo: STEFANO RELLANDINI/AFP via Getty Images
Another day, another set of eyebrow-raising celeb texts surfacing on Instagram. Over the weekend, Bebe Rexha shared a screenshot of a personal-looking message on her Stories. The text, which seems to be largely about Rexha's body image, appears to have come from her boyfriend of about four years, cinematographer Keyan Safyari. Rexha did not offer any contextualizing details.
"I said how beautiful you are and how much I loved you," the sender wrote:
But I always said I would be honest with you and your face was changing so I told you it was…that was the conversation we were having and you asked. Because I care, would you rather I lied to you? You gained 35 pounds obviously you gained weight and your face changes? Should I just pretend it didn't happen and that it's ok? Come on I gain 3 pounds and you call me chubbs and fat. Doesn't mean you don't love me.
The text also suggested Rexha and Safyari might have broken up following the conversation being referenced:
If you're trying to find reasons to break up this makes sense…but it's not the real reason. If you're unhappy with me/yourself/with life and don't see a future with us then that's ok and that's the reason. Don't use something like that to weaponize your anger or anxiety or any insecurity you may have. You know I always found you to be beautiful and loved you no matter what.
Rexha didn't provide any commentary on the screenshot, nor did she confirm it came from Safyari. The Cut has reached out to both parties for more details and will update this post if we hear back.
Rexha has spoken publicly about struggling with her body image in the past, especially in the last few months, when her weight became a popular subject of scrutiny. As she revealed in a May appearance on The Jennifer Hudson Show, she was recently diagnosed with PCOS, a disorder often associated with rapid weight gain. She asked TikTok users to stop searching "bebe rexha weight" on the app, and most recently she tweeted that she was "sick of people talking about" her body. "Human beings go through weight fluctuations," she wrote. "It's life and you don't know what people are going through."