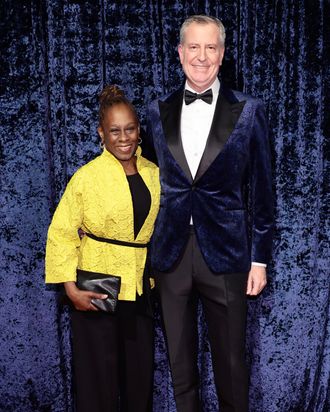 Photo: Jamie McCarthy/Getty Images
These days, there is no shortage of creative ways to publicly announce your breakup to the masses. There's the abrupt approach of simply wiping an ex's photos from the face of your social media. For something clean and amicable, there's the tried-and-true Notes-app statement, posted mutually to Instagram — though the canonically messy split-via-tabloids has made a comeback. One maneuver we have never seen before, though: separation by joint New York Times interview, an approach former New York City mayor Bill de Blasio and his wife, Chirlane McCray, debuted on Wednesday. Based on the article — the tone of which lands somewhere between press release and personal ad — breakup may not be quite the right word to describe their situation. The former couple are "not planning to divorce," they explained, but will date other people as part of a trial separation. "You can feel when things are off, and you don't want to live that way," de Blasio reflected of the couple's decision, apparently made after a "stale Saturday night" of binge-watching television. What way will they live? Still together in their Park Slope townhouse, just without an official label.
De Blasio and McCray met while working together in the office of former mayor David Dinkins's. Although McCray identified as a lesbian, the Times reports that she "relented eventually" in the face of de Blasio's "overtures." ("He was very easy to fall in love with" is how McCray explained it.) The two wedded in 1994 and had two children, 28-year-old Chiara and 26-year old Dante. Following de Blasio's successful 2013 mayoral bid, McCray played a prominent role in his administration — so prominent that Politico named her the city's "unofficial co-mayor" in 2021. During their three-hour sit-down interview, the former couple cited the pressures of de Blasio's political role as the central contributing factor in the dissolution of their marriage. "There's a certain weight," McCray said, "that goes with being with Mr. Mayor."
"Everything was this overwhelming schedule, this sort of series of tasks, and that kind of took away a little bit of our soul," de Blasio said. They also spoke about how the duress of the COVID crisis strained their relationship, noting that they felt a shift around the time de Blasio ran for president in 2020, a bid McCray called "a distraction." And for his part, de Blasio admitted to having certain long-term insecurities in the partnership: "For the guy who took the chance on a woman who was an out lesbian and wrote an article called 'I Am a Lesbian,' there was a part of me that would at times say, 'Hmmm, is this like a time bomb ticking? Is this something that you're going to regret later on?' So I always lived with that stuff."
"I can look back now and say, 'Here were these inflection points where we should have been saying something to each other,'" de Blasio said. "And I think one of the things I should have said more is: 'Are you happy? What will make you happy? What's missing in your life?'"
Still, the interview suggests that de Blasio and McCray are on the same page about their relationship. The couple have purportedly established ground rules about "what's cool" and what's not regarding their new arrangement. McCray reportedly asked if the writer would put their phone numbers in the announcement; de Blasio inquired about including "a picture from the gym." McCray said she wants "to have fun" with nonpublic figures, while de Blasio appears to enjoy dyeing his hair and, as he put it, "feeling what I feel." He told the Times, "One of the things we're saying to the world is we don't need to possess each other." Sounds a lot like an open relationship to me, but whatever — trial separation it is. Best of luck to these roommates!