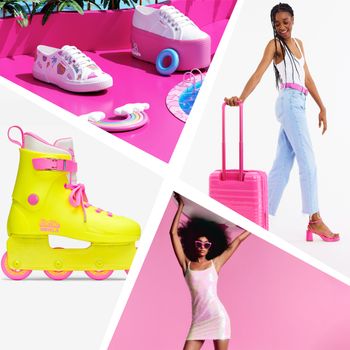 Photo-Illustration: by The Cut; Photos: Retailers
For more of the Cut's favorite fashion, beauty, and home finds, sign up for the weekly Cut Shop Newsletter.
Barbiecore this, Barbiecore that. It's just hot pink. If you really want Barbiecore, you need to go the official route: Mattel collaborations™. Over the past few months, hundreds of board executives have been signing contracts and paying retainer fees to make sure their brands receive the Barbie treatment. It goes beyond decking items in Barbie's signature pink palette. The collaborations include the Barbie logo, Barbie illustrations or photographs, and the use of Barbie-themed patterns and designs. So, yes, more pink, but different.
While there's no official count on the number of Barbie brand collaborations, we've rounded up these limited-edition goods. God forbid the movie flops. In Greta Gerwig we trust.
Obviously, a woman named Barbara shops at Bloomingdale's. And when she goes by Barbie for short, you know you're gonna see her in a tweed plaid cropped blazer, pleated skirt, and pearl-heart earrings.
Come on Barbie, let's go party … in another city! With Barbie™-pink Béis luggage in tow, you're sure to be the most iconic person at the airport. When the collaboration drops on July 19, you'll never miss spotting your luggage at baggage claim or worse, mistakenly take someone else's bag.
In a world where you can be anything, why not be someone who has signature-pink, pump-up-purple, or Malibu-blue hair? No pressure to commit either — all Hally shades are temporary and wash right out.
If you're throwing a Malibu Barbie–themed bachelorette (as is everyone on TikTok), you're going to need some elevated pool floats. It doesn't stop at inflatable swans or chaises either — the collection includes a one-piece, bikini, captain hats, and beach towels.
Sure, you could show up to the function in plain-white sneakers, or you could up the ante with a pair of bold, bright-pink, seven-centimeter flatform wedges.  However, they are all currently sold out, so reducing the Ken in your life to a short king will not be possible.
While the plot of the movie is still seemingly unclear, one thing is for certain: Barbie and Ken go roller skating. Which means you also need to go roller skating. But traditional skates won't do it. No, to truly re-create the Barbie-world magic, you're going to need bright-yellow inline skates, knee pads, and elbow pads! The skates are sold out on impalarollerskates.com, but they are still available at zappos.com.
The brand Kendall Jenner is always posting about came out with a special-edition set that comes with a hot-pink electric toothbrush with five smart modes, a travel case, charger, and two brush heads. People clearly love Barbie and hygiene — because it's sadly out of stock.
So what's everyone wearing to the Barbie premiere? How about taking the Gap route? Not only are styles affordable, but there's a little something for anyone. There's even a little Gap Barbie hoodie for your pet.
If you're itching to bring the movie looks to life, we understand. But if you're someone who prefers to play around with beauty, NYX has you covered with its exclusive assortment that includes Barbie-pink lashes, butter lip gloss, and electric-blue, jumbo-eye pencils.
You can't live life in the Dreamhouse and sleep on a regular cotton pillowcase. Available in two colors, Iconic and Malibu, this satin pillowcase will ensure you get a good dose of beauty sleep. The Barbie collection doesn't stop there either. Kitsch also released rhinestone and satin scrunchies, claw clips, and heatless curlers.
A meeting of the minds: Barbie-core meets Mermaid-core with this wavy-hair kit from Mermade Hair. Each kit comes with a zebra-print mini-waver, a zebra headscarf, a set of silver-and-pink hair gems, and Barbie-pink no-crease clips. And if beach waves aren't your thing, the brand offers a Barbie blow-dry brush.
Not only do the eight new Kipling bags and two new bag accessories come with a Barbie-pink fur monkey, but there's also a little doll in a Barbie-pink jacket dangling from the handle as well. The collaboration is mostly wait-listed, but there are still a few options in stock.
We can't imagine Barbie wearing any Crocs but these. The collaboration between the beloved rubber shoes and the plastic doll reaches new heights, literally. If you're not into the heeled clog, the classic clogs got the pink treatment, too.
To celebrate the 60th anniversary of one of the world's most iconic homes (a.k.a. the Barbie Dreamhouse), Backdrop has teamed up with Barbie to bring a piece of the Dreamhouse into your own interiors. All the pink — without the plastic and without any other toxins that usual paint might have (the paint brand is Green Wise–certified and low VOC) — and Climate Neutral Certified.
This Barbie fights for a cause. Love Your Melon's collaboration with Mattel featured headbands and caps that, just like its products, give a portion of proceeds to nonprofits in the fight against pediatric cancer.
The limited-edition collection puts a sophisticated spin on timeless Barbie nostalgia and features eight furniture frames in all-new fabrics. Designers and home DIY-ers will discover pieces adorned with golden accents, adventurous colors and textures, and chic curved lines.
Who said Barbiecore can't be subtle? If you want to skip the head-to-toe pink ensembles but still want to rep your favorite plastic doll, Fossil's x Barbie collection includes cute little charms and leather goods that fly under the radar.
Become Barbie by shopping pieces from the Zara x Barbie collection. The drop that goes beyond clothing and includes beauty products and homeware is inspired by styles showcased in the movie. Talk about next-level playing dress-up.