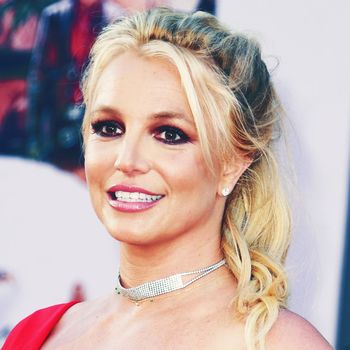 Photo: VALERIE MACON/AFP via Getty Images
On Monday, Britney Spears told her followers — via a video of herself dancing, of course — that she had "great news" she couldn't wait to share. Many fans assumed she meant new music, but it turns out she's dropping a different project: Her memoir, The Woman in Me, will be published on October 24.
"Britney's compelling testimony in open court shook the world, changed laws, and showed her inspiring strength and bravery," Jennifer Bergstrom, Gallery Books senior vice-president and publisher, told People. "I have no doubt her memoir will have a similar impact — and will be the publishing event of the year. We couldn't be more proud to help her share her story at last."
The publisher also shared the cover for the book: a black-and-white image of a younger Spears, topless in silver jeans with her arms wrapped around her chest.
The Woman in Me is expected to detail Spears's fight to be freed from the conservatorship that dictated the terms of her existence for 13 years, as well as her life in the limelight, motherhood, and more. Spears signed a multimillion-dollar deal for the book in early 2022, and although it was promised by the end of that year, the writing process apparently took more time than expected. "It may take me a year, maybe longer who knows … to share my story!!!" she wrote in a May 2023 update on Instagram. And now, a mere two months later, we have a release date and a preorder link.